Posted in: TBS, TV | Tagged: american dad, animation, cartoons, TBS
---
American Dad Music Mayhem Moments: The Weeknd, Boyz 12, Klaus & More
From The Weeknd and Boyz 12 to Klaus rapping, here's a look at our five favorite musical madness moments from TBS' American Dad.
---
I guess after growing up under Dexter's Laboratory, Johnny Bravo, and Cow and Chicken, it is no surprise I ended up with Family Guy and American Dad as two of my comfort shows. However, while I enjoy Family Guy, American Dad quickly took the lead as an all-time favorite with its quirky characters, troubling & ever-changing relationships, and mind-twistingly hysterical plot lines. Though none of that compares to the fantastic musical selections that TBS' American Dad brings to the screen.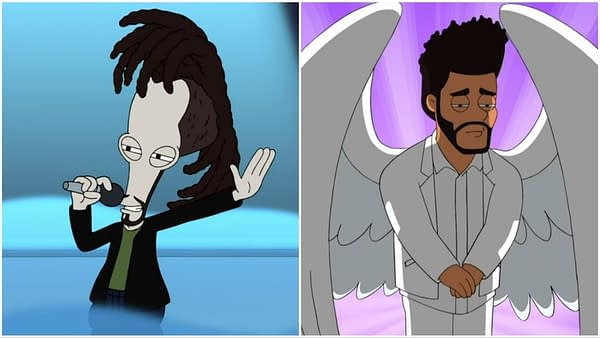 American Dad follows a pretty toxic Republican dad who works at the CIA, his ignorant wife, liberal daughter, sensitive son, talking fish, and their alien; and there is seriously no better combination for a show— it is like sugar, spice, everything nice doused with large amounts of Chemical X & battery acid to produce this gem. The fantastic musical pieces that it has brought along the years have to be my favorite part of the show, true earworms that are impossible to shake off for days. Here are a few of my favorites, in no particular order, as it would be near impossible to do…
"I'm a Virgin" by The Weeknd, American Dad Season 15 Ep. 4 "A Starboy is Born": This has to be one of my favorite episodes, and probably because of this son and Roger's version of "Starboy." This song lives rent-free in my head, and I find myself humming it more often than not.
"Girl You Need a Shot of B12" by Boyz 12, American Dad Season 8 Ep 3 "Can I Be Frank With You?": I do not know if it is my love for these American Dad songs or my love of KPop, but this song hits on all the fields and definitely a great one. It is pure genius, and I kind of hate they killed most members of Boyz 12, and there might not be a new song from this glorious band.
"Daddy's Gone" by Steve ft. Roger, American Dad Season 7 Ep. 1 "Hot Water": This episode though has so many good songs it was hard to pick my favorite, but the old-school boy band vibe just begged for it. I love this song, and I cannot stop laughing whenever the six-pack comes to the screen.
"Guppy Love (Fishin' Ain't Easy (Where My Sluts At?))" by Klaus, American Dad Season 13 Ep. 9 "The Never-Ending Stories": I could not care much about the other part of this storyline, but I live for Klaus as a rapper. This song is everything and that metaphorical "bag of chips," and I feel bad everyone in the crowd hated it so much that they even broke the doors on their way out. Another one that leaves me laughing and singing this for days once I hear it once.
"We've Been Bad" by Krampus and Steve, American Dad Season 9 Sp. 8 "Minstrel Krampus": Though to be honest, this whole episode should be counted as one whole great musical starting with Steve and Hayley's song, then the one with Jack Smith and the songs with Krampus. They are all so good, like with the Hot Tub episode. I swear, this show has definitely some of the best musical gems in adult animation.
---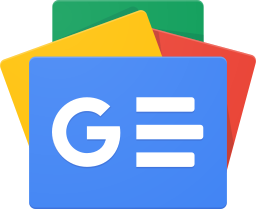 Stay up-to-date and support the site by following Bleeding Cool on Google News today!