'American Gods' Season 2, Episode 2 "The Beguiling Man": A "Free Comic Book Day" Offering [SPOILER REVIEW]
So I'm going to let my "geek flag fly" a bit to start off my review of this week's episode STARZ's American Gods, "The Beguiling Man" because I think it might be the best way to get across how the second episode of the show's sophomore season came across to me.
Sometimes, a comic book company like Marvel or DC will put out a special free (usually around Free Comic Book Day) or 25 cent comic to promote an upcoming storyline or (most likely) the next mega-super-uber-universe-rebooting crossover event. Since it's free/reduced cost, you usually don't get a full story so much as a series of vignettes that set-up storylines. Well worth having and usually a quality read, but more often than not it serves as a jump-off point for… what's still to come! Going for the ominous tone there, btw…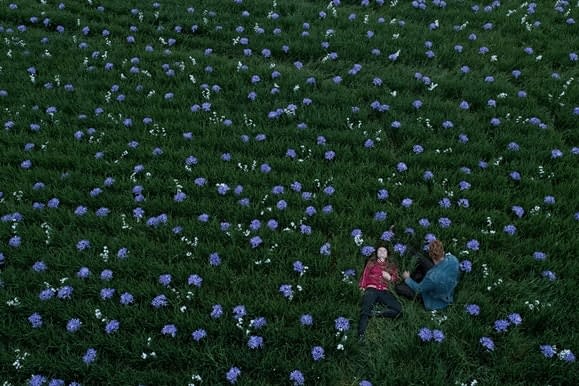 That's the best way for me to describe "The Beguiling Man": it's American Gods' "Free Comic Book Day" offering – which isn't a bad thing in any way because it effectively transitions us from last week's "opening salvo" to a much-needed (and storyline sensible) regrouping by the Old Gods to recruit… and rearm. Along the way, we saw some interesting pairings and unique character dynamics, some (slightly heavy-handed) backstory for Shadow (Ricky Whittle), a fine example of "fight foreplay," and an ending that almost winks at the view as it embraces its deconstructed homage to the "damsel in distress ties to the railroad tracks" cliche.
Except this "damsel in distress" is a still-quite-dead Laura (Emily Browning) – and she's not tied to the tracks: she's too busy on board a train, shoving bad guys onto missile heads and crushing skulls while trying to save Shadow.
American Gods s02e02 "The Beguiling Man": Promising vengeance for the death of a beloved old god, Mr. Wednesday begins preparation for a great battle. Meanwhile Laura and Mad Sweeney chase Shadow's diminishing light after his disappears. The Jinn and Salim set out to retrieve the Gungnir spear, and Shadow encounters an associate of Mr. World.
Now here's a look at our key takeaways from the episode:
● The back-and-forth between Mr. Town (Dean Winters) and Shadow during Shadow's interrogation scenes demonstrated just the right amount of antagonistic respect and disgust, and definitely deserving of more screen time.
● Let's just put this out there: Peter Stormare is reaching Bill Pullman/Idris Elba levels when it comes to giving these motivation speeches to the masses – interesting what a difference a sacrifice makes.
● I like how the "teams" were picked: Laura and Mad Sweeney (Pablo Schreiber) are off to save Shadow; Jinn (Mousa Kraish) and Salim (Omid Abtahi) are off to grab Wednesday's (Ian McShane) spear; and Wednesday and Mr. Nancy (Orlando Jones) are off to… somewhere. While we don't get to see Jinn and Salim once they jet from the diner, the only thing I could think was how lucky Jinn was: not too shabby to have some "portable worship."
● Extra props to Whittle for how he handled the smile and chuckle before the "curious spirit" response to Mr. Town – not the most comfortable position to find yourself in to pull that off convincingly.
● The evolving Mad Sweeney/Laura dynamic has been a fascinating one to watch, with the two taking on more of a brother/sister vibe in this episode than adversaries forced to work together – makes sense considering the time they've spent together and what they've experienced as the gods' "supporting cast." Of special note: a reference to a "devil" in the French Quarter who could give Laura her life back – at a price.
● As a viewer, you can't help but feel/appreciate the position Bilquis (Yetide Badaki) finds herself in: she sees how the old and new gods can co-exist and sees nothing to be gained by war. But clearly that time has passed and she will be forced to pick a side – and while Love may be "the most powerful weapon of war," that "weapon" is going to have to pick a side. Extra points for Badaki for making Crispin Glover's Mr. World look non-creepy sexy in their scene together (nothing personal).
● While props are due for the performaces from Gabriel Darku (Young Shadow) and Olunike Adeliyi (Shadow's mother), the torture flashbacks went on a little too long and came across a little heavy-handed. Short of the dude with the coin (you know who it is) wearing a sign reading, "Shadow, I am your father!," we can pretty much see where this is going (if you're not aware of what goes on in Neil Gaiman's novel). That said, the following line from Shadow's mom just crushed my heart: "I gave it to you. I gave it to you every day."
● Leprechauns let out very high-pitched screams when you drop a car on their foot. The More You Know…
● Tech Boy's (Bruce Langley) search for Media uncovering that she has gone into hiding/regrouping after what happened with Wednesday last season is a great way to introduce Kahyun Kim as New Media – and their interaction showed bow the power dynamic between Tech Boy and Media has changed ("Without me, shit don't spin.").
● Anyone else get the sense tht Browning and Schreiber had a fun time acting our their "travel terror"?
● Not sure what Laura thought, but Shadow wasn't a big fan of her crushing that dude's head: major turn-off.
● Now that we know where Wednesday and Mr. Nancy were going, is there any more doubt that Wednesday is willing to sacrifice anyone – and anything – for his cause? Makes you question the flat tire and Laura's "sudden weakness"…

So the deck has been re-shuffled and a whole new hand is being dealt out – just as soon as they clean up that choo-choo mess Wednesday made – for next week's episode of STARZ's American Gods, "Muninn":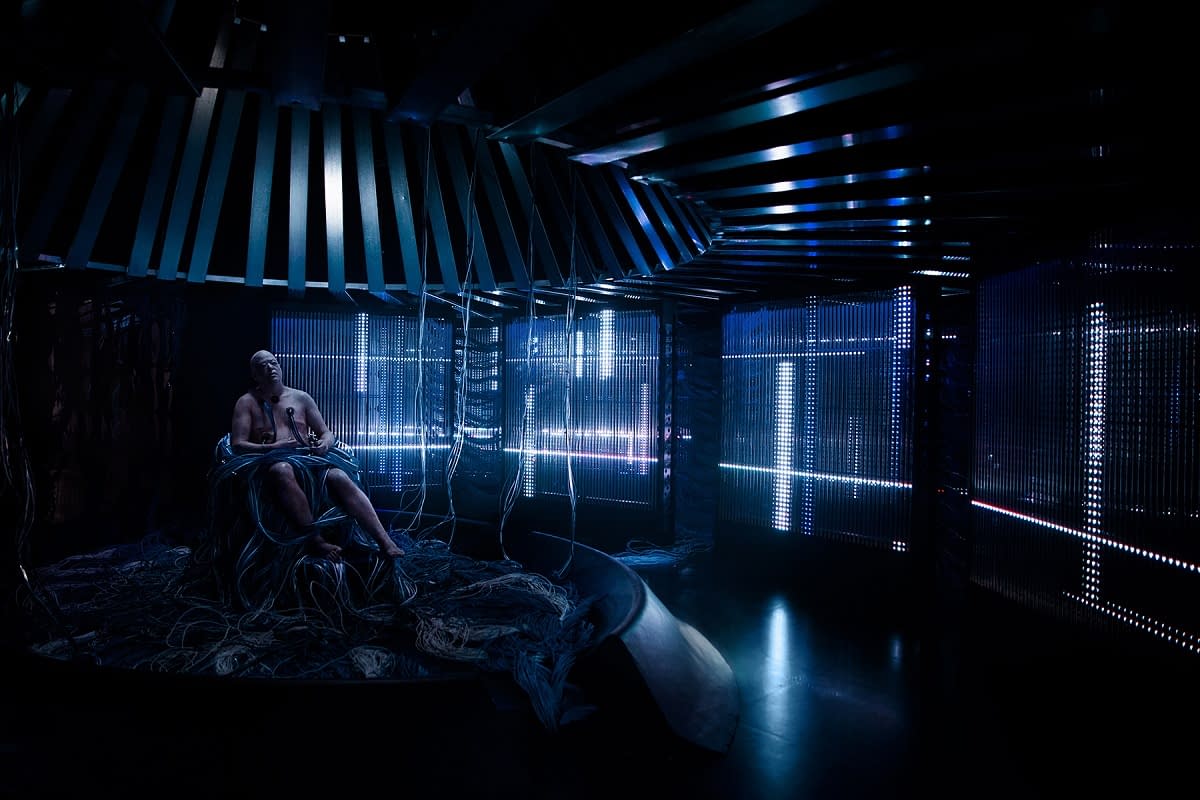 American Gods s02e03 "Muninn": As he is tracked by Mr. World, Shadow makes his way to Cairo, thanks to a ride from Sam Black Crow. Mr. Wednesday slyly gains Laura's help in forging an alliance with a powerful god. Mr. World introduces Technical Boy to New Media and assigns them a very important task.
American Gods stars Ricky Whittle, Ian McShane, Emily Browning, Pablo Schreiber, Crispin Glover, Yetide Badaki, Bruce Langley, Mousa Kraish, Omid Abtahi, Demore Barnes, Peter Stormare, Sakina Jaffrey, Dean Winters, Devery Jacobs, Kahyun Kim, Derek Theler, Laura Bell Bundy, and Christian Lloyd.
American Gods season 2 airs on STARZ on Sundays at 8 p.m. ET/PT.