Arrow Season 6: Tonight He's Going to Party Like It's 2012
It's like a flashback to season 1, except not. A new clip from tonight's Arrow shows Oliver Queen (Stephen Amell) in his original costume back when he was the Vigilante/The Hood and killing was on the table. He's not even wearing his mask. I think if fans saw this out of context they might assume that it was a clip from season 1. The fighting style is vicious and lethal.
We know why he's going after Ricardo Diaz (Kirk Acevedo) alone — because he has driven everyone else away. We know why Diaz is in the police station, because the only cops left are the ones on Diaz's payroll. What we don't know is why the old suit. I don't think he's even wearing the old green grease paint he used to put over his eyes.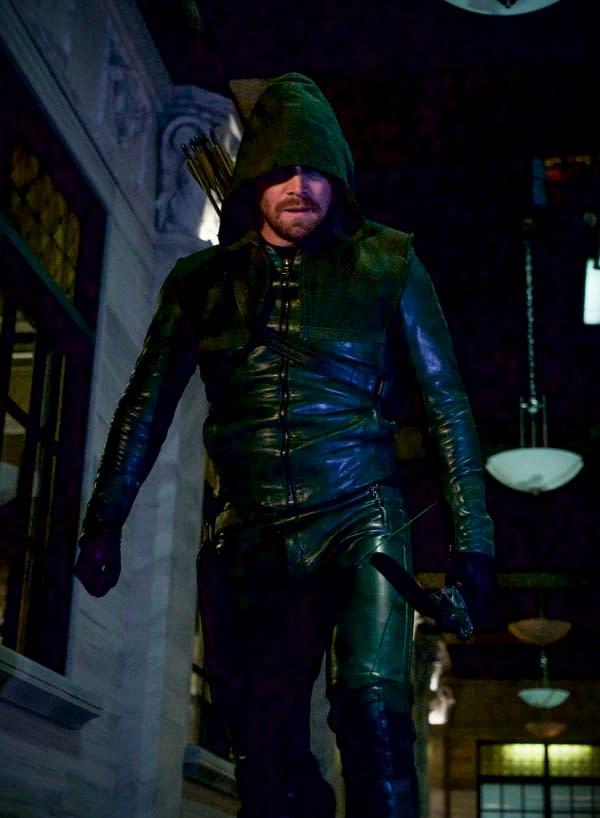 One possible scenario is that Oliver and Felicity (Emily Bett Rickards) are supposed to have a falling out at some point. Maybe she gets upset and kicks him out of the Bunker, making him find his old uniform that he's kept hidden somewhere in the city. Or maybe he's chock-full of Vertigo and this is all a hallucination. Or maybe he's just trying to get into Throwback Thursday… #TBT!
Arrow airs tonight at 9 p.m. ET on the CW.
https://youtu.be/DeHRoTALDJk