"Arrow" Season 8: EP Beth Schwartz Talks "Love Letter" to Pilot, "Crisis," Guest Stars & More
Now that we find ourselves in August and creeping ever so cloer to the fall, now's a good time to update ourselves on pre-season news before The CW's "Arrowverse" shows return. With Arrow shuffling off the network's programming coil after an abbreviated eighth season (making The Flash the "elder states-show" of the "Arrowverse"), Ruby Rose-starrer Batwoman joining the family, and a looming "Crisis on Infinite Earths" crossover that could change things dramatically (more on that below), the 2019-2020 season isn't exactly going to be lacking in change – and the news hasn't slowed down.
Which brings us to Arrow EP/showrunner Beth Schwartz, who sat down with TV Guide to discuss the end of the series' run – and of course, leaving a breadcrumb trail of teases in her wake. Here are some of the highlights:
● If fans think the series is "just" going to end with Oliver's (Stephen Amell) death, Schwartz reminds fans that things never go that smoothly in the Arrowverse: "I mean, this is Arrow, so you think you know what's going to happen, but you don't really."
● With Oliver knowing his fate heading into the final season, the Emerald Archer will have the opportunity to embrace the corse of his heroic aspirations:
"I mean knowing, having the Monitor tell him that he's going to die, but he's got to do it to save the multiverse — I mean his theme of the season is a hero's sacrifice and every character's going to go through that this season. And this is the ultimate hero's sacrifice, to know you're going to die, but you're going to save so many people's lives. And that's always been the juggle of the hero, of being selfless and putting yourself and sort of your family, in Oliver's case, a little bit second so that you can do the greater good."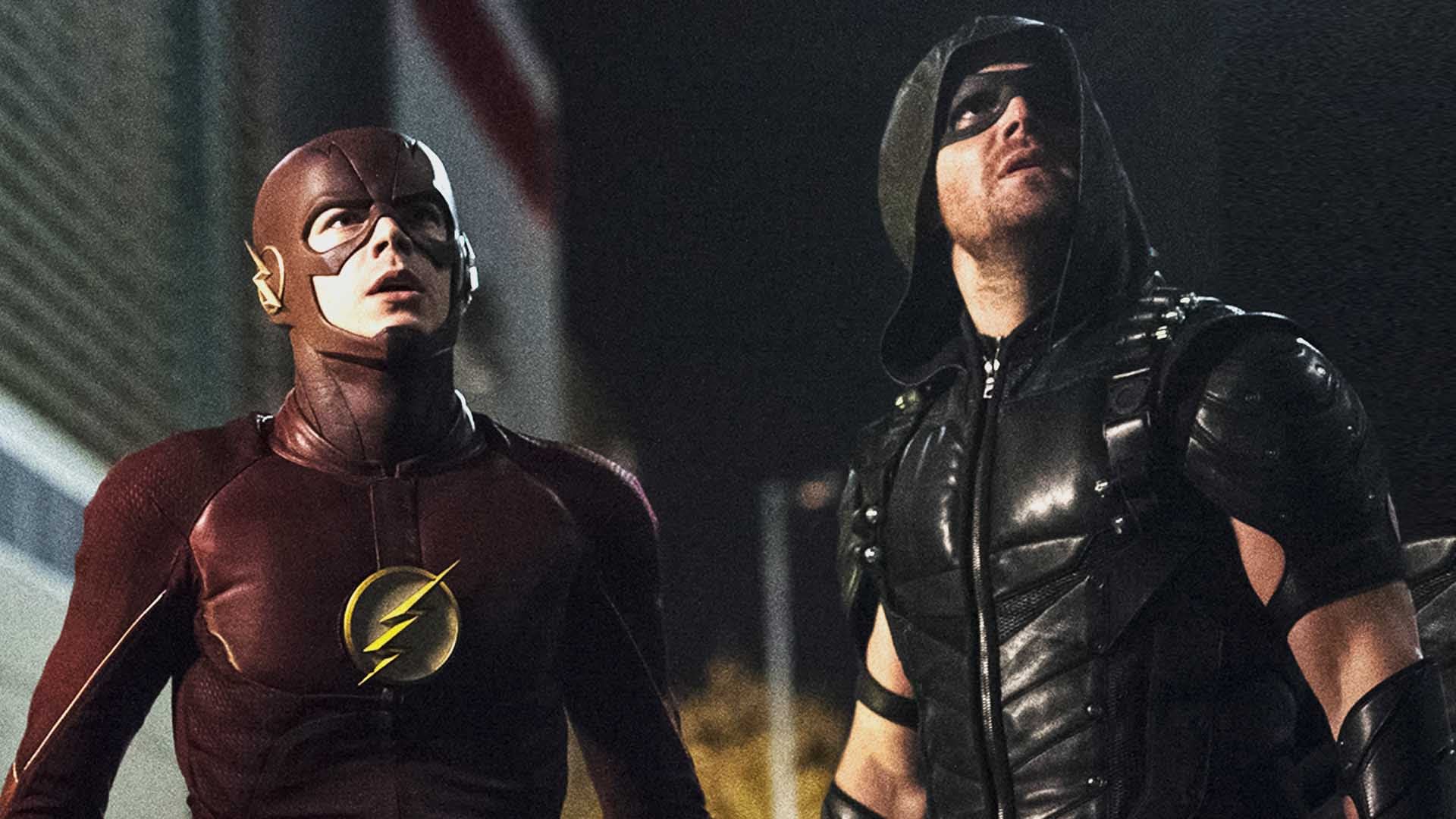 ● For Schwartz, having Colin Donnell return was just the right connection to the show's past that the final season needed – with more familiar faces to follow:
"Every season we want him back. He's such a great part of the show. We always love having him back. He's such a great guy. And when we knew it was our final season, he was one of the top people. We were like, "We have to get him back for our final season." We had a whole list of actors and characters that we went through that we're like, "We can't end the show without seeing them one more time." So he was just — he's one of those."
● With the series wrapping-up its eight-season run, fans should expect some callbacks to the show's beginnings – especially in the season premiere:
"We have a lot of callbacks to Season 1 early on in, well, especially in the premiere. The premiere is very much like a love letter to the pilot, and it was so much fun to write. And the actors had a lot of fun as well. There's going to be a lot of that through the season."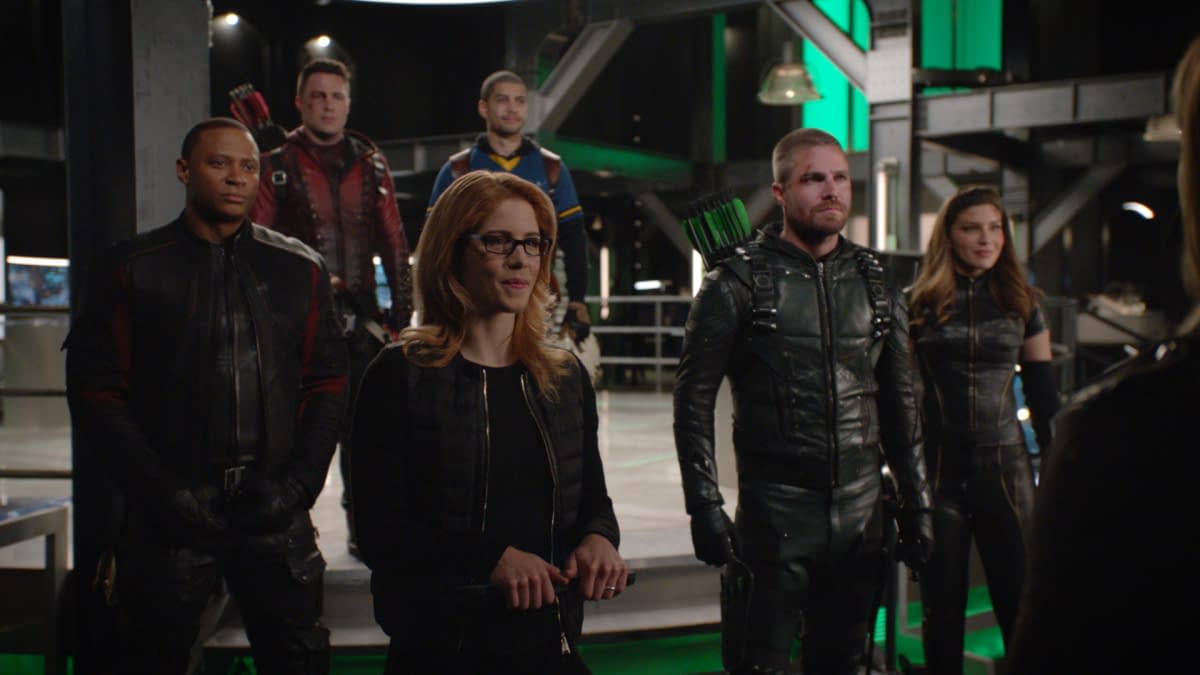 ● Schwartz is particularly excited over the story-telling opportunities a Multiverse-travelling Oliver opens up:
"It's been so great. I mean when we figured out what we were going to do this season, it was both exciting and also we were like, "Are we really going to do this?" Or "How are we going to do this?" But since we're not going to be in Star City anymore for most of the season, it opened up our world to go to all different places, which then opened our world to revisiting a lot of old characters. Because we're not just in Star City alone. Because Oliver saved Star City last season, and we wanted this season to be — the stakes are bigger than ever. He saved his own city, which we've been waiting for him to do for seven seasons, and now he has to save the multiverse… The stakes are bigger and the world's bigger."
● Season 8 will not have "just one villain" – but the overall "big bad" is pretty clear: "The villain really is 'Crisis' in this season."
● As for a scene between Oliver and Katherine McNamara's Mia happening before the show shuffles off the programming coil, Schwartz kept things vague-yet-hopeful with well-timed "I mean you never know" and "Never say never."
● And yes… the salmon ladder is returning in the season premiere – and yes… Schwartz made an (unsuccessful) attempt.

Earlier this month, The CW had its turn once again at the Television Critics Association (TCA) summer press event – this time, for the last time. Taking part in the session were stars Amell and David Ramsey, as well as executive producers Marc Guggenheim and Schwartz.
Here's a look at the "reveals" from the panel:
● Season 8 picks up approximately a week after the ending of the seventh season.
● Season 8 is "fundamentally different" from previous seasons, with each episode on "event" and the series as fans knew it ending with season 7 and Felcity's exit.
● Original Crisis on Infinite Earths scribe Marv Wolfman penned the television version with Guggenheim.
● Katie Cassidy Rodgers (Laurel Lance aka Black Canary aka Black Siren) is directing the third episode of the season – as confirmed here:
● Guggenheim "I think when I read about some line, people are asking us questions, they're thinking about things in a very binary way… They are thinking A or B – we have a Z plan."
● Schwartz's "The whole season is basically our greatest hits" line screams a ton more guest stars to come – but no new ones revealed.
● Discussions about surviving characters being blended into other shows are constantly at play, so the Arrow series finale may not be the on-screen end for some characters
● The season's eighth epsiode will be the "Crisis" crossover episode – comprising the fourth hour of the crossover:
Supergirl – Sunday, December 8th (8/7c)
Batwoman – Monday, December 9th (8/7c)
The Flash – Tuesday, December 10th (8/7c)
Arrow – Tuesday, January 14, 2020 (8/7c)
DC's Legends of Tomorrow – Tuesday, January 14, 2020 (9/8c)
● Guggenheim adding Black Lightning to the crossover fit with the overall theme of "Crisis" in that anything is possible: "It's not 'Crisis on CW Earths', it's 'Crisis on Infinite Earths'."
Viewers can't say they weren't warned in advance. At the end of 2018's CW Arrowverse "Elseworlds" crossover that brought together The Flash, Arrow, and Supergirl (and nearly DC's Legends of Tomorrow, but they let it go to machine – way too busy for all that), we saw that the end was only the beginning… of the end. As Barry (Grant Gustin) and Oliver (Amell) shared what felt like a final toast and Kate Kane's Batwoman (Rose) returned to protecting the streets of Gotham – with a sense that something felt a little off – we got a small taste of what's still to come in 2019…
"Crisis on Infinite Earths!" Worlds will live! Worlds will die!
And the CW's "Arrowverse" will never be the same…
At CW's 2019 May Upfronts presentation, the network offered a few "'Crisis' management" clues for info-starved fans. This year's "Crisis on Infinite Earths" crossover will include Arrow, The Flash, Supergirl, DC's Legends of Tomorrow, and Batwoman; the entire story will be five hours long; and the event will air over two quarters (3 episodes in December 2019, 2 episodes January 2020). There were initial concerns that DC's Legends of Tomorrow would not be involved – as the series won't be returning until midseason – but the announcement resolved that matter.
Curiously enough, Black Lightning is not listed as participating in the crossover event – surprising considering the "infinte earths" aspect lends itself to "guest appearances" from a number of televised DC properties (past and present) that aren't directly connected to the CW's properties. With that said? We're trusting our instincts, which tell us the Pierce family will be residing in the "Arrowverse" by the time the red skies clear.
For most of their respective seasons, things have been "All Quiet on the 'Crisis' Front" when it came to Arrow, The Flash, and Supergirl – but that changed in a big way during their respective season finales… even for DC's Legends of Tomorrow!
In Arrow season finale "You Have Saved This City," the Monitor (LaMonica Garrett) returns to cash in on the favor that Oliver owes him: help him save the multiverse – taking a moment to tell him the "fine print": Oliver's going to die during "Crisis" and there's nothing the Monitor can do to stop it.
Then there's that matter of Future Felicity (Emily Bett Rickards) and the trip she's taking with the Monitor to see Oliver… somewhere… and it's apparently a place she can't come back from. Hmmm…
https://youtu.be/XGoeR7qf14o
Over at The Flash season finale "Legacy," some recent maneuverings with Time moved up the date on Barry's "red skies/2024" newspaper warning just a wee bit… to say, 2019?
The fourth season finale of Supergirl "The Quest for Peace" had The Monitor speaking to a hooded figure, telling him that now is the time for him to lead "his people" and to take revenge on his captor… and brother: J'onn J'onzz (David Harewood). Meanwhile, just because Lex Luthor (Jon Cryer) may have shuffled off this mortal coil (???) doesn't mean his role in the upcoming "Crisis" is over quite yet…
DC's Legends of Tomorrow season finale "Hey, World!" found the plan to take down Neron (Brandon Routh) resulting in a major status quo change for Zari (Tala Ashe) – a change that the suddenly-appearing Monitor does not appear to approve of in any way, shape, or form. At least he got some popcorn out of it – and yes, that is The Book of Destiny he's using to balance it.
The CW's Batwoman and Supergirl premiere Sunday, October 6; while The Flash premieres Tuesday, October 8, with Arrow joining them on October 15. Black Lightning premieres the following week, on Monday, October 21.