Barry: HBO, Bill Hader Series Ending with Upcoming Season 4 (Teaser)
With the HBO series returning for the fourth & final season on April 16th, here's the official teaser for Bill Hader & Alec Berg's Barry.
---
For Barry Berkman (Bill Hader), Sunday, April 16th marks the beginning of the end. Though considering his current predicament, you could argue that might've happened during the third season's finale. But next month will bring the return of Hader & Alec Berg's Barry for its fourth and final season, and we even have a preview and official season key art for the show's final eight episodes. "It's been an amazing journey making this show, and it's bittersweet that the story has come to its natural conclusion," shared series star, co-creator, writer, director & executive producer Hader regarding the series' end.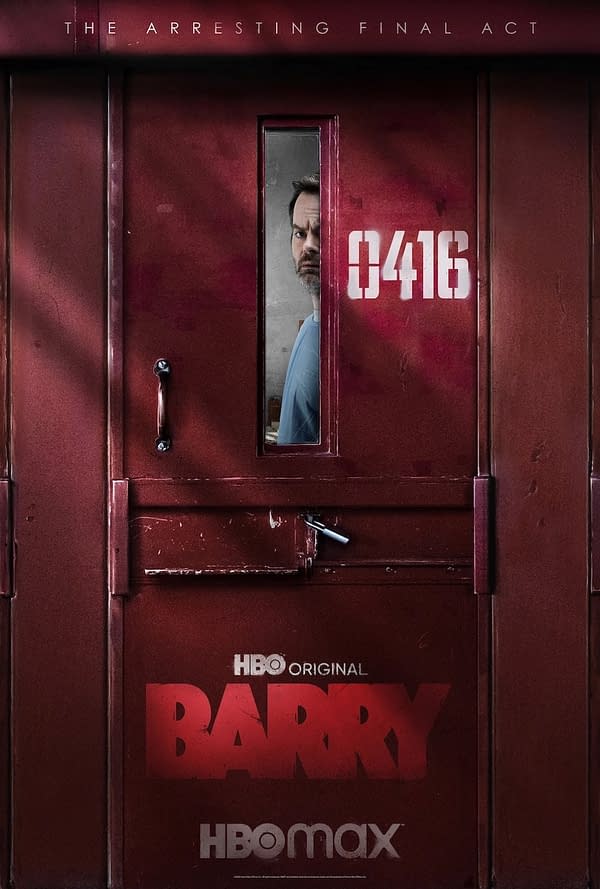 Amy Gravitt, Executive Vice President, HBO & HBO Max Comedy Programming, added, "After three masterful seasons of 'Barry,' we are eager for viewers to see the powerful, complex, and hilarious conclusion to Barry Berkman's story. It has been a pleasure working with this immensely talented team, including Bill Hader, Alec Berg, Aida Rodgers, and the entire exceptional cast and crew." With the final season set to get underway beginning April 16th, here's a look at the official Season 4 teaser for HBO's Barry:
Cousineau (Henry Winkler) is hailed as a hero as Barry's (Bill Hader) arrest has shocking consequences. It's all been leading up to this – the explosive and hilarious final chapter of Barry. Joining Hader & Winkler for the fourth & final season are Stephen Root as Monroe Fuches; Sarah Goldberg as Sally; Anthony Carrigan as Noho Hank; and Robert Wisdom as Jim Moss. Returning recurring guest cast includes Michael Irby as Cristobal, Fred Melamed as Tom Posorro, Andrew Leeds as Leo, Patrick Fischler as Lon Oneil, and Jessy Hodges as Lindsay. The series was created by Berg & Hader; executive produced by Hader, Berg, Aida Rodgers, and Liz Sarnoff; co-executive produced by Duffy Boudreau; produced by Julie Camino. Hader directs all eight episodes this season, with the season's writers including Hader, Sarnoff, Boudreau, Taofik Kolade, Emma Barrie, Mark Ashmore, and Nicky Hirsch.