Posted in: BBC, Doctor Who, Netflix, TV | Tagged: bbc, Claes Bagn, Dolly Wells, dracula, john hefferman, mark gatiss, netflix, sherlock, sister agatha, steven moffat, sue vertue
---
BBC's Dracula, From Moffat, Gatiss and Vertue, Just Crossed Over With Sherlock Holmes
Tonight saw the debut of the first episode of the new BBC adaptation of Bram Stoker's Dracula, from Steven Moffat, Mark Gatiss and Sue Vertue. It was everything it needed to be and so much more. Minor spoilers before, holding fire on the big stuff, as I know plenty of people will be timeshifting this one.
The original novel is rarely what people expect. The Count isn't seen for most of it. As is common for much fiction of the era, the story can't just be told, it has to be a collection of published letters – in Dracula's case, that includes letters, diary entries, newspaper articles and ships' log entries. The adaptation, from Doctor Who and Sherlock's Moffat, Gatiss and Vertue, has Jonathan Harker, played by John Hefferman, tell his story to nuns in the convent to which he has escaped from Castle Dracula, as he begins to piece his own story together.
And even with his mesmerising tales of the vampire, played by Claes Bagn, is it Dolly Wells who plays Sister Agatha, who utterly steals this show. She begins questioning as to whether Harker's own account of events, written down within the convent, may be missing out details that might offend his fiancee Mina just in case she were to read it. And Sister Agatha wants the whole unvarnished truth from Jonathan, beginning with whether or not he had sexual intercourse with the Count. It's not just out-of-place prurience, she is looking for something to explain his bizarre physical condition, perhaps having caught a virulent disease that is leaving his body to rot.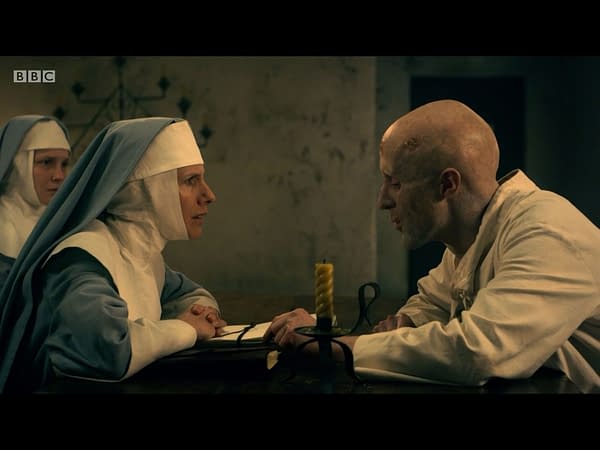 Because Sister Agatha is pretty atheist for a nun, she explains her calling was a very long time ago, she is known for a fascination with the occult and is seeking evidence of the divine in all the wrong places, with an analytical, straight forward and brash manner. Sound familiar? Even as Dracula has the best puns – regarding Jonathan's invigorating presence within the castle as evidence of 'fresh blood', comparing vampires to lawyers or later, when Harker is crippled, saying that he looks 'drained' – it's Agatha who gets the best lines, putting everyone in their place and later getting the chance to stare down Dracula himself with pure logic. It's a familiar trait for a Moffat/Gatiss/Vertue production and Agatha takes this from subtext to fully blown text, after she talks about undertaking her own investigations, courtesy of a detective acquaintance of hers she knows in London.
There is no doubt as to who she is referring in the moment.
But for all the clever-clever, and there is plenty of that, this is also an intentionally physically repellant show. It begins with flies within eyeballs and plays up the grotesque The effects look real, CG is minimal, the body horror of Dracula's transformations are more in line with the physical effects of An American Werewolf In London or Company Of Wolves, they turn the stomach but never in an uncanny valley way. The undead don't unfurl from their crates, they snap open, wriggling and retching, out of the castle walls in an oppressive, fearful and overwhelming fashion. But given the gore, the show also chooses to continually also pull back, mass slaughters observed or glimpsed rather than shown in all their Game Of Thrones glory. Dracula gives enough to churn the stomach but never too much, letting the mind's eye play the events out with an even greater effects budget that we all keep within our own heads.
There are big changes made to this story, not just its composition, but with the plot, and definitely with the characters. There is one big change made to a familiar figure, but it is done in such a fashion that it feels utterly earned, the audience brought onside before the reveal. Oh and then they repeat one of their big tricks from Sherlock, but by that time, I couldn't feel cheated, I was loving it too much. One of those tricks you'll just love to fall for – for the third time. And by the time the third big change lands, you're just cheering from the rafters. What a way for the BBC to welcome in a new year by making the nineteenth century seem fresher than ever.
Dracula is a three-part series of ninety-minute episodes, airing on January 1st, 2nd and 3rd at 9pm on BBC1 in the UK, and streaming on the iPlayer after that. International audiences will get all three episodes on Netflix from January 4th.
---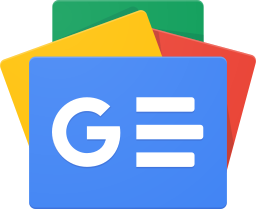 Stay up-to-date and support the site by following Bleeding Cool on Google News today!