Benedict Cumberbatch Hears Voices in Clip from Showtime's Patrick Melrose
Everyone is talking about the Avengers: Infinity War trailer that dropped this morning, but that's not the only place you can find new footage of Benedict Cumberbatch — there's also Showtime's Patrick Melrose. This five-part limited series based on the acclaimed novels by Edward St. Aubyn tracks Patrick from a privileged but deeply traumatic childhood in the South of France through severe substance abuse in his 20s in New York and, ultimately, toward recovery back home in Britain. In the clip below we see Patrick trying to satisfy his addiction with food and alcohol.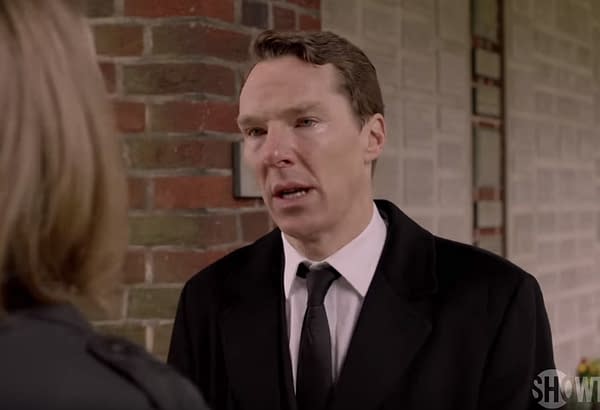 Here is the write-up for the project:
In a tour de force role, Benedict Cumberbatch plays the titular character who struggles to overcome the damage inflicted by a horribly abusive father and the mother who tacitly condoned his behavior. Academy Award nominee Jennifer Jason Leigh (The Hateful Eight) and Screen Actors Guild® winner Hugo Weaving (The Matrix trilogy) also star as the parents of Patrick Melrose. Rounding out this accomplished cast are Anna Madeley (The Crown), Blythe Danner (Meet the Fockers), Allison Williams (Girls), Pip Torrens (The Crown), Jessica Raine (Call the Midwife), Prasanna Puwanarajah (Doctor Foster), Holliday Grainger (Bonnie & Clyde), Indira Varma (Game of Thrones) and Celia Imrie (Bridget Jones's Baby). Each episode, devoted to one of the five novels, is written for television by BAFTA Award® nominee David Nicholls (Far from the Madding Crowd, One Day) and directed by celebrated film director Edward Berger (Deutchland 83, Jack). A co-production between SHOWTIME and Sky Atlantic, this gripping and humorous saga encompasses the South of France in the 1960s, New York in the 1980s and Britain in the early 2000s.
Patrick Melrose debuts on Showtime Saturday, May 12th at 9 p.m.