"Better Call Saul" Season 5 "Magic Man": Life, Death & Rebirth [SPOILER REVIEW]
Vince Gilligan and Peter Gould's Better Call Saul came smooth-talking its way back to AMC on Sunday night with "Magic Man", the first of its two-part premiere event (with "50% Off" airing Monday night in its regular timeslot) – and it felt like easing into a warm, inviting bath.
If that bath was filled with crystal meth, cell phones, piranhas, and… of course… sprinkles.
After doing a little catching-up, where do things stand for Jimmy McGill-Saul Goodman-Gene Takovic (Bob Odenkirk)? How long can Kim (Rhea Seehorn) endure Jimmy/Saul's continuing downward spiral? With Lalo (Tony Dalton) looking to have a bigger hand in the Salamanca family business, Gus (Giancarlo Esposito) will need Mike (Mike Ehrmantraut) now more than ever but Mike's not Gus' biggest fan right now – while Nacho (Michael Mando) is looking a little skaky.
So as we look at "Magic Man" and its tale of life, death, and resurrection, MAJOR SPOILERS AHEAD! alert – beginning with Gene's current situation:
[rwp_box id="0"]
If season-opener "Magic Man" (directed by Bronwen Hughes and written by Gould) is any indication of where the final two seasons are going, we could subtitle the fifth and sixth go-arounds as Breaking Bad "seasons 0.25 and 0.75. Or as a Breaking Bad-loving friend of mine put it, "Oh wow, I haven't really watched Better Call Saul before but I actually know what's going on."
Finding a way to balance the familiar with deadly-fascinating new elements, "Magic Man" proved to be a very telling tale of Life, Death, and Rebirth – so with an intro that dramatic, we can't help but dive right in: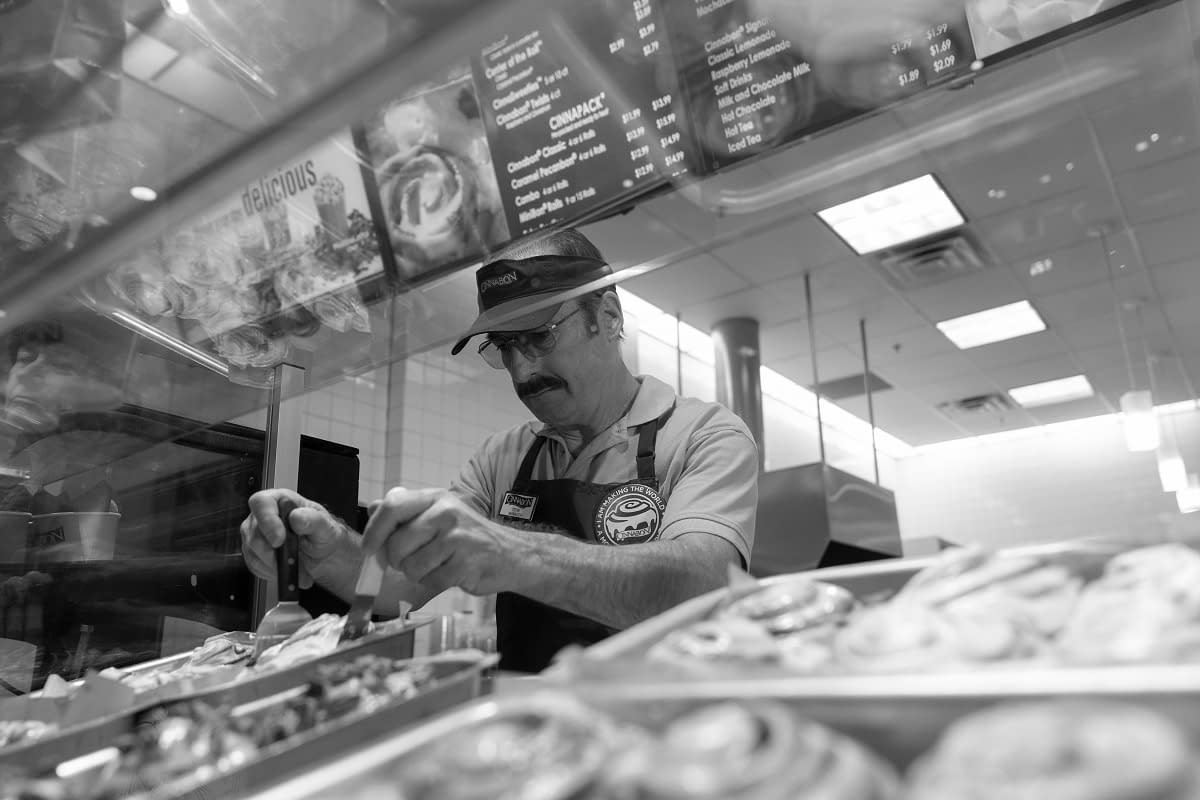 ● They say that just because you're paranoid doesn't mean they're not out to get you – as Gene finds out, when his life of managing cinnamon rolls in Omaha is jolted by an earthquake of seismic proportions. While it was inevitable that something was going to come to a head – that Saul Goodman is too much of a force of nature to be contained forever – the moment Gene's confronted in the mall by the cab driver and his friend (not sure we're buying that cover) just felt wrong. Saul may not be a "good guy", but he's our guy – so when the cabbie makes Gene say the Saul catchphrase and point his fingers, we can't help but feel disgusted.
● But this was also the moment that we saw Gene "die" (in much the same way Jimmy faded away), and Saul Goodman reborn. If Walter White's "Heisenberg" and Jesse Pinkman's "Pinkman", then Jimmy's clearly "Saul Goodman" all the way – the true persona, while the others mere masks. So when Saul says to Ed the Fixer (Robert Forster), "I've changed my mind. I'm gonna fix it myself.", we know that means one of two things: someone's going to end up dead – or working for Saul.
● Are Gilligan and Gould really going to make us wait another year before we see how this ends up? Ugh…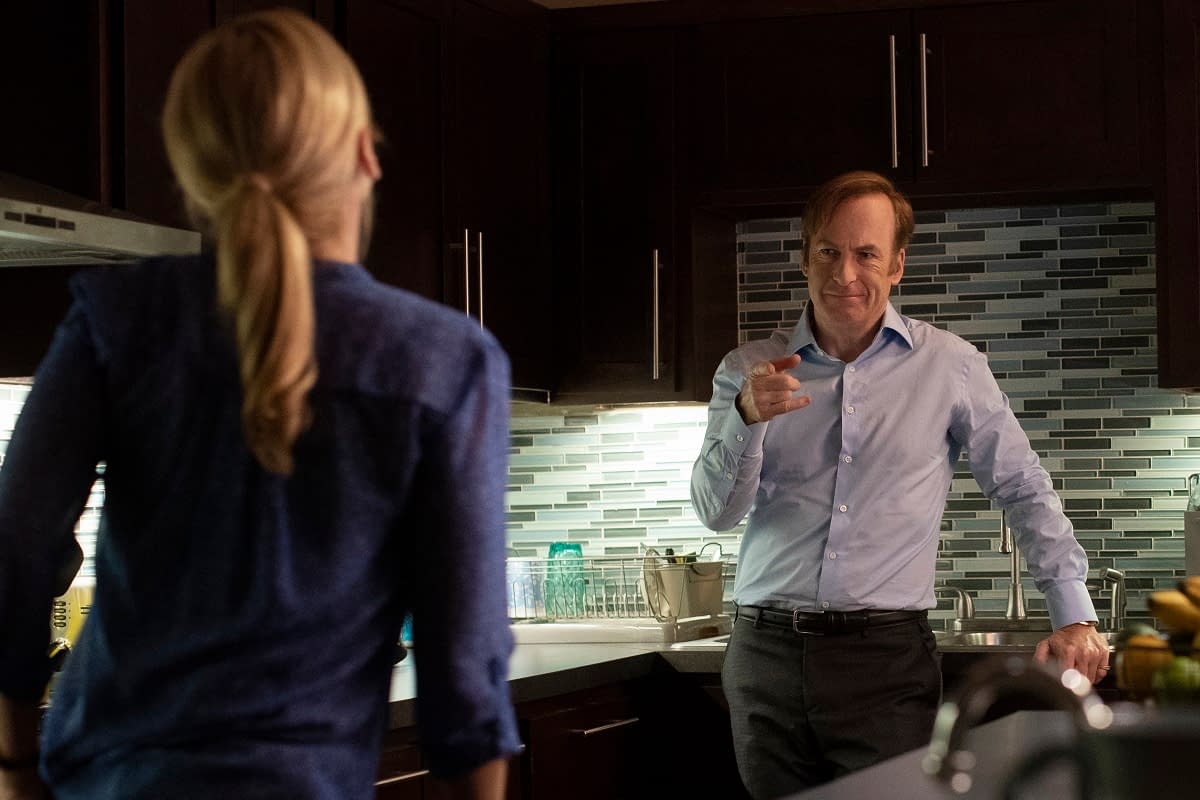 ● The moments between Kim and Saul are truly beautiful, heartbreaking, and foreboding – filled with quiet momnets and missed opportunities that will come back to haunt both of them. Kim knows the path Jimmy's going down by changing his name, yet she rightly won't let herself be Jimmy's excuse for the decisions he makes – though he damn sure tries. In the ultimate form of "tough love", she bites her tongue when everything inside her wants to tell him not to do it. But after seeing what having someone control his life did to him in the past, Kim doesn't want to be another "Chuck" in his life.
● Another aspect of Better Call Saul that shouldn't be overlooked is its ability to build tension in situations where we know how it's going to end, yet we still can't shake the nerves. We know by the time Breaking Bad takes root, Gus will have a raging success with his Los Pollos Hermanos chain – and a pretty vibrant crystal meth operation. Yet Lalo makes us forget, especially when confronting Gus over some bad product that made its way into their dealings. There was a second where we thought Gus might get killed – a testament to Dalton's performance, the "anti-Gus" but with the same quick-trigger rage… when needed.
● Mike's handling of Ziegler's men and the way he's dealing with the death of Werner gave Banks a lot to work with, and he introduced layers to Mike's "origin story" that add a ton of context to what we see of him during Breaking Bad. Let's also not lose sight of how well Banks and Esposito play two dangerous men who have cautious respect for one another – right now, the only thing keeping the other one alive.
● No better way to show how Saul's becoming crime's "Greatest Showman" than by having his "coming out party" at circus-looking shady pop-up event. Trading free cell phones for 50% deals on non-violent felonies? Everything we need to know about Saul moving forward.
● "I'm Saul Goodman, and I believe that every man, woman, and child deserves justice at a price they can afford."
Saul blind-siding district attorney Bill Oakley (Peter Diseth) to get a good PR/commercial moment for his new persona wasn't surprising. Sad, because it shows that Saul's willing to throw anyone under the bus even just a little to serve his sense of a "greater good" – but definitely not surprising.
Neither was seeing just how seductive the ways of Saul Goodman can be, which Kim learned by the end of the episode – and feared all along. Because it never starts off as a "big bad" move – it starts with a twist of the truth here, a little lie there. But it's okay because it's for a "greater good" – in this case, keeping her client from going to trial, where he will most certainly face a tougher sentence than what Kim's plea deal is offering.
For Saul, it's simple: they'll play "make believe" to make it seem like the deal's being pulled so Kim's client will be desperate to get it back and sign it. Kim's outraged, telling Saul she has no intention of "scamming" her client – which turns out to be a great concept but…
Her client misreads the body language between her and Saul when they were talking, and she uses that moment to go Saul's path – and it works. But at what cost? As Kim finds herself alone in the courthouse stairwell, we feel a sense of both herself and her love for Jimmy dying – with Seehorn having us curious as to the Kim we see walking back out of that stairwell.
One helluva' comeback for Better Call Saul – make sure to join us Tuesday as we take a look at next episode, "50% Off":
"Better Call Saul" season 5, episode 2 "50% Off": Jimmy's promotional stunt has unintended consequences. Nacho takes extreme measures to earn Lalo's trust. "Saul" is a success at the courthouse, but still has yet to win Kim over. Simmering with rage and self-loathing, Mike loses his temper. Written by Alison Tatlock and directed by Norberto Barba.

In season five of the critically acclaimed drama, Better Call Saul, Jimmy McGill's decision to practice law as "Saul Goodman" creates unexpected and profound waves of change throughout Albuquerque's legal and illegal circles. Kim Wexler finds herself at a crossroads as her connection with Jimmy deepens. Wracked with guilt and regret, Mike Ehrmantraut hits rock bottom. Meanwhile, Nacho Varga tries to survive as Gus Fring's covert war on the cartel becomes a life-and-death chess match with the mercurial and relentless Lalo Salamanca