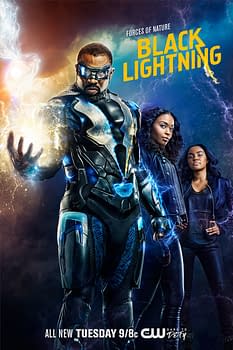 Earlier today we ran an article that showed a new promo trailer for Black Lightning, and it has a spoiler about Jennifer Pierce (China Ann McClain) and when she might follow her comic book counterpart and get super powers. Since the series showed us pretty early that Anissa (Nafessa Williams) was getting the powers and costume of Thunder, it was a pretty safe assumption that at some point Jennifer was going to power up as Lightning.
They've done a great job in the series of establishing the family dynamics and just how different the two daughters are, so it would make sense that their hero's journeys would also be very different. Actor Cress Williams, who plays their father Jefferson Pierce and the title character Black Lightning, talked about what's to come once Jennifer's powers begin to manifest with EW.com:
It'll be different because she comes at it from a different perspective. Even if you separate powers, you see that there's a difference in personality types and what's important to them between Anissa and Jennifer. Once powers are introduced, they also subsequently take different roads and have different reactions to it.
We've been watching the path Anissa has been on since the end of the pilot episode. It will be interesting to see the path Jennifer takes — and just what this will do to Lynn (Christine Adams) to have her entire family have powers.
Black Lightning airs Tuesdays at 9 p.m. ET on the CW.
Enjoyed this article? Share it!