'Black Lightning' Season 2, Episode 13 "Pillar of Fire" Review: The Future (Shock) Is Now! [SPOILERS]
The CW's Black Lightning continues with "The Book of Secrets" with third chapter "Pillar of Fire" – and while this episode felt close to closing out this "book," what is most important about this episode is how it sets up the characters and storylines for the future. We unleash Jennifer's powers, delve into the history of Anissa's girlfriend Grace, Jefferson makes a choice about the future of Garfield High, and the pod people get moved to new home.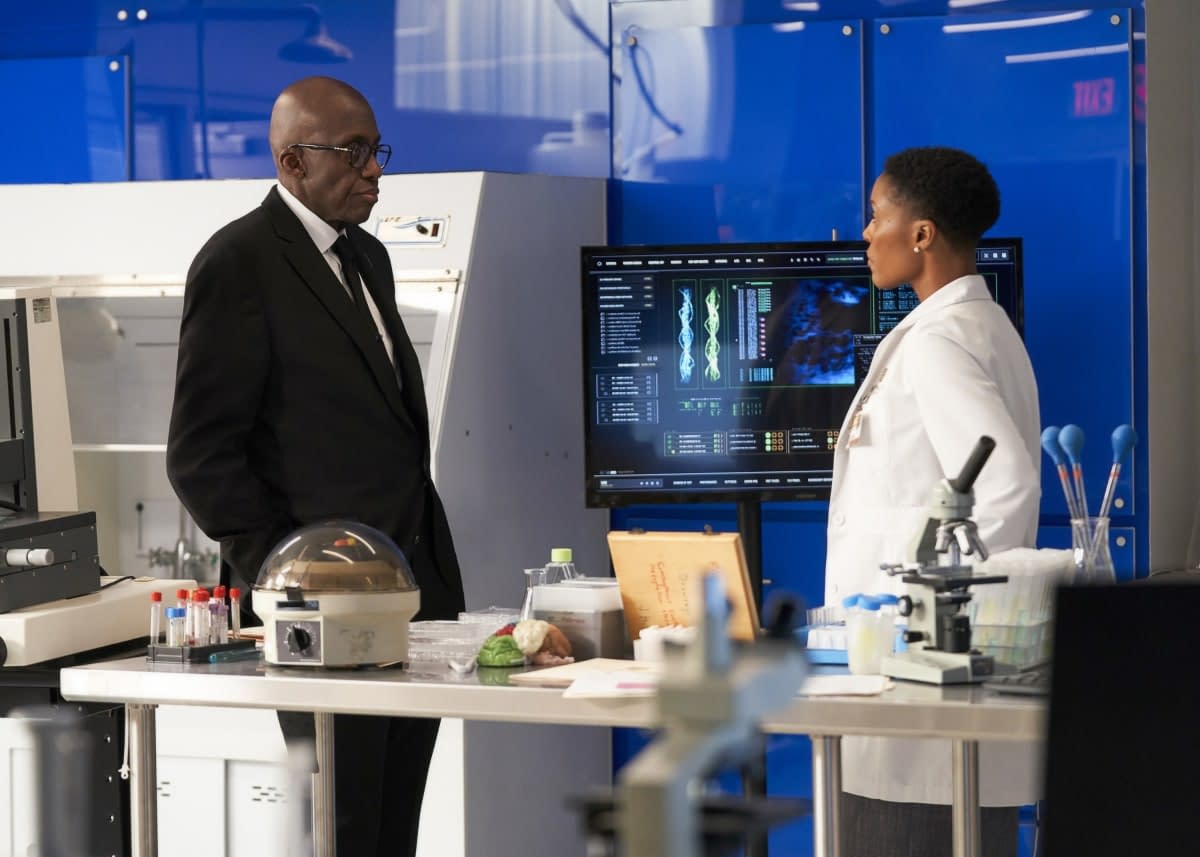 With the Markovians on the hunt for the pods, Agent Odell (Bill Duke) orders Lynn (Christine Adams) to prepare to move the children. Meanwhile, Tobias (Marvin "Krondon" Jones III) and Cutter (Kearran Giovanni), afraid the pods will slip away from them, release Marcus Bishop (Hosea Chanchez) aka Shakedown from his 25-year nap and make a plan to steal all of the other pods. With Tobias in control of the rest of Shakedown's team (who we find out are the Masters of Disaster!!!) and now the Green Light children, he proclaims himself the most powerful metahuman arms dealer in the world. That's really bad news for Freeland – and the world – but it's great to know where things are going and how the show has set itself up for the remainder of the season and beyond.
https://youtu.be/X5nxUUZ62gM
We finally get to see Jennifer (China Anne McClain) bust loose with her powers. At the beginning of the episode, Gambi is unable to contain all of the power she's generating, despite being designed to absorb the power of a small nuclear bomb. Yes, she is that powerful – and even at only 50% of her power, they mention she's putting off more electricity than her dad Jefferson did in his prime. Later, we see unleashing some of that power when she goes after some of Tobias's underlings – demanding to know where he is. While she can mostly take care of herself, she does find herself outnumbered – but luckily big sister Thunder is there to save her. I can't wait to see the two of them teaming up more.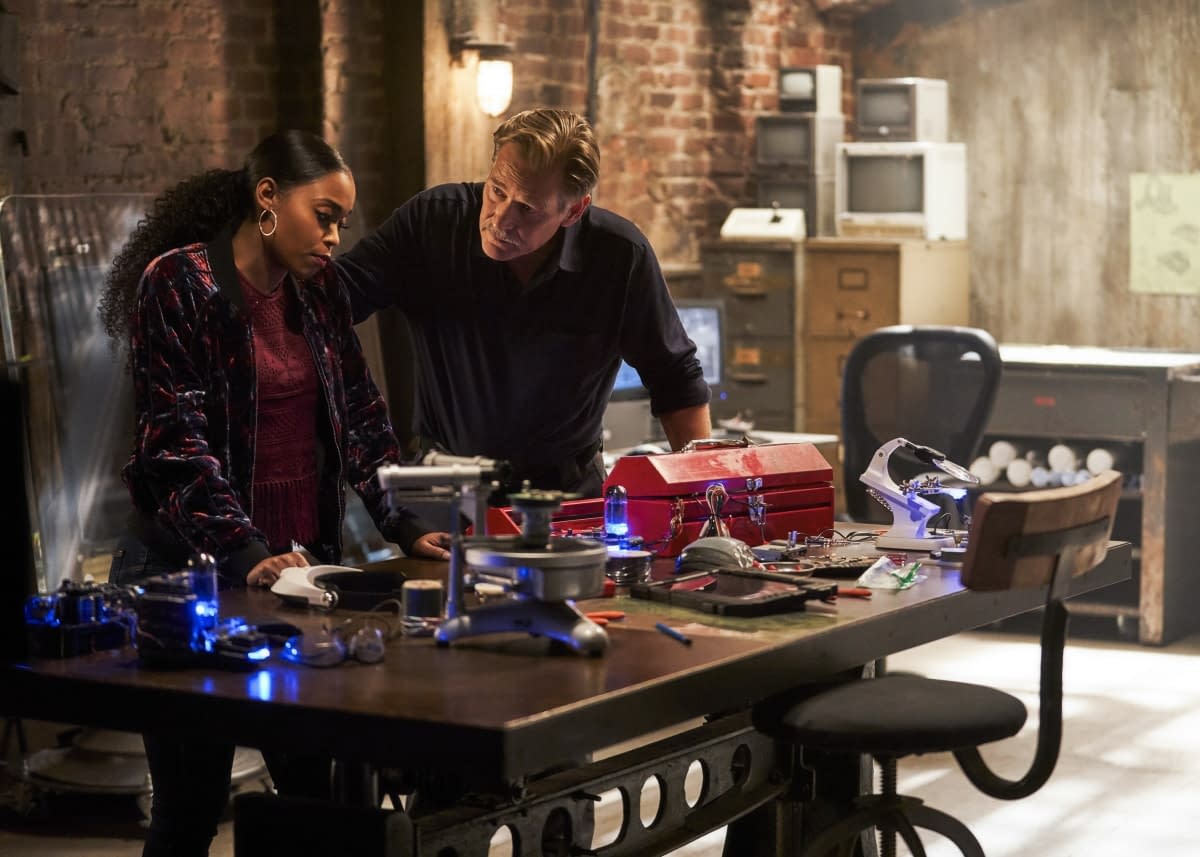 Speaking of big sister Anissa, her journey this episode mostly involves searching for her missing girlfriend Grace Choi, who we find is a completely manufactured identity. She was abandoned as a child, passed around through foster care, then was a victim of human trafficking – none of which exactly explains the skin discolorations we've seen or the strange pill Anissa found in her apartment.
Again, this sets up nicely for more of what is bound to come next.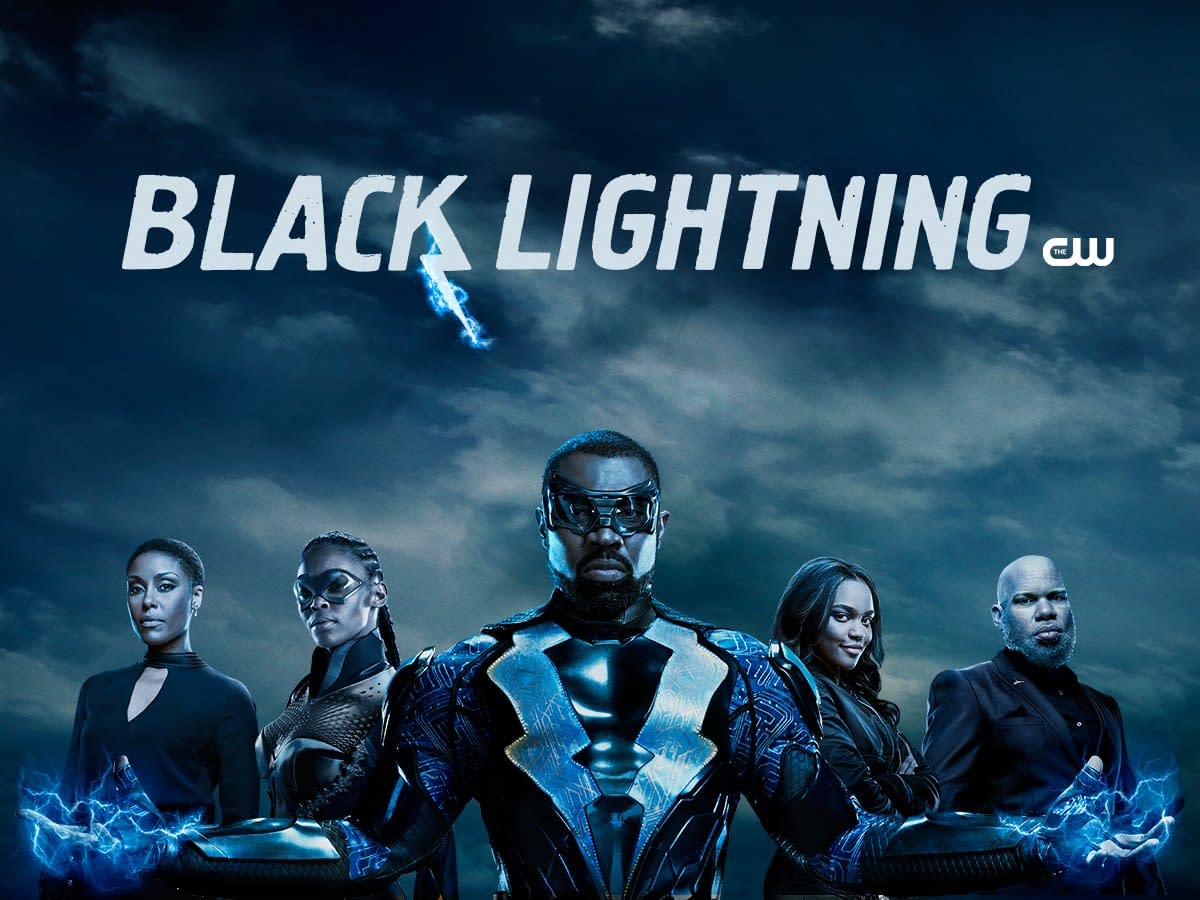 In a final setup, Jefferson (Cress Williams) gets a chance to kneecap Principal Lowery for his handling of the student protest in the last episode – and chooses not to. Something Lowery said to him obviously affected his thinking, that the students deserve a principal who is there for them 100%. Knowing that as long as he is also fighting crime as Black Lightning, he can't be the principal Garfield needs, he chooses to back Lowery to continue in that role.
Sing it with me, "And that's what make him the good guy!"
Maybe it also makes him a chump, but one of the things that is so interesting about Jefferson is the doubt and guilt he carries with him, making him a layered hero – and one we can all relate to. This also means we get more of Lowery as a foil (especially as a stand-in for racial fragility), and that's something I can't get enough of.
In a final, beautiful/awful scene, Tobias finds Cutter sitting behind his desk, drinking his scotch – and waiting to seduce him. The "foreplay" to her seduction? She tied up loose ends with Todd (RJ Cyler) by "buying him a new car." As smart as Todd was, he should've seen that coming but…
Hasta la vista, Todd!
We'll miss you… and go watch Me, Earl, and the Dying Girl in remembrance of you.

So make sure to join us when the CW's Black Lightning returns on March 4 with "The Book of Secrets: Chapter Four: Original Sin":
https://youtu.be/KR162byMjUQ
Black Lightning airs Mondays at 9 p.m. ET/ 8 p.m. CT on CW, starring Cress Williams as Jefferson Pierce/Black Lightning, Nafessa Williams as Anissa Pierce, China Anne McClain as Jennifer Pierce, James Remar as Peter Gambi, Damon Gupton as Inspector Henderson, Christine Adams as Lynn Pierce, and Marvin Jones III as Tobias Whale.