This article contains spoilers for the Black Lightning season one episode – LaWanda: the Book of Burial.
.
.
.
.
.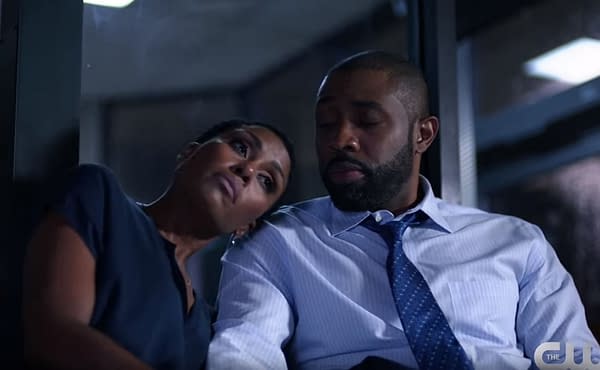 Black Lightning continues as one of the better new series of the season. This episode continues to focus on the family and community aspect of Jefferson Pierce's life, from the awkward family moments to the heroic and tragic time in the suit. The episode starts with Anissa (Nafessa Williams) trying to figure out what's going on with her, testing her powers in a junk yard and then doing some research in the library where she meets Grace Choi (Chantal Thuy) who is carrying an Outsiders comic book. Interestingly both Black Lightning and Thunder are members of the Outsiders. Grace invites Anissa to cosplay night at the bar she works at and when they two are dancing at the bar, Chenoa (Shein Mompremier) arrives and accuses her of cheating, which leads to them breaking up and opening the door to thing between Anissa and Grace.
Jennifer (China Ann McClain) has decided she's ready to have sex with Khalil (Jordan Calloway) and she decides to tell her parents over dinner. The awkwardness as Jefferson (Cress Williams) and Lynn (Christine Adams) try to applaud their daughter for feeling she could come to them and at the same time not horribly overreact to the idea of their youngest daughter about to have sex. This scene and later when Jefferson is talking to Khalil about how he showers as a way of scarring him from having sex with Jennifer is some great writing.
But the main story has to do with a pastor who puts together a march to take back the streets of Freeland. Tobias Whale (Marvin 'Krondon' Jones III) pays a visit to Lady Eve (Jill Scott), offering her recompense for Lala's actions. Lady Eve is more interested in what Whale is going to do about Black Lightning and the march. Whale insists that Black Lightning is dead, but he sends a gunman to shoot up the march. Jefferson knows things are going to get ugly, so he and Gambi (James Remar) work to refine the suit and control the march route. When the gunman takes his shots, Black Lightning is there to stop him. But Whale sees him and orders Syonide (Charlbi Dean Kriek) to shoot him, but she hits the pastor and the bullet goes through and hits Khalil. The pastor survives, but Khalil may never walk again.
The episode ends with Gambi finding footage of Whale and Syonide in the car at the March, but he deletes it.
This was another powerful and emotional episode and again very little time was spent with Jefferson in costume. How close this hits to home will help motivate what is going to happen going forward for all the members of this family. Lynn got to see the dangers that everyone faces regardless of being a vigilante or not and she got to see the difference Jefferson can make. And though they don't know it's their father, both Anissa and Jennifer saw that as well. Some very bad things have happened to this family over a very short amount of time, but these events will drive the series for it's run. And as for Gambi, I don't see them making him work for Whale. There will be something more going on there.
Next week it looks like Anissa is quickly moving along the path of becoming a hero as she takes her powers into the fight for the streets.
https://youtu.be/wRCg39IU6O4
Enjoyed this article? Share it!