Now that we find ourselves in September and creeping ever so closer to the fall, now's a good time to update ourselves on pre-season news before The CW's "Arrowverse" shows return. With Arrow shuffling off the network's programming coil after an abbreviated eighth season (making The Flash the "elder states-show" of the "Arrowverse"), Ruby Rose-starrer Batwoman joining the family, and a looming "Crisis on Infinite Earths" crossover that could change things dramatically (including for Black Lightning this time), the 2019-2020 season isn't exactly going to be lacking in change – and the news hasn't slowed down.
But what about Black Lightning? Glad you asked, because the network has released a teaser for the show's third season return – with the country inching closer to war, what happened to Cress Williams' Jefferson Pierce aka Black Lightning?
https://www.youtube.com/watch?v=LQLkZ1xg_qE
Jefferson Pierce (Cress Williams) is a man with many faces. He is a former Olympic athlete, respected educator and a father of two. He is also Black Lightning, superpowered protector of the fictional city of Freeland with the ability to sense and harness electricity.

Jefferson is not the only one with powers and multiple faces. His oldest daughter, Anissa Pierce (Nafessa Williams) is a medical student, health clinic volunteer and dedicated social activist. She is also the super hero known as Thunder who possesses the ability to drastically increase her density, giving her invulnerability and super strength for as long as she can hold her breath. Finally, Jefferson's youngest daughter, Jennifer Pierce (China Anne McClain), is a fiery teen who inherited her father's athletic gifts but not his desire to be an athlete. Jennifer also inherited super powers. Her body generates pure electrical energy and she possesses the potential to be more powerful than Anissa or Jefferson and is known as Lightning. Lynn Stewart (Christine Adams) is Jefferson's ex-wife but they are still very much in love in addition to sharing the load as co-parents. She's also an expert in metahuman medicine.

Together, the Pierce family faces the challenges of a declined urban community, including a menacing gang that calls itself The 100 and infamous gangster, Tobias Whale (Marvin "Krondon" Jones III). Worse, Freeland has been plagued by government-sponsored experiments and drug trafficking that have created metahumans and addicts while making Freeland a target of a dangerous foreign power, Markovia.

Fortunately, the family has allies in their fight, Jefferson's surrogate father and a former covert superspy, Peter Gambi (James Remar), as well as Jefferson's friend and neighbor, the committed and scrupulously honest Deputy Police Chief Henderson (Damon Gupton).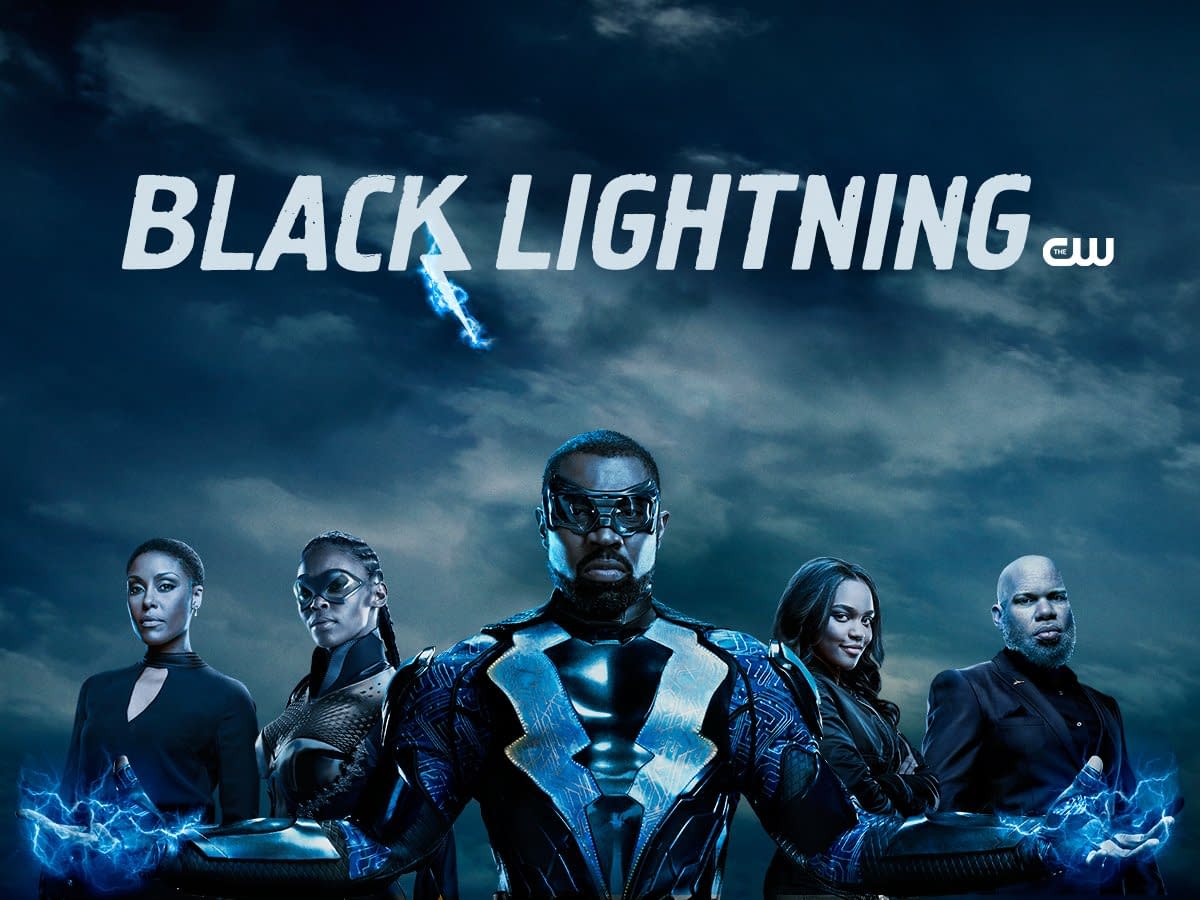 A righteous amount of Arrowverse and Black Lightning fans were surprised (to say the least) when the show wasn't folded in during last season's "Elseworlds" crossover. Last month, series star Cress Williams (Jefferson Pierce / Black Lightning) confirmed that the team from Freeland would be "Crisis"-bound:
…and just in case the post gets removed:

The Road to "Crisis on Infinite Earths"
Viewers can't say they weren't warned in advance. At the end of 2018's CW Arrowverse "Elseworlds" crossover that brought together The Flash, Arrow, and Supergirl (and nearly DC's Legends of Tomorrow, but they let it go to machine – way too busy for all that), we saw that the end was only the beginning… of the end. As Barry (Grant Gustin) and Oliver (Amell) shared what felt like a final toast and Kate Kane's Batwoman (Rose) returned to protecting the streets of Gotham – with a sense that something felt a little off – we got a small taste of what's still to come in 2019…
"Crisis on Infinite Earths!" Worlds will live! Worlds will die!
And the CW's "Arrowverse" will never be the same…
The season's eighth episode will be the "Crisis" crossover episode – comprising the fourth hour of the crossover:
Supergirl – Sunday, December 8th (8/7c)
Batwoman – Monday, December 9th (8/7c)
The Flash – Tuesday, December 10th (8/7c)
Arrow – Tuesday, January 14, 2020 (8/7c)
DC's Legends of Tomorrow – Tuesday, January 14, 2020 (9/8c)
Black Lightning will also be represented during the crossover event, which will also feature Jon Cryer (as Lex Luthor), Tyler Hoechlin (Superman), Elizabeth Tulloch (Lois Lane), Kevin Conroy (Future Bruce Wayne), Burt Ward, and DC's Legends of Tomorrow star Brandon Routh (Kingdom Come Superman). Johnathon Schaech is also expectd to reprise his role as Old West (and a brief run in the future in the comics) gunslinger Jonah Hex.
For most of their respective seasons, things have been "All Quiet on the 'Crisis' Front" when it came to Arrow, The Flash, and Supergirl – but that changed in a big way during their respective season finales… even for DC's Legends of Tomorrow!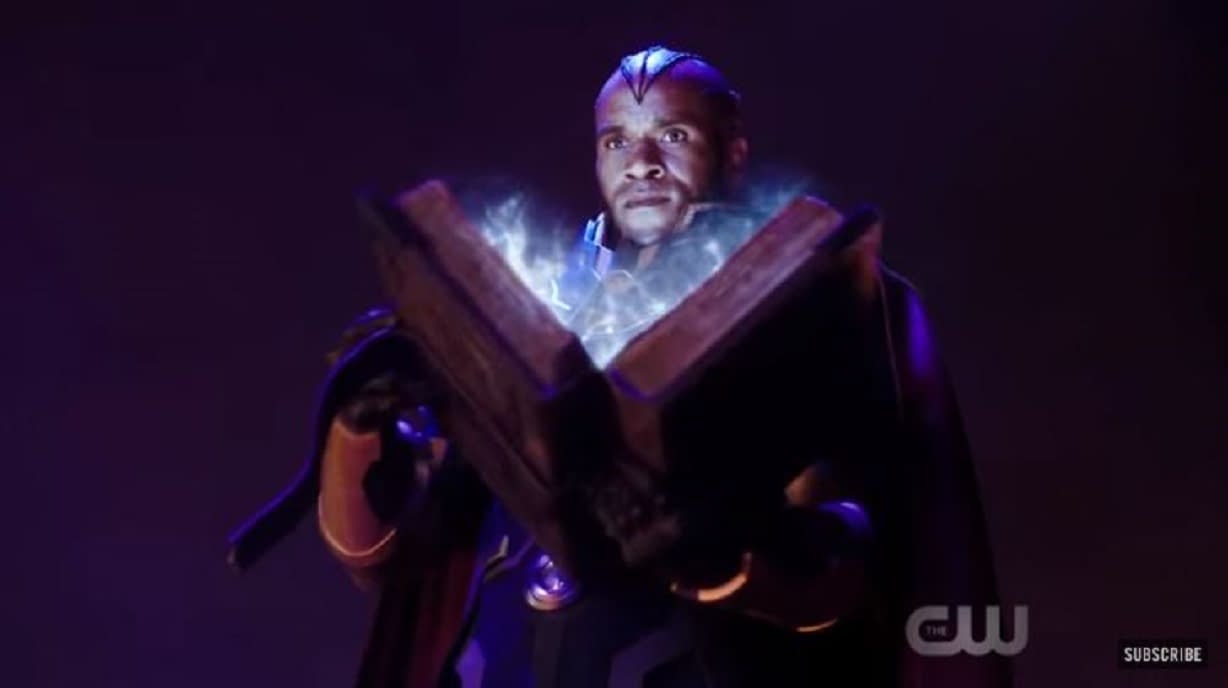 In Arrow season finale "You Have Saved This City," the Monitor (LaMonica Garrett) returns to cash in on the favor that Oliver owes him: help him save the multiverse – taking a moment to tell him the "fine print": Oliver's going to die during "Crisis" and there's nothing the Monitor can do to stop it.
Then there's that matter of Future Felicity (Emily Bett Rickards) and the trip she's taking with the Monitor to see Oliver… somewhere… and it's apparently a place she can't come back from. Hmmm…
https://youtu.be/XGoeR7qf14o
Over at The Flash season finale "Legacy," some recent maneuverings with Time moved up the date on Barry's "red skies/2024" newspaper warning just a wee bit… to say, 2019?
The fourth season finale of Supergirl "The Quest for Peace" had The Monitor speaking to a hooded figure, telling him that now is the time for him to lead "his people" and to take revenge on his captor… and brother: J'onn J'onzz (David Harewood). Meanwhile, just because Lex Luthor (Jon Cryer) may have shuffled off this mortal coil (???) doesn't mean his role in the upcoming "Crisis" is over quite yet…
DC's Legends of Tomorrow season finale "Hey, World!" found the plan to take down Neron (Brandon Routh) resulting in a major status quo change for Zari (Tala Ashe) – a change that the suddenly-appearing Monitor does not appear to approve of in any way, shape, or form. At least he got some popcorn out of it – and yes, that is The Book of Destiny he's using to balance it.
The CW's Batwoman and Supergirl premiere Sunday, October 6; while The Flash premieres Tuesday, October 8, with Arrow joining them on October 15. Black Lightning premieres the following week, on Monday, October 21.