Black Mirror: Bandersnatch- Inside Netflix's Live-Action Interactive Experience
So it looks like the rumors were true: Charlie Brooker's latest Black Mirror: Bandersnatch is officially Netflix's first live-action interactive experience. Directed by David Slade (American Gods, Hannibal) and starring Dunkirk's Fionn Whitehead, the Black Mirror "special event" dropped early Friday morning and follows computer programmer Stefan as he adapts childhood fantasy novel Bandersnatch into a video game. When things begin to change around him, creating a mix of reality and virtual reality that has him questioning the reality of everything – and everyone – around him.
https://youtu.be/XM0xWpBYlNM
Black Mirror: Bandersnatch – In 1984, a young programmer begins to question reality as he adapts a sprawling fantasy novel into a video game and soon faces a mind-mangling challenge. Welcome back.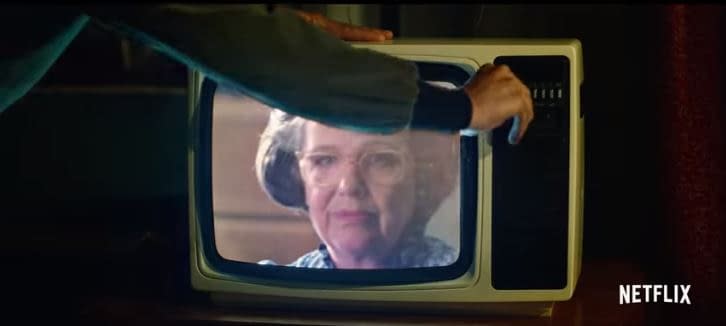 With viewers now having the chance to experience the experience for themselves, director Slade, Netflix's director of product innovation Carla Engelbrecht, and producer Annabel Jones sat down to go over some important things viewers should know about Black Mirror: Bandersnatch before the deep-dive:
● First, some viewing advice from Slade to get the most out of the experience: "Be yourself. Don't think that there is a best way — find your own way through it. Otherwise, paralysis will set in about what choices to make. And don't go back; just keep going forward."
● While most of us have been referring to it as a "Choose-Your-Own-Adventure" format, the storyline format they're going with that allows viewers to pick between a series of choices to control how the story unfolds is known as "branching narrative."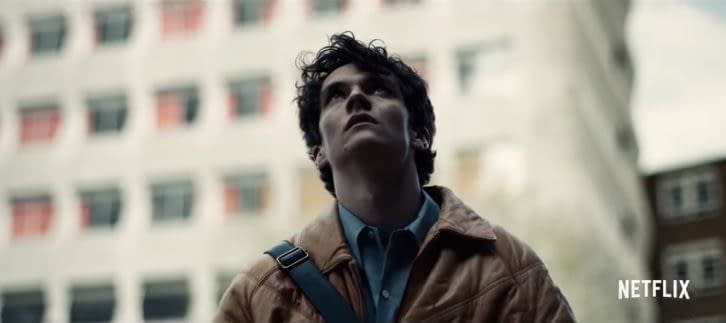 ● Black Mirror: Bandersnatch can be viewed on smart TVs, browsers, game consoles, and Android and IOS devices – but not on Apple TV, Chromecast and some legacy devices. Viewers on their phones or tablets can select their choices by touch. The film is broadcast in 28 languages, reaching more than 137 million global subscribers.
● The film has no official run length since the narrative depends on the viewer's decisions, but expect to commit to a minimum of 90 minutes to finish a basic run-through – and up to 2-1/2 hours for the "full" experience.
● While Black Mirror: Bandersnatch offers viewers some basic day-to-day decisions to make at the beginning (like choice of breakfast cereal and commuting soundtrack), the gravity and moral complexity of the decisions they will have to make grow considerably as the film unfolds – something essential for Jones:
"From my limited experience with branching narratives, you ultimately end up with lots of disparate, and essentially meaningless, endings. You could find your protagonist in so many different scenarios that you've lost sense of the whole."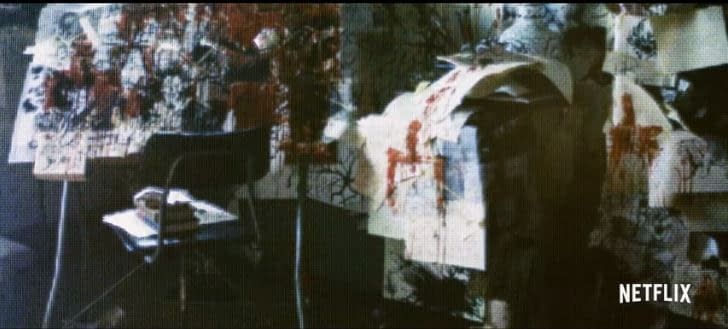 In fact, Engelbrecht knows the exact moment in the film when most viewers will not like being in the position of decision-maker:
"There is a moment in Bandersnatch that I bet is going to be one where 90 percent of the people do not want to make the choice that they want to make. I promise you will know when that moment happens," said Engelbrecht. "This is going to be one of those moments that we think will create such emotion that there will be this beautiful level of engagement and attachment to this story."
● For Brooker's vision for Black Mirror: Bandersnatch to become a reality, some new technology had to be created behind-the-scenes. "State tracking" remembers viewers' choices from throughout the film and adjust small and large details accordingly. To keep the flow of the episode as smooth and cinematic as possible, new device technology was also developed to seamlessly load the individual viewer's storyline situations. When it came to mapping out the branching narrative, Netflix and Brooker developed internal tool "Branch Manager" that would allows for easier outlining by defining possible pathways and "If/Then" scenarios.
● This is definitely not the last time we'll see this technology in play, with Engelbrecht confirming that there are ongoing talks with other creators and projects are currently in development:
"We do want to take a number of gos at this and see what works for different audiences. That's what we're engaged in now: What are the other kinds of stories that we can tell and that folks are excited to tell? And continuing to unearth this iceberg of opportunity and see what's there."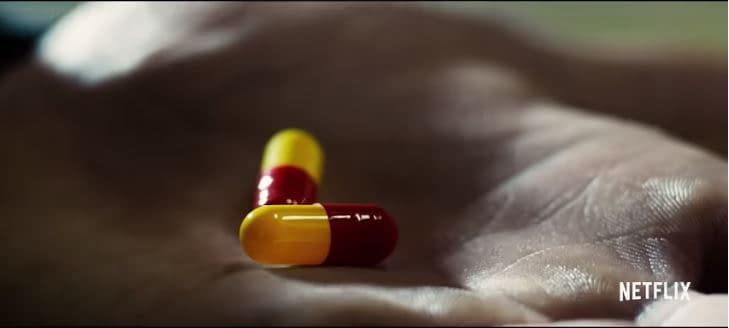 ● While Black Mirror: Bandersnatch is a standalone film/episode and not the official start to the new season (expected some time in 2019), Slade teased Black Mirror fans that the film may not be as "standalone" as first thought: "When you're seeing things that look like they have meaning, they have meaning."
● One of the new functionalities being tested by Netflix is the ability for the viewer to go back and change a previous decision and if that would have a positive or negative impact. As Engelbrecht explains, "We're continuing to learn. This is a new frontier where we don't exactly know what's the right answer here."
For a lot more on the film and future of Black Mirror on Netflix, check out the rest of the profile at The Hollywood Reporter.