Bob's Burgers Season 9, Episode 7 'I Bob Your Pardon': Bob…Talks Turkey? (PREVIEW)
Cooking and food are as synonymous with how we celebrate our holidays as anything else: chocolates and those chalky message hearts for Valentine's Day, big cookouts for The 4th of July, even cake on our birthdays. But there's one holiday above all that celebrates the coming together of family and friends to give thanks – and stuff our faces with pretty much anything we can get our hands on…as long as there's gravy on it. It's the same holiday that a great chef like Bob Belcher takes seriously and plans for throughout the year.
Thanksgiving.
With that said…you have met Bob's family, right?
As you can see from the following clip from Sunday night's holiday-themed episode of Fox's Bob's Burgers 'I Bob Your Pardon,' Bob talks turkey – or more precisely, talks to turkey. As Bob readies his roasting masterpiece, Tina, Gene and Louise head out for the town's inaugural turkey pardoning. Two different worlds brought together by a bit of Belcher bad luck, and what starts as a good deed turns into a raging dumpster fire – with an unwelcome reporter along for the ride.
Here's your sneak peak at Fox's Bob's Burgers Season 9, Episode 7 'I Bob Your Pardon' – a cautionary tale for those who think the worst part of their Thanksgivings is Aunt Edna's green bean casserole…
Bob's Burgers Season 9, Episode 7 'I Bob Your Pardon': The Belchers set out to save a turkey from a trip to the slaughterhouse, but when a local reporter catches wind of their schemes, the mission becomes more complicated than they had anticipated.

Voice Cast: H. Jon Benjamin as Bob; Dan Mintz as Tina; Eugene Mirman as Gene; John Roberts as Linda; Kristen Schaal as Louise

Guest Voice Cast: David Herman as Clerk; Paul F. Tompkins as Deputy Mayor Cunningham; Lennon Parham as Marsha; Rob Huebel as Ralph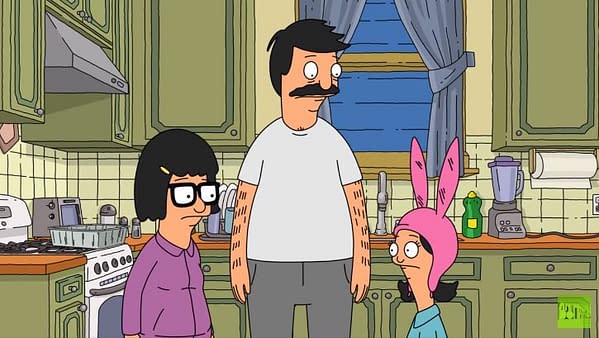 Bob's Burgers' holiday-themed 'I Bob Your Pardon' airs Sunday, November 18, at 8:30 p.m. ET on Fox.