Brooklyn Nine-Nine Season 7 Ransom Review: Holt Does John Wick Proud
Holt (Andre Braugher) takes center stage on this week's Brooklyn Nine-Nine, playing "John Wick" when he gets the opportunity to rain down pain on a thief. All rules, rationale, and logic go out the window when it comes to the ones we love being in danger, so when Holt and Kevin's beloved Cheddar is kidnapped, the usually uptight Holt loses it and seeks out the taste of blood. This is probably one of his best episodes to watch Holt completely unravel: watching him screw up a ransom call out of pure rage is hilarious. Parallel to that is the comedic antics of Amy (Melissa Fumero) and Rosa (Stephanie Beatriz) as they compete to win a very expensive stroller, while Terry (Terry Crews) and Charles (Joe Lo Truglio) look to go into business together over some bizarre broth Charles' family concocted which apparently alleviates all post-workout pain.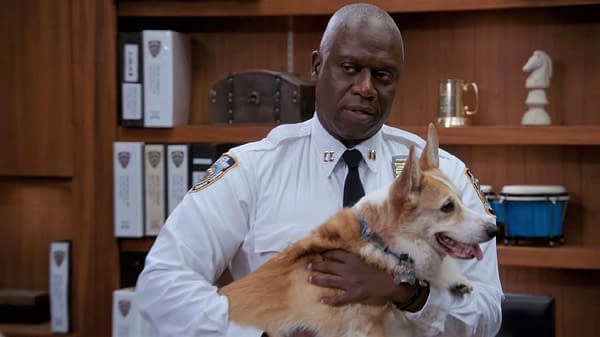 It's Peralta (Andy Samberg) to the rescue when Holt recruits him to take the lead on finding his "fluffy boy", if anything this should really validate Jake as the best detective in Holt's eyes, granted he also ends up having to save his ass when he too gets kidnapped by the perp. Jake too shines when he takes on Kevin's pretentious persona that seemed to come a little too naturally to him. Lost in a sea of the Shakespearean Festival in the park, among hundreds of Kevin lookalikes Jake tries his best to retrieve Chester. Meanwhile, Holt is an emotional wreck fluctuating between a ball of mush at the loss of his beloved pup and a man on fire, are grenades really that necessary?
For me, the funniest scenes were with Rosa being a good friend to Amy while also competing to win a stroller. I don't really understand the psychotic obsessions with pre-baby products, it was still sweet to witness (especially since the true competition was Teddy, Amy's ex and probably the most boring man on television). Before anyone gets their hopes up, they didn't win, although Teddy did propose again. The beauty of the friendships is one of the things I love the most about the show and of course the hilarious situations it plays out in.
While Terry and Charles invest thousands of dollars into a product that explodes and literally scares away the potential investor, Jake safely delivers Cheddar back to his worried parents. Being robbed of his guns and wire, Jake is thrown into the back of a car and taken to a warehouse. He is saved by Kevin's overprotective, overcompensating nature and is located by "The Nine-Nine" through GPS chips. Cue Captain Holt unleashing all his rage and obliterating the recently-released ex-con wanting answers to who snitched him out. Holt dusts himself off, regains his composure, and walks off as police sirens are blazing in the background: a very Lethal Weapon end scene. Our Important Life Lessons from this week's episode of Brooklyn Nine-Nine: let the sh*t storm rain down, don't take a man's fluffy boy, and you're never too old to beat a man to a bloody pulp.