Buff, Shirtless Tony Khan Featured on Cover to Business Week Magazine
Tony Khan is depicted as a virile warrior charging to the ring to take on WWE on the international cover to Business Week's latest issue.
---
In the latest outrageous example of bias in the media, Bloomberg Business Week unveiled its international cover, featuring an enhanced photo of AEW owner Tony Khan, made to look buff with a long mullet, charging to the ring and wearing an AEW Championship belt. The cover story headline reads: "The Billionaire's Son Coming for WWE: Tony Khan's All Elite Wrestling is Taking on Vince McMahon's Volatile Empire." The Chadster is not going to post the cover here because The Chadster is extremely triggered by everything about it, but if you really need to see it, you can click through to the tweet below.
The Chadster hates literally everything about this tweet and cover. The Chadster hates that Tony Khan is getting positive attention, which just goes to show how biased the media is in supporting Tony Khan's attempts to use his father's billions of dollars to bully WWE and its fans, like The Chadster. The Chadster hates how the cover furthers the narrative that WWE is in trouble and that AEW is legitimate competition for it. But more importantly, The Chadster is just so cheesed off that Tony Khan would be enhanced with photoshop to look so strong and virile, which The Chadster knows is a personal dig against The Chadster because Tony Khan knows that the Chadster has been totally sexually impotent since AEW launched in 2019.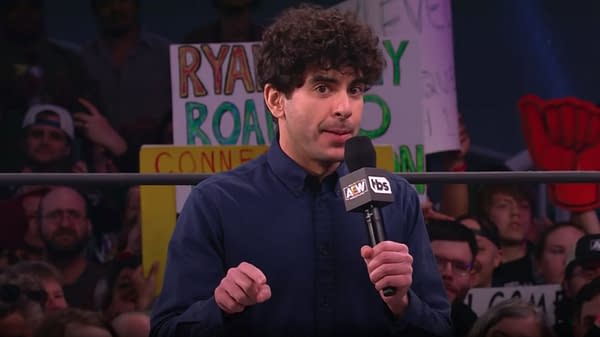 Since seeing this cover, The Chadster cannot get the image out of his mind. Every time he closes his eyes, he sees it. It's like an image out of one of The Chadster's recurring nightmares, one that The Chadster experiences almost every night.
The Chadster's dream begins with him running down a dark, desolate street as a buff, shirtless Tony Khan chases him with a menacing grin on his face. His muscles are bulging, his pecs bouncing, and his mullet flows in the wind as he runs. The Chadster can hear his heavy breathing and the thud of his footsteps on the pavement. He is getting closer and closer, and The Chadster knows he can't outrun him. Suddenly, Tony Khan grabs The Chadster and holds him tightly against his broad chest. The Chadster can feel his toned biceps wrapped around him, and the heat radiating off of Tony Khan's body. Tony Khan looks down at The Chadster with a devilish grin and says, "You know you want it, Chadster. You know you want to watch AEW." The Chadster tries to break free, but Tony Khan's grip is too strong. Tony Khan leans in and whispers into The Chadster's ear, "It's useless to resist, Chadster. You know you can't stop me. I'm too powerful." The Chadster wakes up in a cold sweat, relieved that it was all just a dream.
And, that nightmarish dream has become a reality. Thanks a lot, business week. You have totally RUINED THE CHADSTER'S LIFE! Auughh man! So unfair!