Calls
8/10
A zany short film that prank calls a star-studded list of creators and maybe even a serial killer.
Screenwriter Brian Lynch has written hit after theatrical hit these last few years with his screenplays for animated films. His streak started with the hilarious and underrated live-action/animation mash-up Hop and continued on to great commercial success with Puss in Boots, Minions, The Secret Life of Pets, and its sequel, as well as an upcoming Minions follow-up. Brian Lynch is also a comic book writer who worked on Angel: After the Fall, the official comic book follow-up to Joss Whedon's series that was, at the time, IDW's best selling comic.
Now, it looks like Lynch is taking a page out of the book Whedon created with Doctor Horrible's Singalong Blog. The Doctor Horrible webseries was unique for its time: a star-studded, professionally produced, writer/director owned production created and released when the film industry was shut down due to the writer's strike. Now, Hollywood has ceased production for entirely different reasons, but filmmakers have been reacting in ways that would make Doctor Horrible sing. Lynch wrote and directed a short film called Calls, a funny and twisted short that boasts a cast including Kevin Smith, Michael Ian Black, Brian Quinn, Joey Fatone, and more.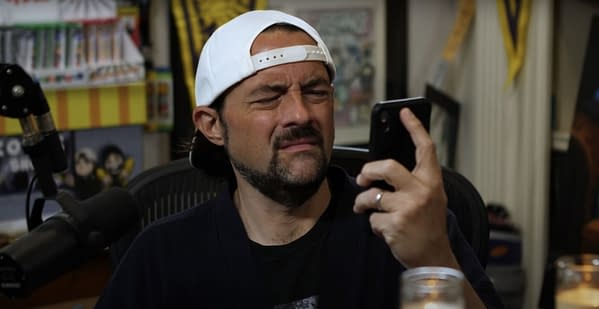 You can watch Calls bellow, and it's also on Lynch's YouTube channel, and you absolutely should. It feels like what an SNL sketch would be if the head writer was a serial killer, and someone locked them all in a small room for a year. Lynch's writing is characterized by characters with self-deprecating humor and razor-sharp wit, which has made his comics and kids films fun for everyone. This short gets zanier than his previous efforts, though, as the two lead characters compete to see who of the pair is the best prank caller. They go down a list of people, some of whom are celebrities like a self-aware Fatone, who ends his call with a bitter "Bye, bye, bye." Smith's appearance is a highlight, not only because of the 8-Bit rendition of Afroman's "Because I Got High" playing in the background, but because longtime fans of Lynch know how far the two writers go back. The star of the show has to be Quinn, though, who is both funny and dangerous as his prank goes from a silly accusation to a disturbing revelation.
Calls is a short and fun film that is well worth the few minutes it takes to watch. Personally, I'd suggest letting this serve as a gateway into Brian Lynch's non-animated work. From his early work on comics such as Angry Naked Pat and Monkey Man to his long and celebrated run on Angel and Spike comics, to his stint on Teenage Mutant Ninja Turtles, Lynch has been one of the funniest and most heartfelt writers in any genre since he's been publishing. Now, if only I could get my hands on his first live-action film, Big Helium Dog…
Enjoyed this article? Share it!