Chilling Adventures of Sabrina Returns for Season 2 in April; New Teaser Released
Now that we know the "The Witching Hour" had a few more minutes left to it than fans of Netflix's Chilling Adventures of Sabrina realized with the December 14 release of Chilling Adventures of Sabrina: A Midwinter's Tale, it's never too early to conjure visions of the series' second-season future. Thankfully, we're getting some help with that part with the release of a season 2 teaser for the series return – which takes place on April 5, 2019! No wait until Halloween!
And that's good, because it looks like Sabrina can't wait… to burn it all down:
Adding to next season's wicked fun is Alexis Denisof (Buffy the Vampire Slayer, Angel) as Adam Masters, Ms. Wardwell's boyfriend who returns to Greendale after a stint overseas working with Physicians Without Frontiers — unaware that his fiancée has been taken over by the demoness Madam Satan; and Jedidiah Goodacre (The Originals, The 100) as warlock Dorian Gray: owner of exclusive nightclub Dorian's Gray Room and enigmatic gentleman of an indeterminate age who is very good at keeping secrets, especially his own. During the Sabrina holiday special, McKenna Grace (The Haunting of Hill House) will portray a young Sabrina Spellman.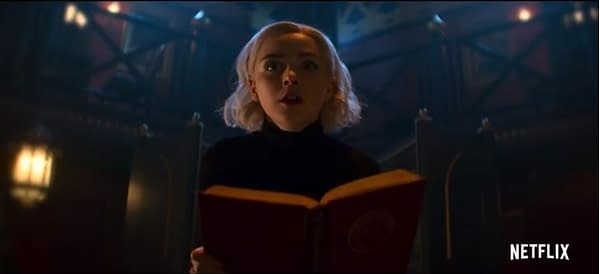 Chilling Adventures of Sabrina imagines the origin and adventures of Sabrina the Teenage Witch as a dark coming-of-age story that traffics in horror, the occult and, of course, witchcraft. Tonally in the vein of Rosemary's Baby and The Exorcist, this adaptation finds Sabrina wrestling to reconcile her dual nature — half-witch, half-mortal — while standing against the evil forces that threaten her, her family and the daylight world humans inhabit.

Chilling Adventures of Sabrina stars Kiernan Shipka, Miranda Otto, Lucy Davis, Ross Lynch, Michelle Gomez, Chance Perdomo, Jaz Sinclair, Richard Coyle, Tati Gabrielle, Adeline Rudolph, Abigail Cowen, Lachlan Watson, Bronson Pinchot, and Gavin Leatherwood

Riverdale showrunner Roberto Aguirre-Sacasa, who also serves as chief creative officer of Archie Comics, penned the script for the series. Aguirre-Sacasa executive produces alongside Riverdale collaborators Greg Berlanti, Sarah Schechter, Archie Comics CEO Jon Goldwater and Lee Toland Krieger. The drama hails from Warner Bros. Television-based Berlanti Productions.