'Carmen Sandiego': It's 90s Netflix Nostalgia Time with Gina Rodriguez! [VIDEO]
We all know "millennial nostalgia" is at an all time high, and who else better to capatilize on this trending wave then your friendly neighborhood streamer Netflix? They already have animated reboots of classics such as Voltron and She-Ra, but now they've added 90s computer game/game show/cartoon classic Carmen Sandiego to their lineup.
The titular anti-hero is voiced by 90's kid and original Carmen fan Gina Rodriguez (Jane the Virgin) this time around, and Netflix decided to give us a treat by grilling her on some of her favorite retro matchups. As a fellow 90's kid, I am living for her answers and this extra bonus nostalgia video. Yes, I know: it does capitalize on the culture of a generation's childhood, but that doesn't mean it's still not fun. Plus, spoiler? N*Sync was her favorite!!!
So check out Rodriguez's answers below, where she had to make some difficult choices, and opens up about her life growing up in the 90's:
From the video, we learn that her favorite 90's fashion statement was lip liner; her embarrassing childhood crush was on N*Sync (don't worry girl, I'm right there with you. Lance Bass was totally celeb BAE for me).
Gina's favorite thing about the 90's was the hip hop (so say we all!), but the first CD she owned was definitely N*Sync. When asked Trolls or Beanie Babies, she had both; Simon was the more difficult game for her over Bop-it, because she always questioned why "Simon" wanted her to do something.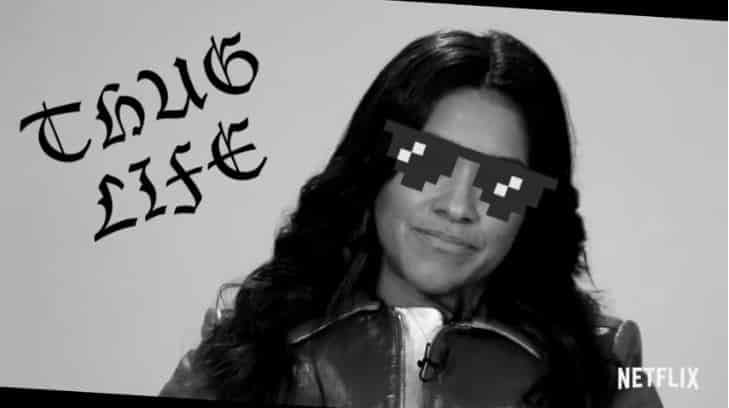 When asked to choose between Backstreet Boys and N*Sync, of course she went 3-for-3 with the best boy band!
And then the last question came: Carmen Sandiego cartoon or game show? Like every other kid during that time, she longed to be on all the amazing game shows they had for kids at the time–so of course she went with the geography-based game show, Where in the World is Carmen Sandiego?.
That's all for now, but keep an eye on Bleeding Cool for more of your Netflix nostalgia needs, and be sure to catch the new Carmen Sandiego animated series now streaming.