"Carnival Row": Amazon Unveils Orlando Bloom/Cara Delevingne Series' Official Trailer
Close to two years after Amazon Prime Video announced eight-episode fantasy series Carnival Row from Rene Echevarria, Travis Beacham, Paul McGuigan, and Legendary Television, viewers have been getting some rather intriguing looks at the Orlando Bloom (Pirates of the Caribbean) – Cara Delevingne (Suicide Squad) starrer, which is set to debut on August 30. In fact, the "buzz" is so strong that the streaming service has already given the series a season 2 greenlight. To celebrate, Amazon Prime Video has unveiled the official trailer – which we have right here, for your viewing pleasure:
Here are the previous teasers for the eagerly-anticipated series – where different is dangerous… and possibly deadly:
Set in a neo-Victorian city that can best be described as "steampunk-ish", Carnival Row suffers from its own unique immigration problems: as mythical creatures continue to flee war-torn homeland and seek refuge in the city, tensions continue to flare between citizens and the ever-growing immigrant population.
When a series of unsolved murders begin to eat away at the fragile peace, police inspector Rycroft Philostrate (Bloom) is charged with investigating the murder of a faerie showgirl on Carnival Row and bringing the killer (or killers) to justice. Faery Vignette Stonemoss (Delevingne) represents the perspective of the immigrant experience, fleeing her war-torn homeland to come to the Burgue. Stonemoss must not only contend with the growing hatred and prejudice directed at her and those like her, but also with old secrets that haunting her new life.

Joining Bloom and Delevingne on Carnival Row are:
● David Gyasi (Interstellar) as Agreus, a mysteriously wealthy faun who moves into an affluent human neighborhood in defiance of the social order.
● Karla Crome (Under the Dome) as Tourmaline, a quick-witted faerie poet driven from her war-torn homeland.
● Indira Varma (Game of Thrones) as Piety Breakspear, the regal and cunning matriarch of the powerful family that rules the city of The Burgue.
● Tamzin Merchant (Salem) as Imogen Spurnrose, a young woman who sees in Agreus an opportunity to turn her aristocratic family's fading fortunes around.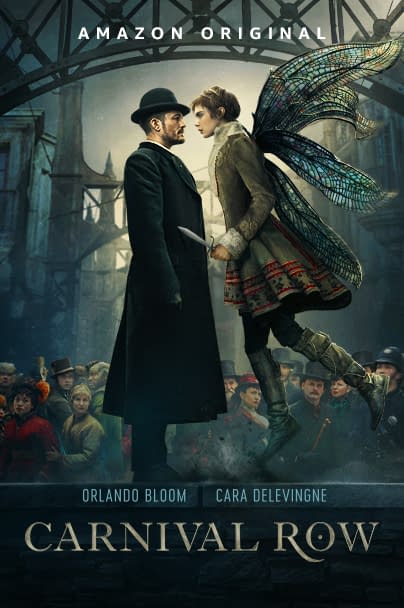 Carnival Row is from Legendary Television, with executive producers Marc Guggenheim (Arrow, Eli Stone), Rene Echevarria (Star Trek, Teen Wolf, Castle, Medium), Jon Amiel, Bloom, and Travis Beacham (Pacific Rim, Clash of the Titans). Beacham's "A Killing on Carnival Row" appeared on the very first installment of the Hollywood Blacklist in 2005, with Amazon releasing the adaptation on August 30th.