CBS Renews Instinct, Criminal Minds, and 3 Others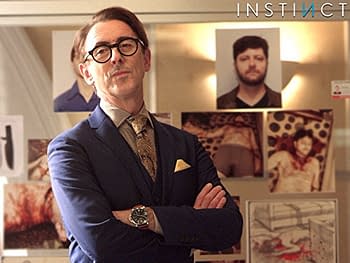 CBS is busy making decisions and announcements today. Along with news that Scorpion was not coming back, the network announced it pulled the plug on Superior Donuts while renewing its freshman series Instinct, the long-running Criminal Minds, the celebrity version of Big Brother, and comedies Life in Pieces and Man with a Plan.
Criminal Minds will be coming back for a 14th season and, like always, the deal came down to the wire. But this time all of the principal actors had contracts in place. The series moved from 9 p.m. to 10 p.m. on improved the numbers in the time slot for CBS and did well in delayed viewing. The renewal allows the series to answer the cliffhanger that the current season ended on and will let the series reach its 300th episode with the season premiere.
Instinct, the new series based on the James Patterson novel, was a midseason series that stars Alan Cumming as a former CIA agent who left to become an author and professor but that gets pulled back into action when someone copies the murders in his books. The ratings for the series aren't great, but they're in line with the rest of their Sunday night line-up and is the first broadcast drama series to feature an openly gay lead character.
Life in Pieces, which normally has gotten an early renewal, got one today for a fourth season. The series stars Betsy Brandt, Colin Hanks, Thomas Sadoski, Angelique Cabral, Dianne Wiest, and Zoe Lister-Jones and uses a format of four stories per episode to follow their lives.
Matt Le Blanc gets another season for his series Man with a Plan where he plays a contractor who picks up the slack at home when his wife goes back to work. The series also stars Liza Snyder, Kevin Nealon, Stacy Keach, and Matt Cook. The show will be going into it's third season.
After years of talk about a celebrity version of its summer hit Big Brother, CBS finally did one last season and the numbers were good. A second season has been greenlit. The series was originally set up to run opposite of NBC's Winter Olympics coverage, so when the second season will run isn't known yet.
And finally on the downside is the cancellation of Superior Donuts after two seasons. The workplace comedy starring Jermaine Fowler and Judd Hirsch debuted with decent ratings last spring air after The Big Bang Theory, but CBS had horrible numbers on Monday nights this season, and Superior Donuts had the worst numbers of the comedies that aired that night.
CBS will be making its Upfront presentation on Wednesday May 16th.