'Charmed' Season 1, Episode 16 "Memento Mori": Charity Ends at Macy's Home [PREVIEW]
Look… without doing a deep-dive into "The Spoiler Dimension" we're gonna' call it: we were never sure we could trust Charity (Virginia Williams) – and we were damn sure Macy (Madeleine Mantock) shouldn't. The combo of powers and internal demons and stuff like that is the kind of thing you only want put in the hands of those you trust – and in this case, we're still not even 100% sold on Harry (Rupert Evans).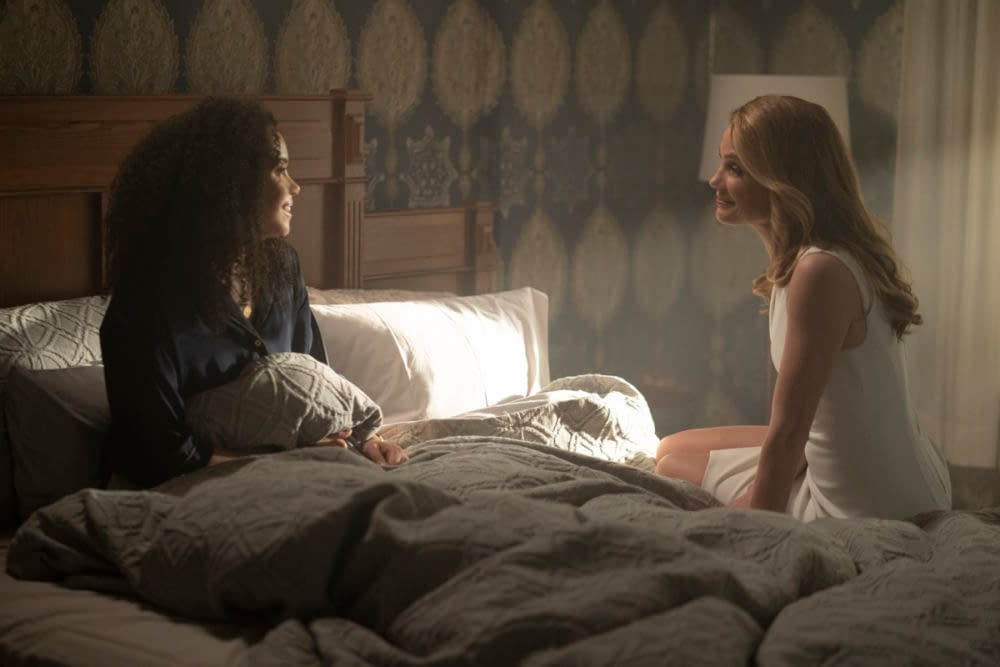 Unfortunately, the following promo and preview for "Memento Mori" – this week's episode of CW's Charmed – shows Macy still in the trusting mood… but maybe not much longer? Maggie (Sarah Jeffery) and Mel (Melonie Diaz) seek out advice on dealing with Macy's inner-darkness from someone who should be able to offer a hands-on perspective: Parker (Nick Hargrove):
https://youtu.be/ma7A9uIqUfM
Charmed s01e16 "Memento Mori": VISIONS — Macy (Madeleine Mantock) is not able to trust herself due to her memory lapses, so she asks Harry (Rupert Evans) and Charity (guest star Virginia Williams) for help. Stronger than she thought she was, Macy starts to piece things together and is eager to share her vision with her sisters. Meanwhile, Mel (Melonie Diaz) and Maggie (Sarah Jeffery) are worried about Macy and turn to an unexpected source for help. Nick Hargrove also stars. Norman Buckley directed the episode written by Emmylou Diaz
https://youtu.be/EbtNax2Qsgw
Props to the CW's PR/media/publicity department because that was a pretty effective promo/preview combo – but you know we love to give our "Charmed Ones" as much as we can preview-wise. So with that said, here are the official preview images for this week's very revealing episode of Charmed, "Memento Mori":
The CW's Charmed stars Melonie Diaz as Melanie Vera, Sarah Jeffery as Maggie Vera, Madeleine Mantock as Macy Vaughn, Ser'Darius Blain as Galvin Burdette, Ellen Tamaki as Niko Hamada, Nick Hargrove as Parker, and Rupert Evans as Harry Greenwood. Jessica O'Toole & Amy Rardin, Jennie Snyder Urman, Ben Silverman, Brad Silberling, Howard Owens, and Carter Covington serve as executive producers.