"Chilling Adventures of Sabrina" Part 3: This Cheer's Sabrina's Recital, She Thinks It's Very Vital – But "It's Tricky" [VIDEO]
The world of Sabrina Spellman (Kiernan Shipka) has gotten a whole lot hotter now that Roberto Aguirre-Sacasa's Chilling Adventures of Sabrina has returned to Netflix for Season/Part 3. At the end of CAOS Part 2, Nicholas (Gavin Leatherwood) found himself a vessel for the Dark Lord and banished to the depths of Hell.
Finding a new way to put the "bad" in "bad boy," Nicholas may be beyond even Sabrina's powers to save. Theo (Lachlan Watson) and the gang "got the band back together" to commit to protecting Greendale from evil alongside Sabrina – with Theo meeting a new love interest along the way (which is why both Leatherwood and Watson were promoted to series regulars for Parts 3 and 4).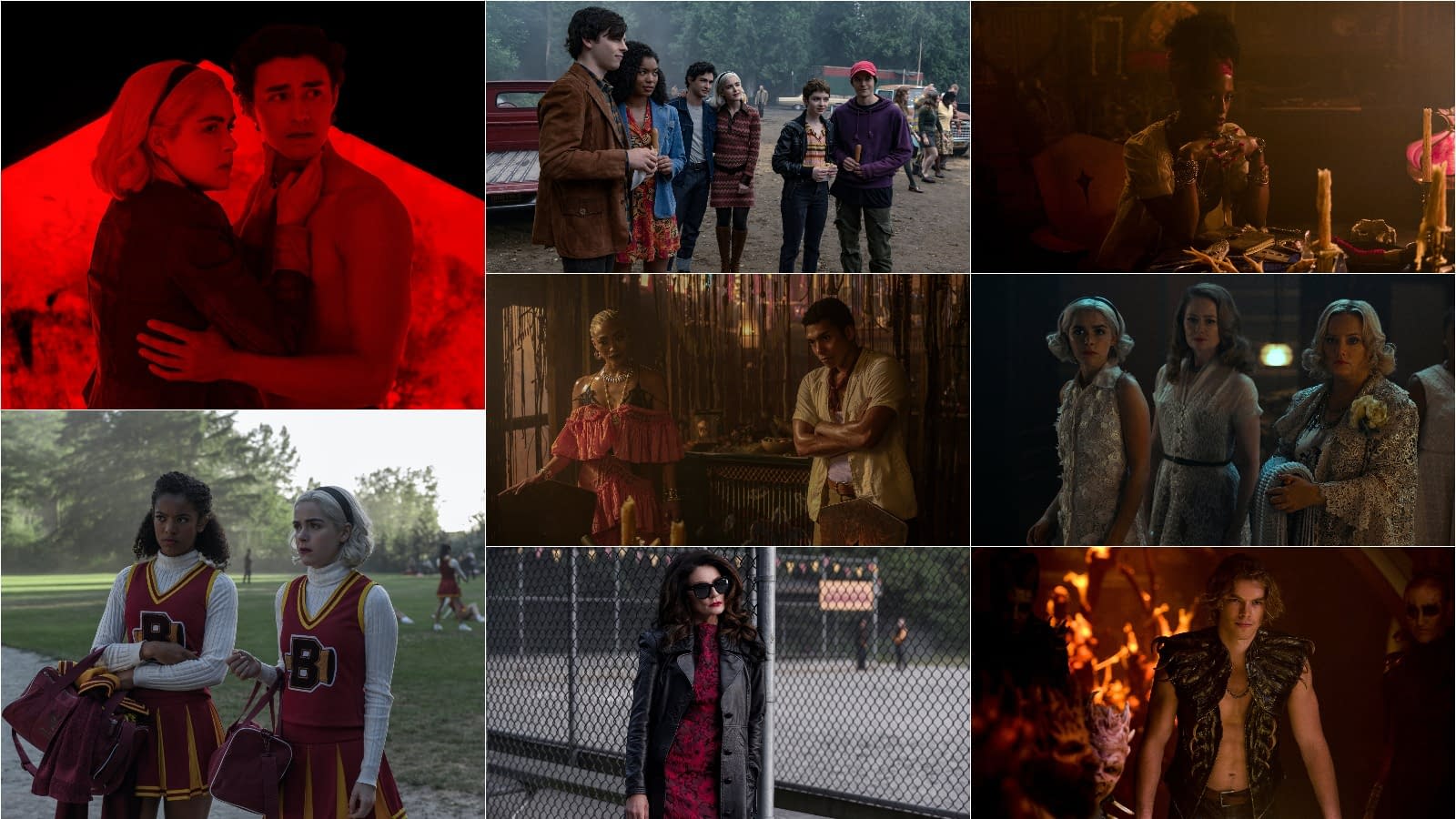 With CAOS running rampant across the streamer, Hell welcomes Ms. Spellman home – and she brought some new faces with her (we'll get to that in a minute). But just in case you need another reason to binge the Hell out of it this weekend (or to just celebrate the pop culture trippy vibe of it all) check out the follow take on Run-DMC's "It's Tricky" – in full-on Sabrina Spellman style:

We're definitely diggin' the music/dance vibe running through the cast as we head into Part 3 – and the following clip posted by Lucy Davis is our favorite so far. Combine the dance skills of Tati Gabrielle and Skye Marshall with 50 Cent's "In da Club", and what you get is pure magic:
For her part, Gabrielle makes it clear that there's no better way to start "a muhfuckin day":
Now because you've been a very good and very patient coven, the fine folks at Netflix and CAOS are gracing you with a an official official trailer – and let's make one thing clear:
Hell's under new management…
"Chapter Twenty-One: The Hellbound Heart" (Director: Rob Seidenglanz / Writer: Roberto Aguirre-Sacasa)

"Chapter Twenty-Two: Drag Me To Hell"(Director: Alex Pillai / Writer: Ross Maxwell)

"Chapter Twenty-Three: Heavy is the Crown" (Director: Rob Seidenglanz/ Writer: Oahn Ly)

"Chapter Twenty-Four: The Hare Moon" (Director: Viet Nguyen / Writer: Donna Thorland)

"Chapter Twenty-Five: The Devil Within" (Director: Roxanne Benjamin / Writer: Matthew Barry)

"Chapter Twenty-Six: All of Them Witches" (Director: Michael Goi / Writer: Joshua Conkel)

"Chapter Twenty-Seven: The Judas Kiss" (Director: Craig William Macneill / Writer: Lindsay Calhoon Bring)

"Chapter Twenty-Eight: Sabrina Is Legend" (Director: Rob Seidenglanz / Writers: Roberto Aguirre-Sacasa & Daniel King)
Speaking of the "official music video trailer"…
Well, if that video's got you feelin' kinda funny – in all the good/bad ways – you're not alone. Shipka, Davis, Gabrielle, Tyler Cotton, and more from "Team Sabrina" are showing off their sweet dance moves – and looking at you to share yours, with the hashtag #StraighttoHell.
Now excuse us while we practice our "Cabbage Patch" and "Runnin' Man"…
But that's not all! The cast and crew walked us through all of the "ingredients" that went into raising 3:07 of pure Hell… is it hot in here???
So the fine folks from CAOS were a little concerned that maybe you need a "refresher course" on how things got to where they are. So Shipka, Ross Lynch, Gavin Leatherwood, Chance Perdomo, and Gabrielle are here to cover all the things that you should know about Parts 1 and 2 – so buckle up!
Following up on a clip that had Ambrose (Chance Perdomo) teasing fans with looks at some upcoming cast additions, we learned that Sam Corlett (The Dry), Skye Marshall (The Fix), and Jonathan Whitesell (Riverdale) have taken on recurring roles in Part 3.
Corlett's Caliban is a darkly handsome young man with a strange charm – a so-called Prince of Hell, sculpted from clay from the City of Pandemonium. He challenges Sabrina for control of the Throne of Hell, even as infernal sparks start to fly between him and the teen witch.
Marshall's Mambo Marie is a gorgeous voodoo priestess who helps Prudence and Ambrose track down the villain Blackwood. But Mambo has her own secret agenda and passions, drawing her towards our coven—and Zelda.
Whitesell's Robin is a handsome young man with an 'elfish' quality to him: caring and sweet, but also a mischief maker—and perhaps something even more dangerous. He travels with the carnival that comes to Greendale, and soon develops feelings for Theo.