'Chinatown' Prequel Series Set Up at Netflix With David Fincher, Robert Towne
Chinatown is coming back, in a bit of a surprise. David Fincher and original film co-writer Robert Towne will pen a script for a prequel series pilot for Netflix. Towne of course won the Academy Award for co-writing the original 1974 film with director Roman Polanski. Insanely quotable and a true classic, Fincher and Towne's prequel series would focus on a young Jake Gittes, the detective played in the film by Jack Nicholson. For those of you NOT familiar with the original, here is the trailer and synopsis:
When Los Angeles private eye J.J. "Jake" Gittes (Jack Nicholson) is hired by Evelyn Mulwray to investigate her husband's activities, he believes it's a routine infidelity case. Jake's investigation soon becomes anything but routine when he meets the real Mrs. Mulwray (Faye Dunaway) and realizes he was hired by an imposter. Mr. Mulwray's sudden death sets Gittes on a tangled trail of corruption, deceit and sinister family secrets as Evelyn's father (John Huston) becomes a suspect in the case.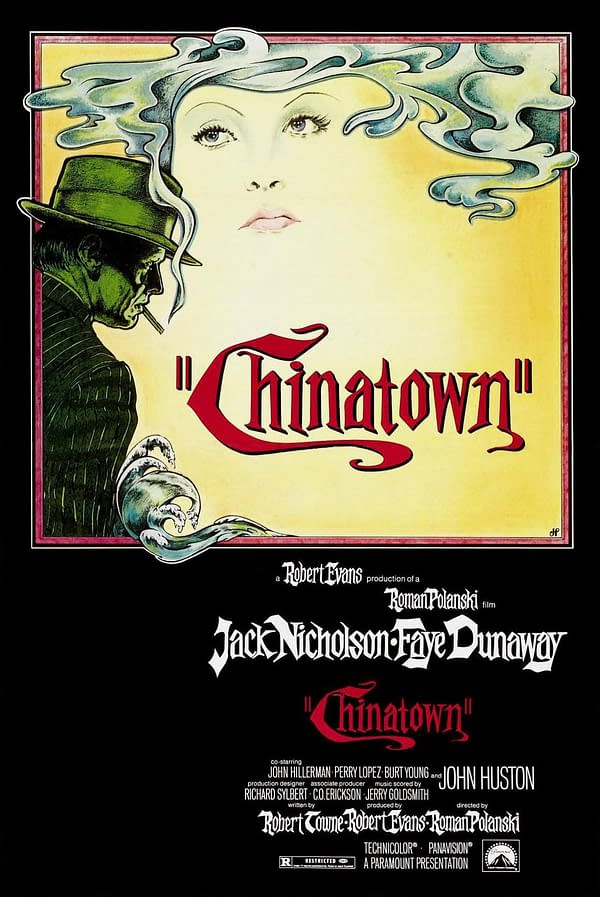 This is certainly an unexpected project to say the least. Netflix of course has a deal with Fincher that has proven to be a boon, with House of Cards and Mindhunter appearing on the streamer to critical and audience acclaim. His next film, titled Mank, will also debut on there. Written by his father Howard, it takes a look at the relationship between Herman J. Mankiewicz and Orson Welles over Citizen Kane, which they shared an Academy Award for writing. No word on when this Chinatown prequel will debut, but we will keep an eye on it.
First reported by Deadline