Cody Rhodes Wins The Men's Royal Rumble and Heads to WrestleMania
Cody Rhodes won the 2023 men's Royal Rumble match, securing a main event spot at WrestleMania and a shot at dethroning the Tribal Chief, Roman Reigns.
---
In a highly predictable, yet still acceptable, outcome, Cody Rhodes entered the 2023 Men's Royal Rumble at number thirty and won the match. Cody's win will mark the renewed start of his quest to win the championship his father never could, as well as to prove himself to be the best wrestler in the world, the culmination of a journey that began when he left WWE and set out on his own to prove he was worth more than the midcard role he was previously stuck in. Rhodes went on to perfect his craft in Ring of Honor and NJPW before co-founding AEW, creating the first legitimate competition for WWE in two decades, and then finally returning to WWE at last year's WrestleMania.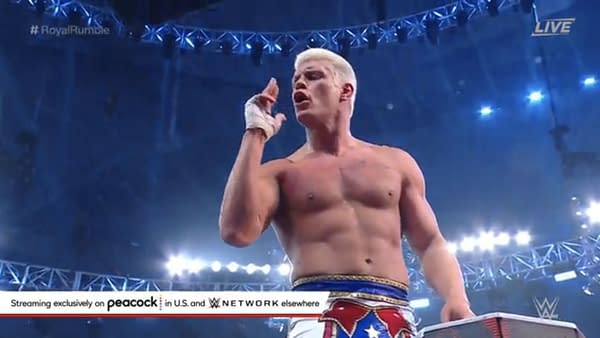 Cody's quest was put on hold when he tore his peck before Hell in a Cell match with Seth Rollins a month later, but Rhodes went on to wrestle the match anyway, creating an all-time memorable moment in WWE history and solidifying his legend with the WWE fans. In the month leading up to tonight's Royal Rumble, Cody Rhodes was heavily featured in video packages about his recovery and ultimately revealed he would make his long-awaited return at the Rumble.
Cody's victory was all but presumed, as has been his assumed collision with Roman Reigns, with the only other question whether WWE would change plans in the wake of Sami Zayn's meteoric rise in popularity as part of the Bloodline storyline. That's still set to play out later tonight when Reigns takes on Kevin Owens, but Rhodes at least has secured a spot in the WrestleMania main event and looks on track to win that title and dethrone the Tribal Chief.
While the journey of Cody Rhodes has been an epic one, the person to come out of the men's Royal Rumble match with nearly as much benefit was Gunther, who entered at number one, lasted the entire match until being eliminated by Rhodes at the end, and set a new record for longest time in the Rumble. So one major storyline kicked off successfully, and another wrestler elevated. That's not a bad start to the Royal Rumble PLE this year.
Follow along with Bleeding Cool's live Royal Rumble coverage here.