Commence The Purge, Episode 1: Would You Drive an Uber During Purge Night?
The Purge 10-episode television event kicked off last night on the USA network, less than two months after the latest feature film in the series hit theaters (The First Purge), showing us the origins of the event. This series takes place in a post-First Purge world, between the second at third films in the series as revealed at the SDCC panel for the show in July.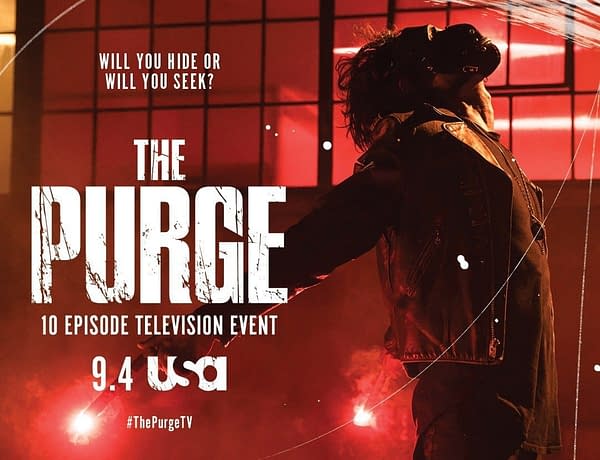 As a fan of the Purge film series, I am really looking forward to these 10 episodes exploring the concept on a much deeper, human level. The first episode "What is America?" does that to a certain degree, to various levels of success. We are following a multitude of new characters all over the class and political spectrum here.
Miguel (Gabriel Chavarria) is a Marine looking for his sister Penelope (Jessica Garza), who has joined a cult who believe sacrificing themselves to Purgers will send them to heaven. Jane (Amanda Warren) is an executive working on Purge Night and has serious career ambitions (to put it mildly). Rick (Colin Woddell) and Jenna (Hannah Emily Anderson) are attending an NFFA Purge party, trying to get funding to "build houses for poor people" — as they tell their Uber driver. They of course harbor secrets behind their altruistic ideals, as we are shown flashbacks of them having a threesome with socialite Lila (Lili Simmons), also locked into the NFFA party! I bet that ends well!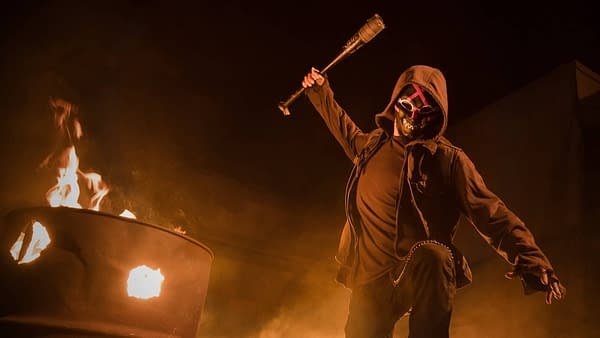 There was not a lot of actual Purging in this first episode, as we open 90 minutes before the commencement of the Purge. This is mostly setup and placing all of the pieces on the board. One wonders if fans of the films will have a problem with a deliberately slower pace to the series. Depending on which character we are following, things sometimes move too slowly.
Jane especially makes some bizarre decisions right up until the end when we find out she is hiring a Purge assassin, presumably to take care of her boss (Stephen Baldwin). Rick and Jenna's wild past feels very weirdly tossed in; I'm not sure we needed a weird sex plot thrown in here. Also: they have the one of the weirdest, most intrusive Uber drivers of all time. One wonders what kind of surge pricing Uber drivers would risk their lives for during the Purge.
I'm glad I was wrong in thinking that we wouldn't get to the Purge before the end of this first episode — it for sure needed to end with some kind of Purge action. One of the biggest strengths of the concept is the underlying sense of fear added to every scene because of the nature of the events. Being on USA, the violence is going to be drastically different that that if the feature films, and one wonders if that is also going to turn fans off a bit. Nothing too extreme in this first episode; everything is done in the shadows and off camera for the most part. A little annoying, but we will see where we go from here.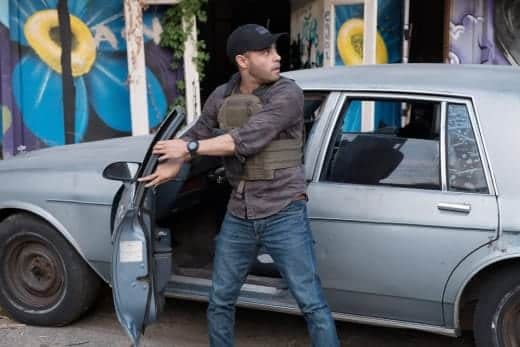 Miguel and Penelope are the most interesting by far. Miguel gets his opportunity to show off his badass-ness the whole episode, including killing someone before the Purge even starts! And the cult of people giving themselves over to the Purgers is interesting. One of them, Arthur, sure did look like he realized he made a huge mistake when the masked killers were coming at him with axes, but he still became purged-upon. The others still on the worst bus tour ever didn't seem to really enjoy the sight of what ACTUALLY sacrificing themselves looked like, including Penelope. Will she go through with it? My money is on no, but we shall see.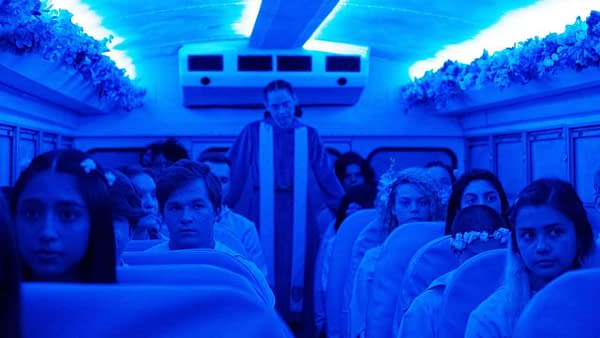 So, a mixed bag in this first hour. Plenty to build off of, a great soundtrack by Tyler Bates, and room to grow for the characters is all you can ask for from a first episode. Don't just take my word for it though — USA has uploaded the entire first episode for you to try on YouTube!