Community Read Enrolls Pedro Pascal; Rick and Morty Season 6 Update
A day after fans learned that Community stars Joel McHale, Gillian Jacobs, Danny Pudi, Yvette Nicole Brown, Alison Brie, Jim Rash, Ken Jeong, and Donald Glover were reuniting for a charity virtual table read of fifth season episode "Cooperative Polygraphy", series creator (and fellow table-reader) Dan Harmon posted an update that dropped some major updates on not just the table read but also on the sixth season of Rick and Morty (yes, you read that right).
The first thing Community fans need to know from Harmon's post is that while the table read will air on Monday, May 18 (starting at 2 pm PT), it's actually being recorded today, Friday (with Harmon giving a great tongue-in-cheek reason involving Brown and Area 51. As for who will be replacing Walton Goggins in the role of Mr. Stone, that honor is going to The Mandalorian himself, Pedro Pascal ("He's on some Disney show where Boba Fett's in college with Yoda's niece"). Finally, Harmon was proud to announce that "Cooperative Polygraphy" writer and Rick and Morty alum Alex Rubens would be back on the Adult Swim series' writing team as of the sixth season.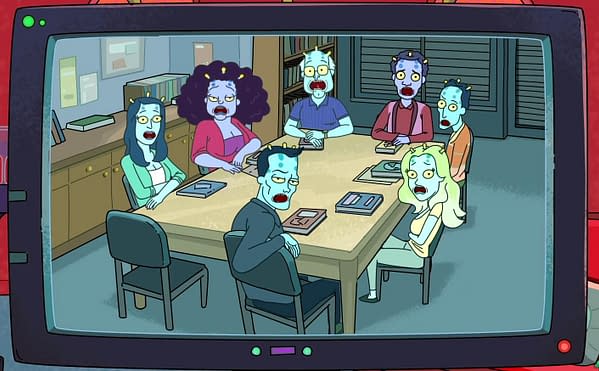 For those who need a friendly reminder, "Cooperative Polygraphy" took place almost entirely in the Greendale Community College library, with our study group gathering after a sad and sobering occasion: Pierce's (Chevy Chase) funeral. Except this is Community, so there was no way our folks were just going to sit around and mourn the day away. Pierce's estate executor Mr. Stone proceeds to interrogate the team, and – let's just say it goes in ways you wouldn't expect.
Viewers are also being asked to contribute to two charities that have been front-and-center in the COVID-19 relief effort to get fresh, nourishing meals to both frontline responders and communities in need: José Andrés' World Central Kitchen and Frontline Foods. Sony Pictures TV is set to contribute to the charities on behalf of the Community family, while fans interesting in supporting the organizations can over directly over to the charity event's website (here). Fans will have a chance to asks questions of the cast directly after the table read airs by using the hashtag #AskCommunity and tagging your question with @CommunityTV.