We're officially nearing the end of November – which means The CW's "Arrowverse" shows are in full swing at this point. Arrow is shuffling off the network's programming coil after an abbreviated 10-episode eighth season (making The Flash the "elder states-show" of the "Arrowverse"), Ruby Rose-starrer Batwoman joined the family alongside Supergirl and expanded the Batman mythos in CW's DCU. Let's not forget a looming "Crisis on Infinite Earths" crossover that's less than a month away – and will change things dramatically, including Black Lightning this time around… and yes, they didn't forget about our crew from DC's Legends of Tomorrow.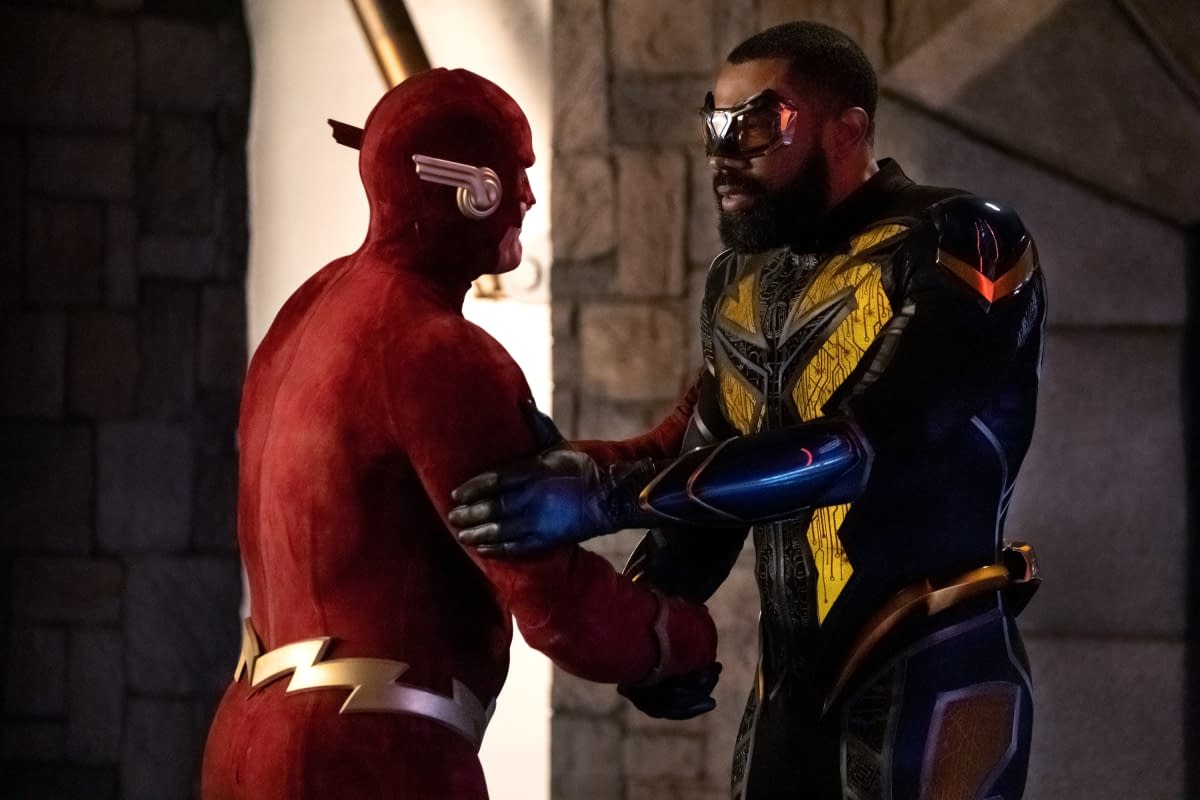 Black Lightning star Cress Williams and the people of Freeland will officially become a part of the Arrowverse with this year's mega-crossover event, though "Crisis" executive producer Marc Guggenheim revealed that Jefferson's role grew dramatically over time: "Black Lightning's in it much more than we ever anticipated, and he's in it in a very significant way.
Williams and Guggenheim spoke with EW about what it was like bringing Black Lightning into "Crisis", and here are three highlights that stuck out for us:
● If viewers think they've figured out how Black Lightning makes the jump, they might want to think again:
"Black Lightning gets pulled into the conflict in a very surprising way. He's not prepared for it. So, he doesn't know these people. He's getting introduced into the world for the very first time, and so there's some conflict early on when he's trying to figure out, who are you people and why am I here?" He adds, "He's kind of left off-center, which was really fun to play."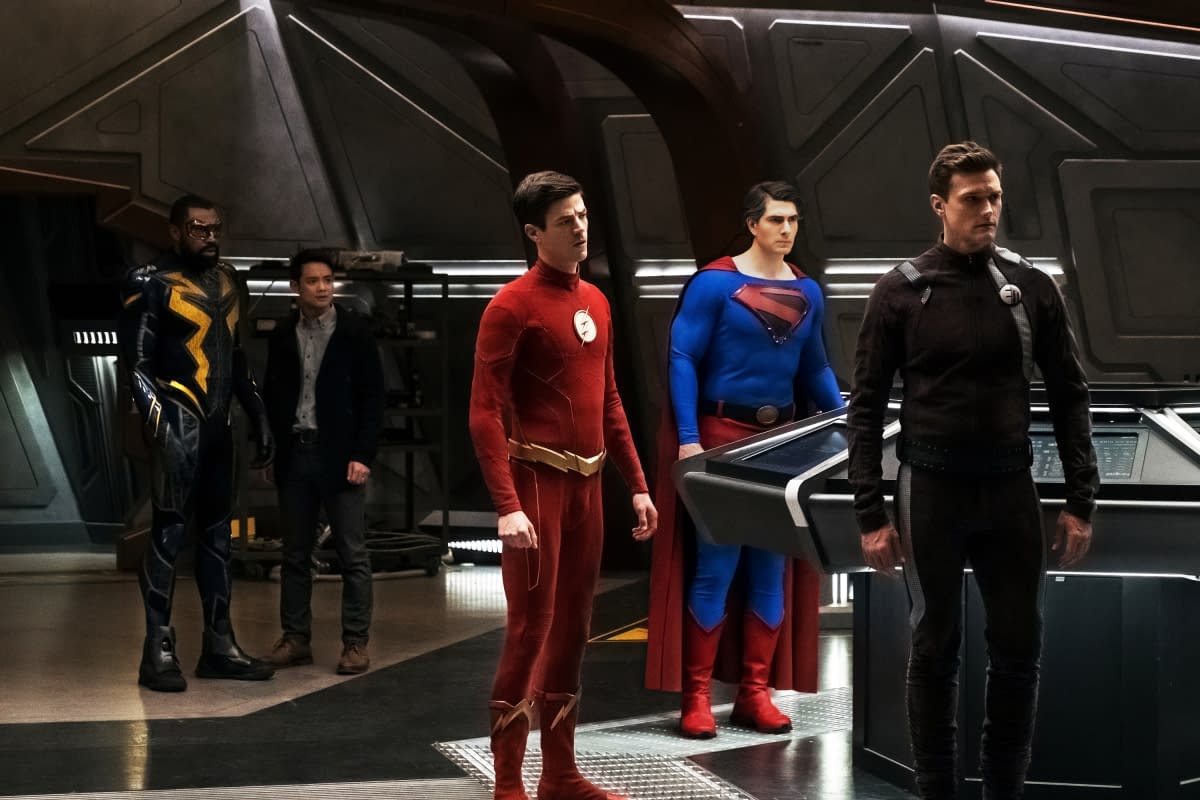 ● So what was life like for Williams when he first arrived on set in costume? Let's just say he found himself the subject of a little "mask envy":
"They were pretty envious [of] my mask [and] the way it fits to my face [laughs]. They glue magnets around my face and there are magnets in the mask, so it's magnetic. It allows me to peel it off in between takes. I had a moment when Elongated Man [Hartley Sawyer] saw my mask and his mouth dropped and he was like, 'What? Dude, when they put this on my face, they glue it on, and I have to keep it on all day. They said that's the only way it can be done.'"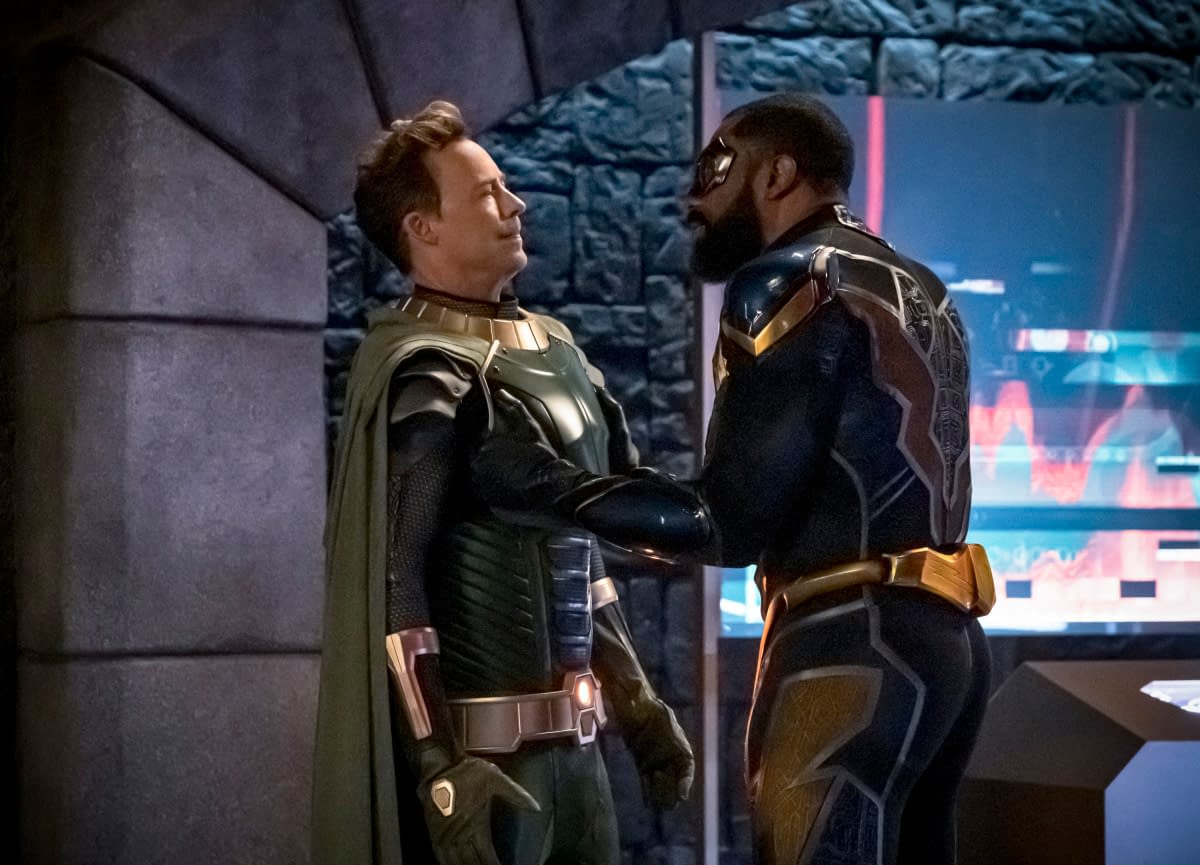 ● Guggenheim teased a scene that will be demonstrate the dynamic bond that forms between Jefferson and Grant Gustin's Barry Allen aka The Flash – one the will carry an emotional (and spoiler) weight to it:
"For me, the highlight is a scene with him and Grant Gustin that is so emotional, it's so affecting, [that] it really justifies why these two characters are sharing the screen together. It's a very spoiler-ish scene, but both Grant and Cress just knock it straight out of the park."

After offering up teasers, official overviews for the first three chapters (see below), preview images for the first three chapters (here and here)and here), and the crossover's official poster, The CW released a new teaser that amps up the dire consequences that come from the Anti-Monitor getting his way:
Last week, The CW offered fans a look at the official overviews for the first three chapters – and there's a ton to unpack here. From when Kevin Conroy's Bruce Wayne, Cress Williams' Jefferson Pierce aka Black Lightning, Jon Cryer's Lex Luthor, and Osric Chau's Ryan Choi appear to where John Wesley Shipp's The Flash-90 has been to a… "Crisis on Infinte Clarks"(???), here's a look at what viewers can expect: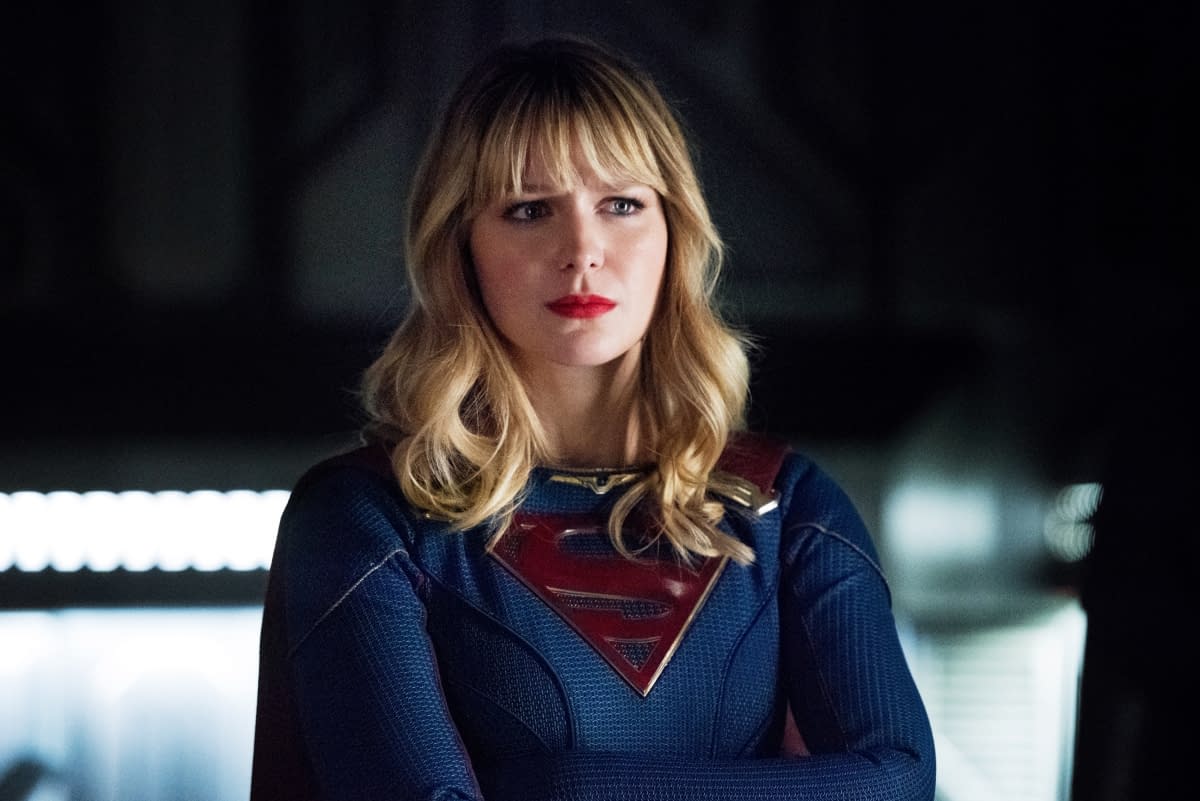 Supergirl: "Crisis on Infinite Earths: Part One": THE KICKOFF TO THE EPIC TELEVISON CROSSOVER EVENT, CRISIS ON INFINITE EARTHS – The Monitor (guest star LaMonica Garrett) sends Harbinger (guest star Audrey Marie Anderson) to gather the worlds' greatest heroes – Supergirl (Melissa Benoist), The Flash (guest star Grant Gustin), Green Arrow (guest star Stephen Amell), Batwoman (guest star Ruby Rose), White Canary (guest star Caity Lotz), The Atom (guest star Brandon Routh) and Superman (guest star Tyler Hoechlin) – in preparation for the impending Crisis. With their worlds in imminent danger, the superheroes suit up for battle while J'onn (David Harewood) and Alex (Chyler Leigh) recruit Lena (Katie McGrath) to help them find a way to save the people of Earth-38.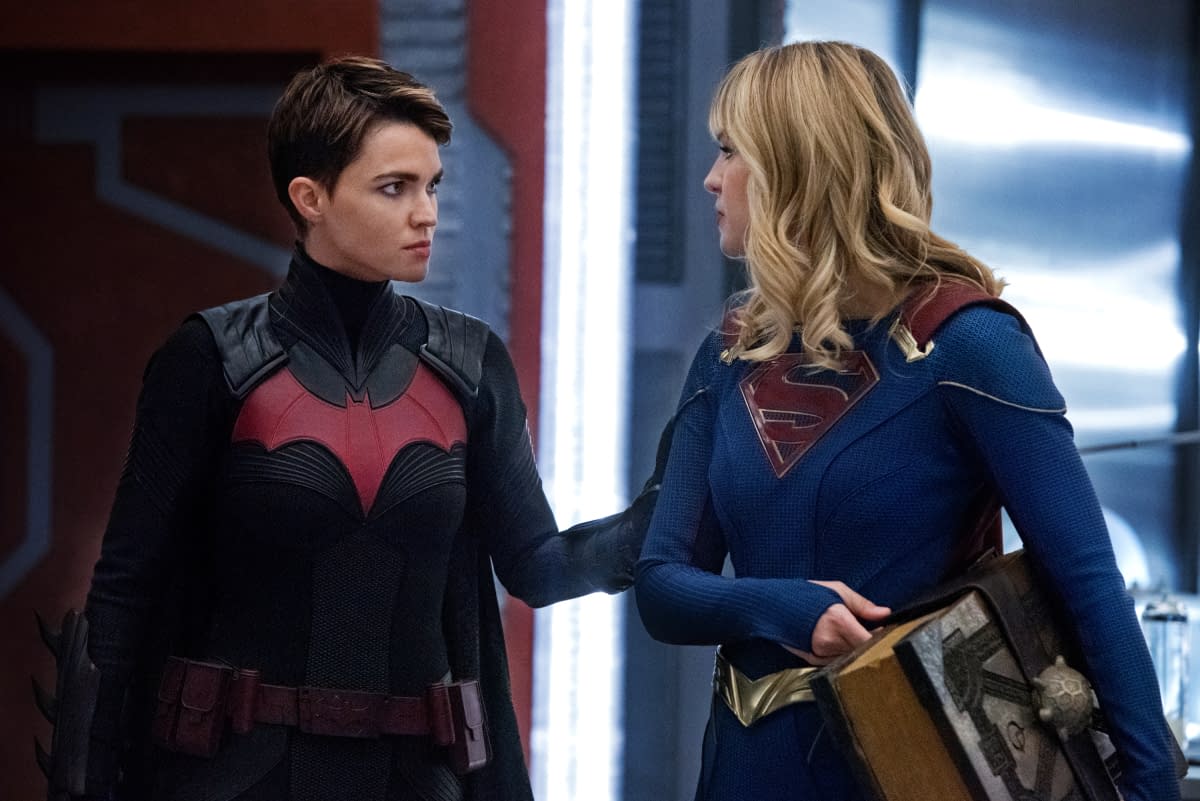 Batwoman "Crisis on Infinite Earths: Part Two" CAN THE REAL CLARK KENT PLEASE STAND UP? PART TWO OF CRISIS ON INFINITE EARTHS CONTINUES WITH SPECIAL GUEST STARS TOM WELLING, ERICA DURANCE AND KEVIN CONROY – The group uses Ray's (guest star Brandon Routh) invention to track new recruits to help save the universe. The Monitor (guest star LaMonica Garrett) sends Iris (guest star Candice Patton), Clark (guest star Tyler Hoechlin) and Lois (guest star Elizabeth Tulloch) in search of a mysterious Kryptonian, while Kate (Ruby Rose) and Kara (guest star Melissa Benoist) head out to find Bruce Wayne (guest star Kevin Conroy). In addition, Mia (guest star Katherine McNamara) challenges Sara (guest star Caity Lotz), Rory (guest star Dominic Purcell) discovers a hidden talent, and Lex Luthor (guest star Jon Cryer) returns.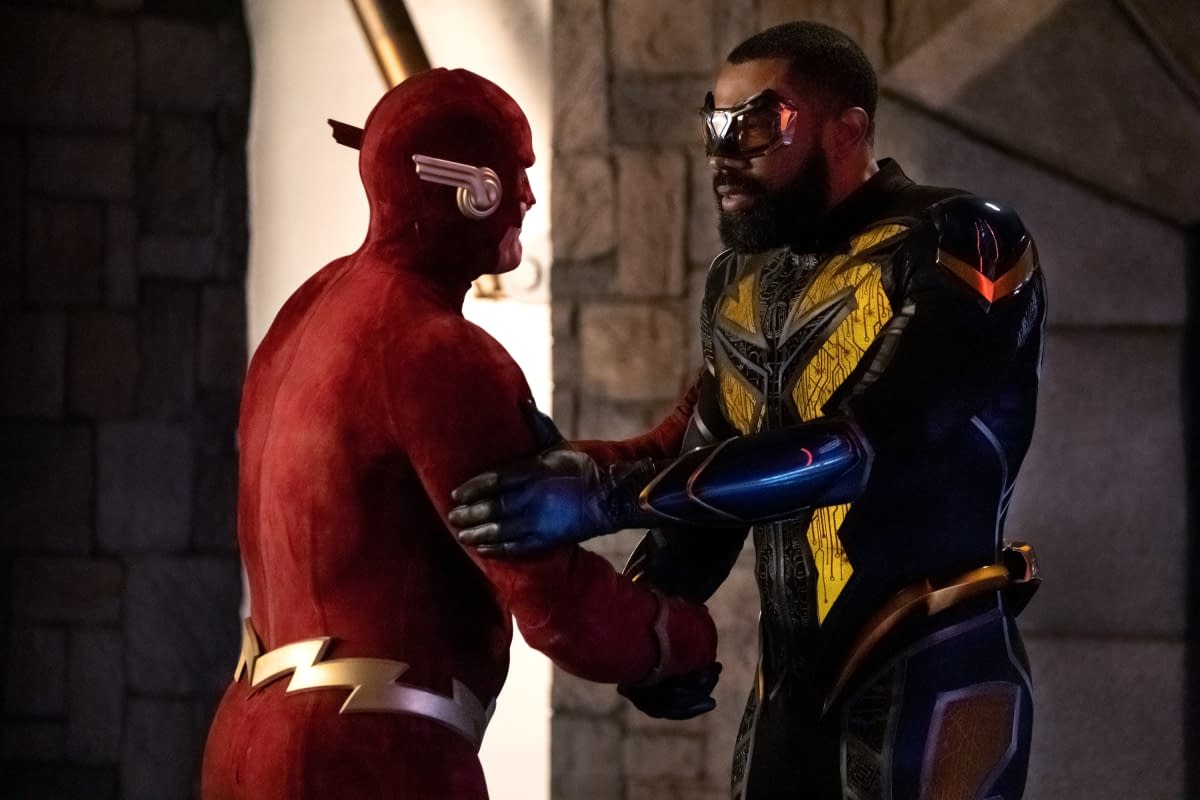 The Flash "Crisis on Infinite Earths: Part Three": BLACK LIGHTNING JOINS THE ARROWVERSE IN THE THIRD CHAPTER OF THE CROSSOVER – Pariah (Tom Cavanagh) enlists Black Lightning (guest star Cress Williams) to help stop the Anti-Monitor (guest star LaMonica Garrett) after Flash-90 (guest star John Wesley Shipp) shares what he learned from his battle in 'Elseworlds.' With the help of Black Lightning, Barry (Grant Gustin), Cisco (Carlos Valdes) and Killer Frost (Danielle Panabaker) come up with a plan that could save them all. Meanwhile, Iris (Candice Patton) has a heart-to-heart with Ryan Choi (guest star Osric Chau), while Oliver (guest star Stephen Amell) and Diggle (guest star David Ramsey) return to an old familiar stomping ground.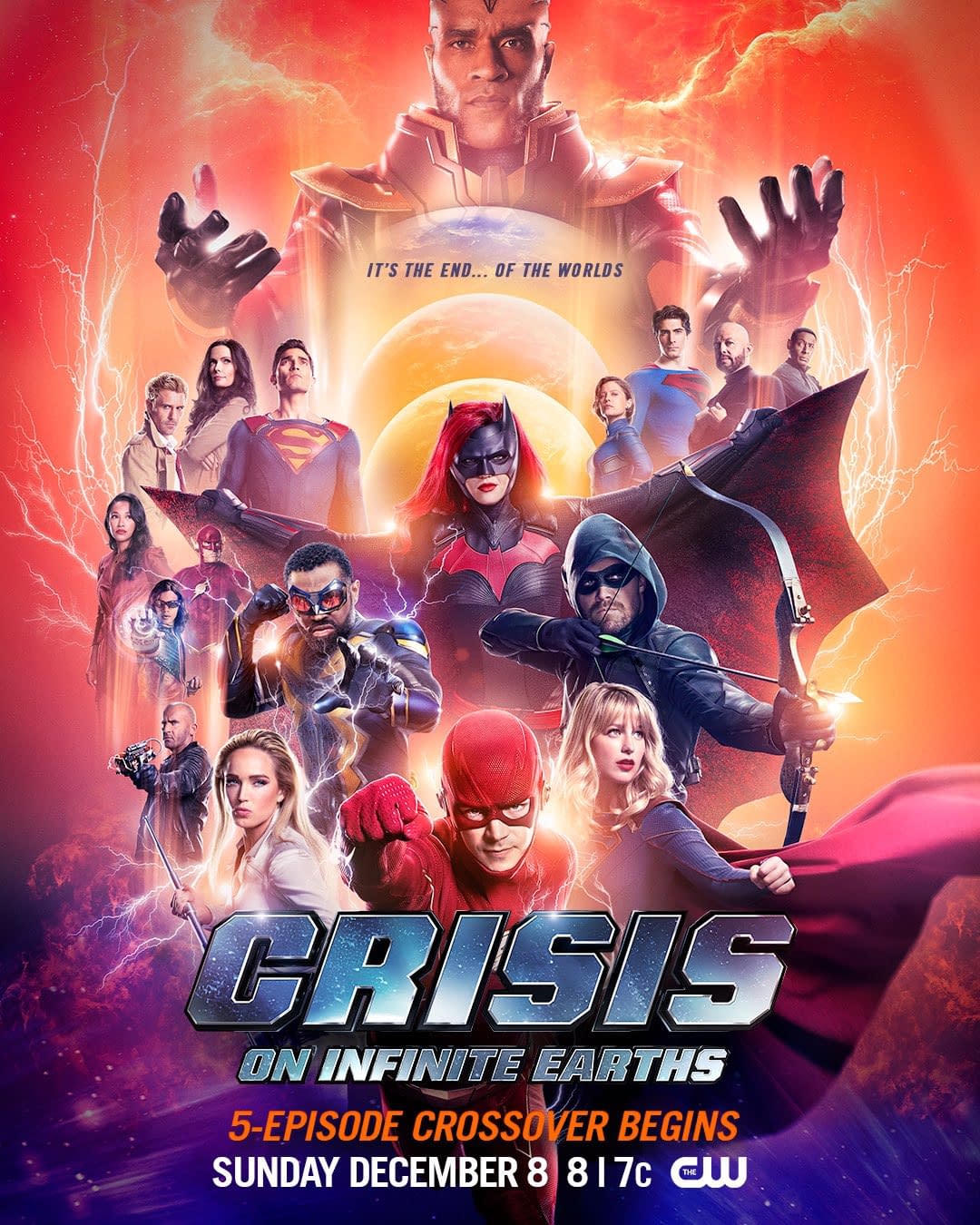 "Crisis on Infinite Earths!" Worlds will live! Worlds will die!
And the CW's "Arrowverse" will never be the same…
Supergirl – Sunday, December 8th (8/7c)
Batwoman – Monday, December 9th (8/7c)
The Flash – Tuesday, December 10th (8/7c)
Arrow – Tuesday, January 14, 2020 (8/7c)
DC's Legends of Tomorrow – Tuesday, January 14, 2020 (9/8c)
Yes, the rumors are true! Legendary Batman voice actor Kevin Conroy will star as a future version of Bruce Wayne. We're even getting 60's Batman "boy wonder" Burt Ward making an appearance.
If that wasn't enough, Tyler Hoechlin and Elizabeth Tulloch are returning as "The Man of Steel" and Lois Lane… alongside another of the crossover's Supermen: Brandon Routh (DC's Legends of Tomorrow), returning to the cape for the first time since his cinematic turn in Superman Returns, portraying the Kingdom Come version of the iconic superhero.
Still not enough Superman? How about Smallville co-stars Tom Welling and Erica Durance joining the crossover as Superman/Clark Kent and Lois Lane, respectively (and rumblings that someone from Smallville isn't too happy about the way they were approached regarding being a part of "Crisis").
Johnathon Schaech's Jonah Hex (DC's Legends of Tomorrow) is also set to saddle up for the crossover, and John Wesley Shipp will be reprising his role as The Flash of Earth-90. Ashley Scott will be returning to the role of Helena Kyle aka Huntress from The WB's short-run 2002 series Birds of Prey.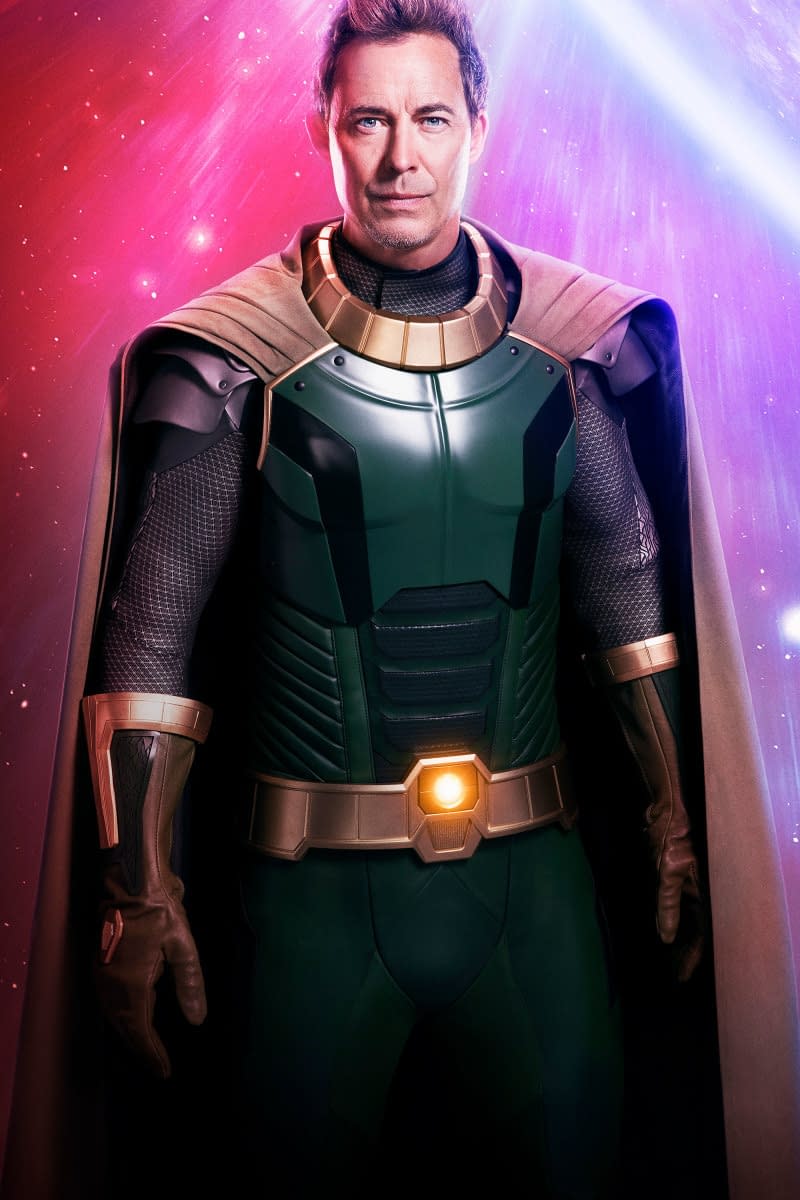 Osric Chau will recur in the role of physics professor Ryan Choi, who would take on his idol Ray Palmer's (Routh in DC's Legends of Tomorrow) former position at Ivy University – with the future Justice Leaguer following in his footsteps in the "hero department" as well.
Let's not forget Arrow co-star Audrey Marie Anderson's Lyla Michaels, who is set (appropriately enough) for the role of The Monitor's (LaMonica Garrett) Harbinger; and The Flash multitasker Tom Cavanagh on board as bad-luck sign Pariah. Of couse, we would be remiss if we didn't give a returning Emily Bett Rickards her proper respect.
Enjoyed this article? Share it!