Dancing with the Stars Made the Wrong Pick with Tyra Banks: Opinion
If you're paying attention to Dancing with the Stars return this fall, you already know that earlier this week, ABC fired long-time host Erin Andrews and original host Tom Bergeron. Given their statement about the matter mentioned a "format change," it was a natural conclusion that the show's 29th season would be hostless. However, while the ink was still drying on Tom and Erin's pink slips, they hired a new host: -supermodel Tyra Banks. As a fan of the demure dancing program, allow me to tell you why Tyra is the wrong choice for this show.
Now, I watch way too much America's Next Top Model, and I adore Tyra. I mean, I started watching RuPaul's Drag Race because he was very Tyra-esque. She's sassy, abrasive, and in-your-face and I love it. I also love Dancing with the Stars… but for the very opposite reason. It's a wholesome, energetic but still relaxing ballroom dance program I can watch with my grandmother, mother, and sisters. As someone with a dance background, I appreciate how they specifically hired hosts whose personalities didn't overpower the celebrities or their performances.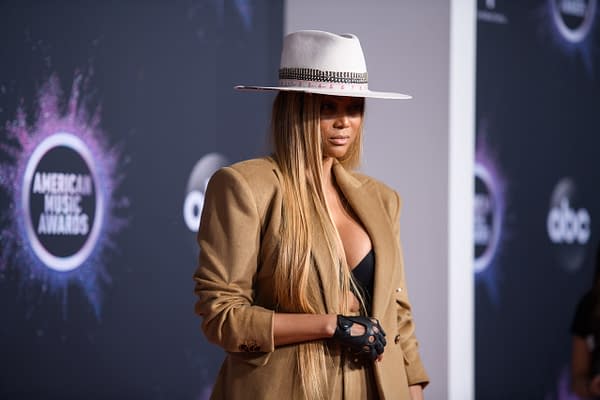 Not to say that Tyra is going to steamroller all the contestants and their dances this season because that's a little ridiculous; I do think that she will change the dynamic of the show, which has a very real threat of driving away the long-time fan base with nobody new tuning in. Why will Tyra not be a big enough draw to get people to watch Dancing with the Stars? Well, for starters, she's not a judge and she's not a ballroom dancer; it seems the only qualifications for Disney hiring her were her being black and a household name. It's fantastic you want to hire a host of color – I am fully on board with that! Though if you're going to make the decision to replace two long time beloved hosts…maybe make sure it's the best person possible for the job?
Tyra is very qualified to be a host, no argument here, and I see the logic behind needing a higher energy host presenting a live weekly dancing show with no audience, but the dynamic will not be the same and I fear it's one too many changes in the ballroom for viewers to be on board with this. I love that they're giving opportunities to women of color, but with Tyra being that woman, it's a little vexing. She's a world-famous supermodel, actress, producer, host, and show creator – you're telling me there are no other hosts of color out there whose careers could seriously benefit from the press and visibility of hosting a national program?
This feels like a decision made for optics, and I don't doubt at all that it was. If you're really making this decision to amplify voices and give a platform to those who haven't been seen or heard on television before…then do it. Miss Tyra has a television empire already – she doesn't need more visibility. We know her. Disney is smart when it comes to marketing, and Dancing has been looking for a change over the past couple of years, but this isn't the right change. This is the change that will either cause more backlash at the changes of the show or sink the good ship DWTS for good.
In my opinion, what Disney should have done is added a black ballroom professionals to their lineup as well as a correspondent host who – you guessed it, is a dancer of color. With Broadway and live shows suffering right now, there are so many amazingly qualified dancers needing work right now, please give opportunities to them. Don't you dare tell me they don't exist just because dance culture is painfully biased against darker dancers – that's all the more reason to elevate as many as possible into very visible positions… like on a national dance competition show. Now, where will we ever find a program like that?
With American Ballet Theater's season falling victim to COVID-19 shutdowns, there's a good chance Misty Copeland would have been free and happy to step into the role of either host or correspondent, bringing both an expertise and visibility to the show while not completely throwing the tone of the show in the opposite direction. And oh – Disney already worked with her on the Nutcracker and the Four Realms movie. How about that! What's Todrick Hall up to these days? Or even lesser-known dancers like Geo Mendez? Have you had a national casting call to find dancers of color? Oh, you haven't? You just hired who you knew and didn't bother to look for ways you could really make a meaningful difference? This feels like Hollywood pandering, Disney and it sucks.
At the end of the day, Dancing with the Stars has always been a comfortable, reality TV staple. It's been on for fifteen years and always offered some escapism, no matter how weird the world got. Now with the world weirder than ever, it would be nice to have something comfortable as we knew it, but since we can't, don't just change something for the optics, make an actual meaningful change. Don't just do a nice pretty "PR hire" of household name Banks. I didn't know who Bergeron was back in 2005 when he started hosting the show, so why does being a "household name" have to be a requirement for the show's first female African-American host?
With viewers needing safe escapism now more than ever, I think it's an interesting choice to take away as opposed to adding, especially with such a high-energy in-your-face host like Tyra. I mean, I love Liza Koshy, but think she's way better of a fit hosting Wipeout than Dancing with the Stars. I love Tyra on Top Model or even America's Got Talent… but not in the ballroom. And it breaks my heart because I want to watch a diverse cast and I want my favorite shows to be boosting people of color in very visible roles, but this feels like a betrayal of the program we know and love as well as to black dancers and lesser-known hosts. I'm sorry Disney, but it was good intentions that resulted in a bad mistake.