Dave Bautista Says Matt Gaetz Will Have Mouth Full of **** in Prison
Former WWE wrestler turned Hollywood megastar Dave Bautista is no fan of Florida Congressman Matt Gaetz. Bautista has made a large part of his 2021 platform convincing Twitter that Gaetz and fellow Republican Congresswoman Marjorie Taylor Greene are inbred, amongst other criticisms. But this week, The Animal took his campaign against Gaetz to another level by predicting what the Florida lawmaker will be up to in the future as a result of a federal investigation into Gaetz's alleged involvement with underage sex trafficking.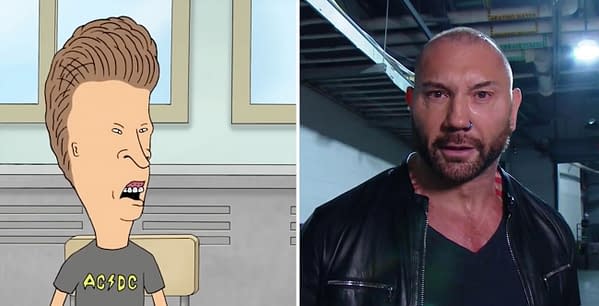 As with many Dave Bautista tweets, this one was inspired by The Palmer Report, one of the former WWE Champion's favorite political blogs.
Bautista responded:
Soon after, one of Bautista's followers, a "Bautistabrony," set him up for a follow-up.
Bautista replied:
As to press time, Gaetz has not responded to Bautista's tweets, but Bleeding Cool will closely monitor the situation for any hint of drama we can turn into additional click bait articles.
Beginning his career as a pro wrestler, Dave Bautista has branched out, first to acting, where he became a global entertainment superstar with such roles as Drax in Guardians of the Galaxy, and later in politics, where he has long feuded with fellow WWE Hall of Famer Donald Trump. Thanks in part to Bautista's war of words with the former president, Joe Biden was able to pin Trump clean in the main event of the 2020 Election PPV. But Bautista's quest to take down Trump and all of his allies didn't stop there. The Animal now squares off with Trump-supporting Republican politicians in state and national elections all over Twitter, and Bleeding Cool is here to provide you nonstop coverage of his tweets as your number two source for news about Dave Bautista's tweets (the number one source being Bautista's actual Twitter account). You can find more coverage of Dave Bautista's political tweets in our dedicated Dave Bautista tweet section, Bautista vs. Trump.

Bleeding Cool TV on Instagram: For all of the stuff too random and bizarre to make the site, make sure to follow us on Instagram (with an official launch on June 19): Bleeding Cool TV (@bleedingcooltv).
BCTV Daily Dispatch: For a look at what's going on across the television and streaming landscape, sign up for Bleeding Cool's daily email round-up of the news you need to know here.