Legends of Tomorrow Season 3, Episode 12 Recap: The Curse of the Earth Totem
This article contains spoilers for the DC's Legends of Tomorrow season 3 episode 'The Curse of the Earth Totem'.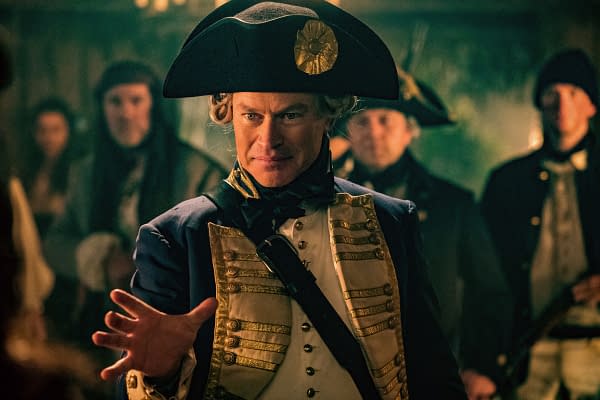 Sara (Caity Lotz) tries to go on a date with Ava (Jesse McCallan)… so you'd think that the folks on the time-traveling ship could sit tight for a night. But they can't. First they go to Detroit to find the pieces of the Fire Totem, but Damien Darhk (Neal McDonough) already beat them to it and left a note… with really nice penmanship. But Nate (Nick Zano) has discovered the location of the Earth Totem, back in the 1770s with Blackbeard the pirate. They head there without letting Sara know, hoping to be back before dessert.
While in the past, Amaya (Maisie Richardson-Sellers) is lost in thought about her two granddaughters and what to do when Mick (Dominic Purcell) continues to take on more of a leadership role and uses his knew found imagination to come up with the story of the Dread Pirate Jiwa, which gets the pirate excited until Blackbeard (Jonathan Cake) himself shows up. But before they can get the information out of him, the British navy arrives to arrest Blackbeard, led by Admiral Darhk, and he gets Amaya's totem from her.
Nate, Zari (Tala Ashe), and Ray (Brandon Routh) are on the Waverider, which is having problems because they're pared in the Devil's Triangle. Then Darhk starts launching cannon balls at the ship and they have to time jump away, leaving Amaya and Mick behind to save themselves, Blackbeard, and take over Blackbeard's ship so they can go after Darhk.
Meanwhile, Rip (Arthur Darvill) and Wally (Keiynan Lonsdale) are bonding over drinks, karaoke, and stealing a time traveling device from Gary (Adam Tsekhman). Wally also gets Rips coat back from the bureau. Having a speedster friend is very cool. We also learn that Wally never really felt part of Team Flash because he didn't know what he had to offer. Everyone on the team is a genius and has powers too.
The date started off awkward, but seemed to be going pretty well until Gary shows up to tell Ava about Rip and then Sara saw the Waverider crashing and had to bail before dessert. Ava is pissed, but she ends up helping the team. They find where Blackbeard hid the treasure along with the girl he thought was dead who was wearing the Earth Totem. She attacks everyone except Amaya, who tries to talk her down… until Darhk shoots the girl in the back of the head. Amaya ends up having to fight both Damian and Nora (Courtney Ford) until Ray and Nate show up. Ray shoots Nora with his anti-magic nano gun. It appears to work and is going to kill her. Damien gives up the fight and runs to his daughter. The team escapes with the Earth Totem, but Darhk still has Amaya's totem.
Back on the ship, Sara and Ava smooth over the way the date ended, share some rum floats, and then head to the Captain's quarters. Amaya sends Blackbeard back to his time and then finds Nate. She tells him that without the totem, she feels in control of her own destiny. Then they start fooling around. Mick goes to have a beer with Ray because everyone else is busy. Ray has been working on an antidote for the anti-magic gun because he feels guilty. He then goes back to the island and offers to trade the antidote for Amaya's necklace. Darhk immediately agrees and Ray gives her the antidote… but gets too close, and when she's better, she attacks him. Darhk stops her from killing Ray, saying he might be more valuable as a hostage.
The episode had pirates, which is always fun. It has Rip and Wally singing 'Careless Whisper', which was also fun. And it had Mick Rory stepping up, which is also been a lot of fun lately. But is also kept the trend that the Legends can't do anything right. Amaya losing her totem? Ray going alone to offer the antidote? And the ending there was actually out of character for Damien Darhk. In the past, when it comes to his daughter, he is a man of his word. That has been consistent. Ray saved Nora, so Damien would've let him go with the totem as agreed. Only promising to get it back very soon.
The neat little moments were Ray acknowledging the Mari McCabe, her boyfriend, and what happened in the animated series. The bottle of Captain Blackbeard rum becoming Captain Jiwa Rum. and the Princess Bride nod with the "Dread Pirate" title. Oh… and the 'Careless Whisper' singing was pretty damn cool.
Damien Darhk now has three of the totems and one of the Legends. With Ray now in his possession, will he use him to try to get the other totems? And how will Wally and Rip factor into all of this? Does Rip have a plan? Will it be a plan that doesn't put a whole lot of people in danger?
https://youtu.be/ybi2mzUKXDA