'Deadly Class' Season 1, Episode 7: Scorpio Slasher Helps Our Kings Dominon Kids "Rise Above" [SPOILER REVIEW]
I had two options to go with for my review of "Rise Above", the latest episode of SYFY's deliriously tasty Deadly Class. First one would be to do my standard light summary with a little commentary. My second option? Just quote French Stewart's Scorpio Slasher… whose every freaking line had me giggling like a demented gibbon.
Marcus (Benjamin Wadsworth) is in trouble, and he decides to entrust Saya (Lana Condor) with the source of his impending doom. Chester (Tom Stevens) has Chico's (Michel Duval) head, and he has threatened to send said head to Kings Dominion if Marcus can't track him down in three days. Saya decides she's in, and the pair start an ill-advised quest to bring Chester to justice.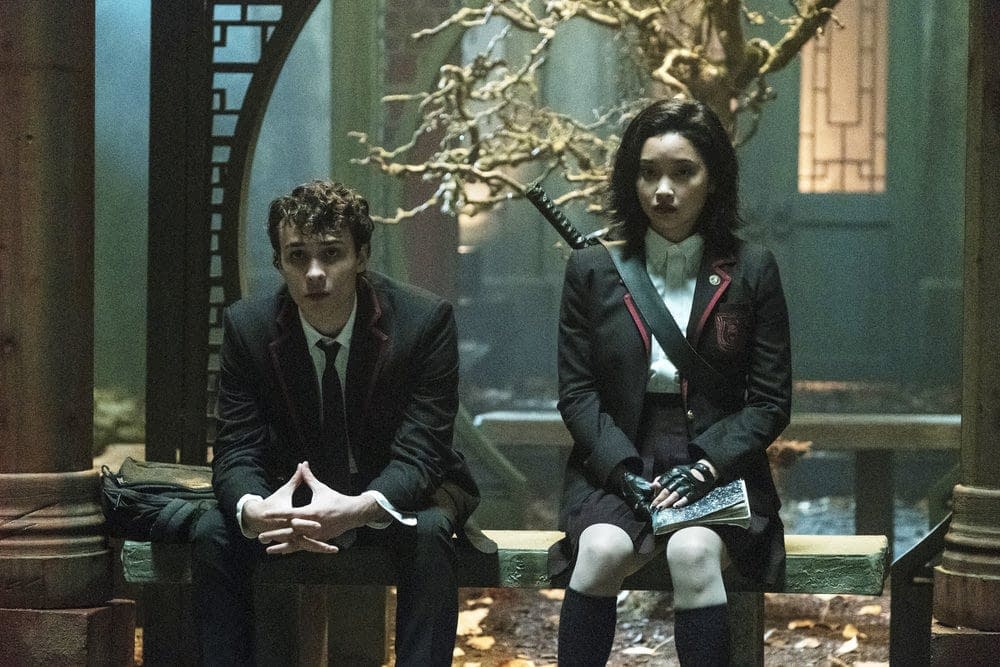 The device employed to tell Marcus and Chester's story at the Boy's Home is genius, with Marcus handing Saya his journal – which kicks off the animated origin story. We see that while Chester may own the body count from the school's burning, Marcus already had blood on his hands when he was "enrolled" at Kings.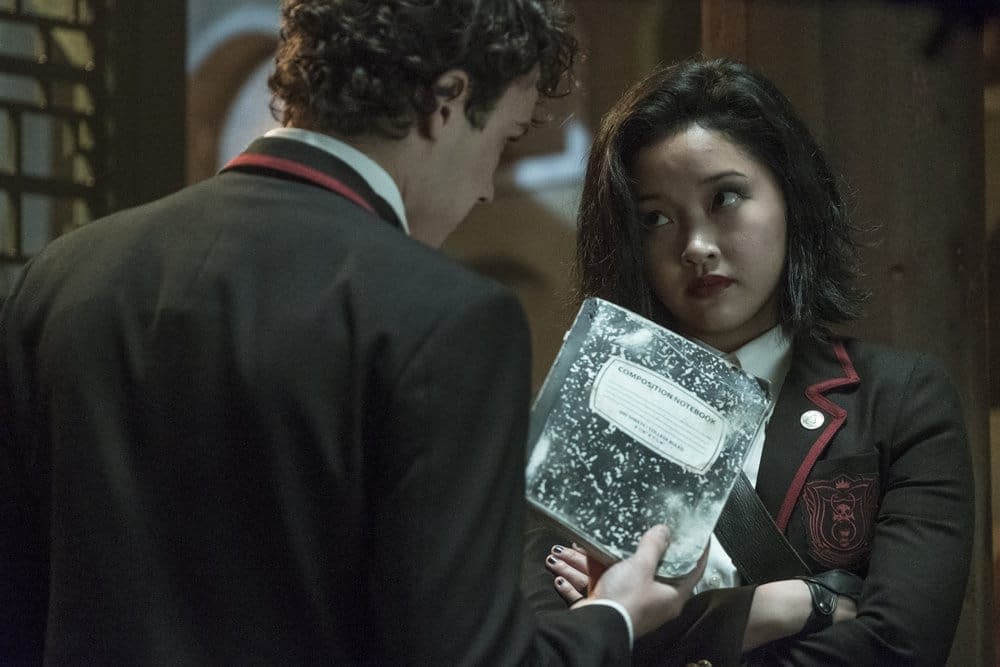 Maria (María Gabriela de Faría) is also in a world of trouble, since El Alma de Diablo (David Zayas) has come to Kings Dominion searching for answers in Chico's disappearance. Maria has 24 hours to bring Diablo answers to Chico's whereabouts… which is slightly complicated by Maria's being Chico's killer. (whew!)
Chester has been busy wracking up a body count as the "F**kface Killer", and has some very unexpectedly sweet interactions with his newest adviser.
"Rise Above" is completely dominated by Stewart, though. The kids decide they need to "borrow" the Scorpio Slasher (he also does disembowlings) to track down Chester. Scorpio has a field day on his field trip, laying down fractured truth bombs on Marcus while being led around San Francisco on a leash by Billy (Liam James).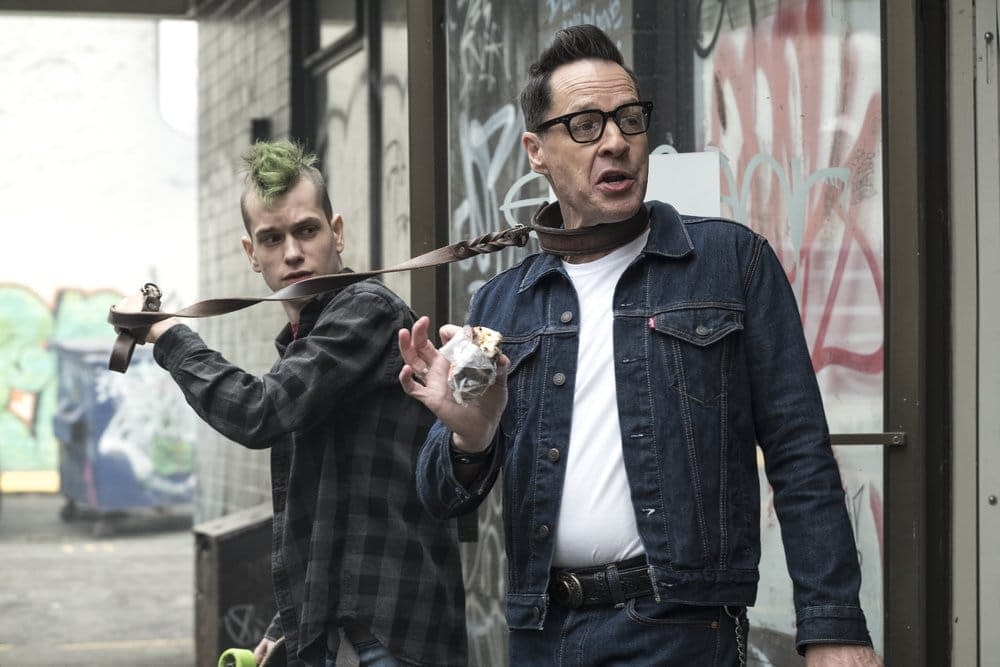 There wasn't as much awesome '80s music pumping through "Rise Above", with only Plastic Bertrand and Nathan Matthew David gracing our ear holes this week.
Honorable Mention goes to Brian Posehn, who's tragically abused Shandy delivers one of the best lines in the episode: "Hey, this is going to get weird."
Let's chain up the spoilers and get some burritos! Scorpio Slasher's wisdom includes an epic take-down of Dr. Suess, a dissection of Marcus' motivations in life, and some of the most honest appraisals of the glory of burritos and ice cream that I have ever seen. Seriously, I had no idea Stewart had this in him!
I'm also pretty sure the kids lost the Slasher at the end of the episode. Oops.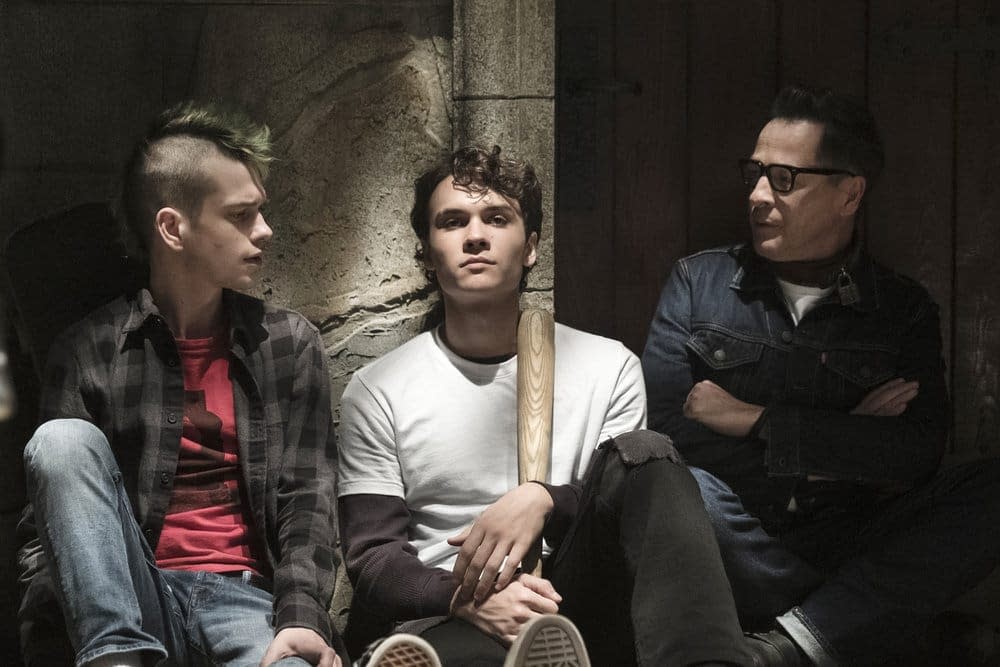 Willie (Luke Tennie) has a few moments of clarity, as he's torn between his new relationship, and duty to his mother's criminal empire. Willie wants out bad, and Gabrielle (Kelcey Mawema) is making that longing even harder to deal with. Tennie's work is subtle and grounded, and it's interesting to see Willie in a change of scenery.
We now know that Master Lin (Benedict Wong) faked his wife and daughter's deaths to keep his daughter from going to the Guild for training when she was eight. The verbal showdown between Lin and Gao (Olivia Cheng) at the end of the episode was a low growl between sibling adversaries, and I don't think it's going to end well!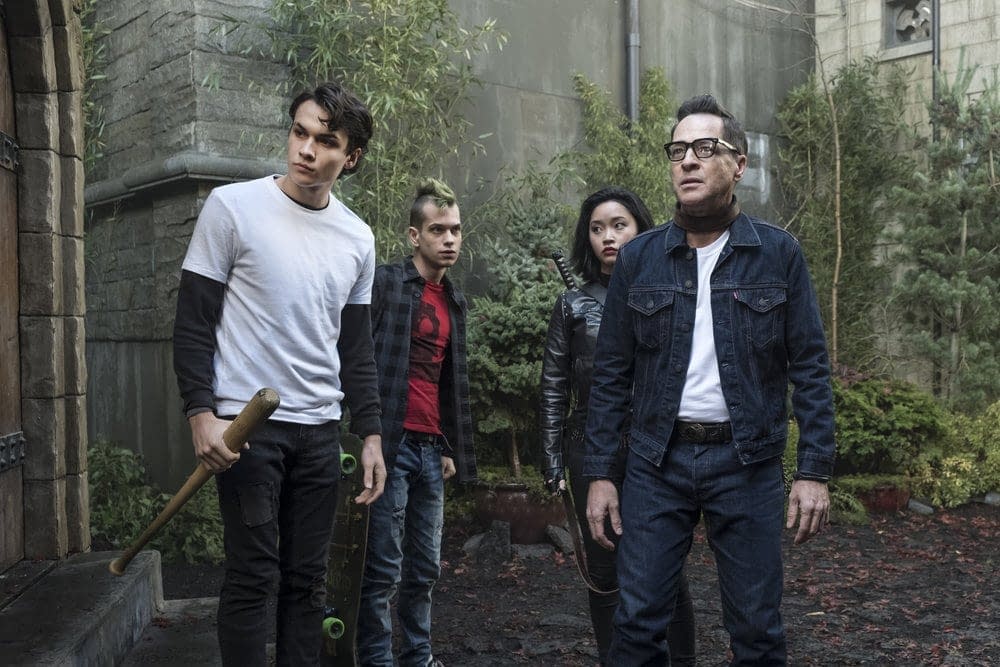 I love that Chester is too impatient to wrack up his own kills, and recruited his hillbilly family to help with the body count. Chester also has a new advisor, since he's hallucinating that Chico's head can talk to him. This led to some amazingly sweet interactions between Chester and Chico, since Chico really wants Chester to succeed. There's a pep talk that Chico gives Chester in the tub that is simultaneously kind, inspiring, and revolting – you can tell Duval is having the time of his life.
Here's some other highlights:
● Posehn, chained to a truck in a nipple-less bunny costume.
● Scorpio Slasher's "ta-da" moment with Chester's cousin
● "You ever see pigs eat a man?" "Of course I have."
● "In a box, with a pox."
● Maria's kill in a crowded restaurant.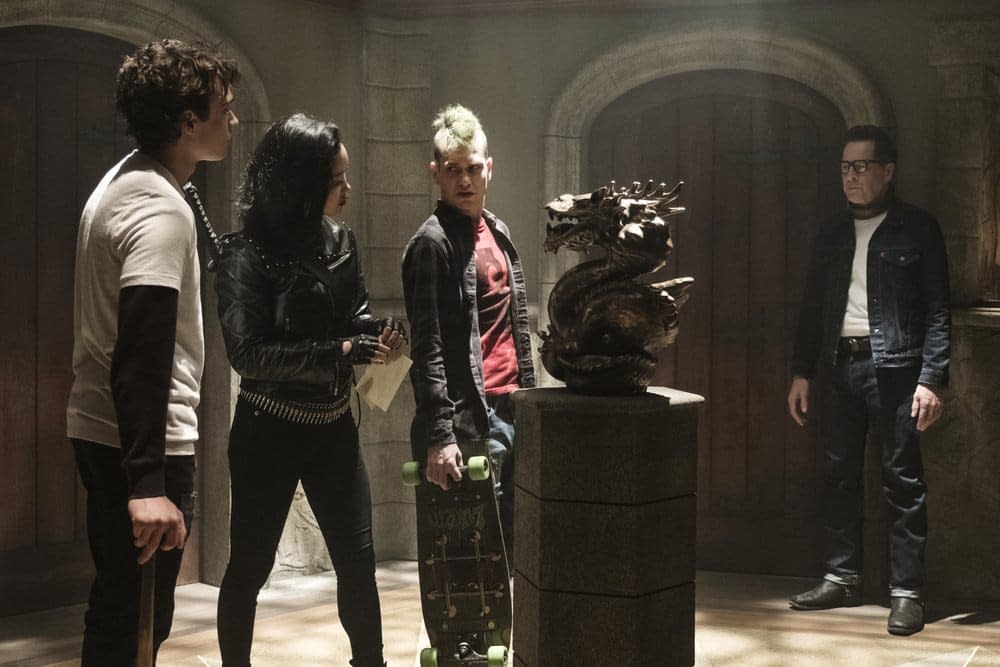 There's so much to love in "Rise Above". The dialogue alone makes it one of the most entertaining episodes of an already entertaining series to date!
Wednesday, March 6th, SYFY brings us "The Clampdown" – here's a look at what's still to come:

From Sony Pictures Television and Universal Cable Productions, Deadly Class was adapted for television by original comic book series writer Rick Remender and Miles Orion Feldsott, who will serve as executive producers alongside Joe Russo and Anthony Russo (Avengers: Infinity War, Captain America: Civil War), Mike Larocca (Spy) and Mick Betancourt (USA's The Purge, Shots Fired). Remender, Feldsott, and Betancourt will also share showrunner duties on the series.