As the first season of Deadly Class gets closer to its completion, I have to accept certain Deadly Facts for myself. 1: There won't be any more new episodes in the near future. 2: We still haven't heard if SYFY has renewed Deadly Class for a second season. 3: My amateur puppet show reenactments of the graphic novel are nowhere near as good as the show, so I'm going to have to re-watch the series over and over and over and over…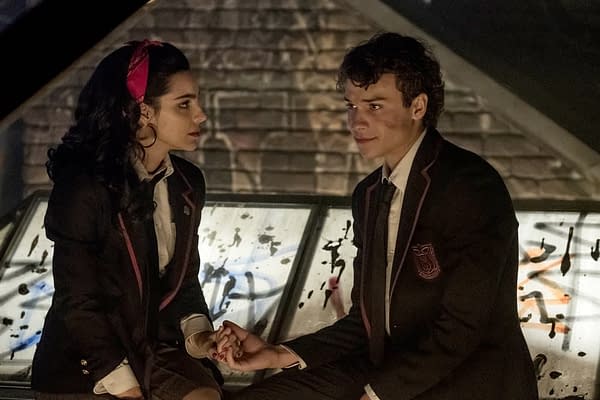 At least we have a new episode this week, and from the looks of things, it's going to get bloody. Again.
Master Lin (Benedict Wong) is putting Kings Dominion on lock-down, because someone went and killed one of the yakuza kids. What Lin doesn't know is that someone was Maria (María Gabriela de Faría), acting on orders from the big cartel boss to act on a lead regarding Chico's (Michel Duval) disappearance.
Little does Big Cartel Boss know that Maria was the one that killed Chico in the first place.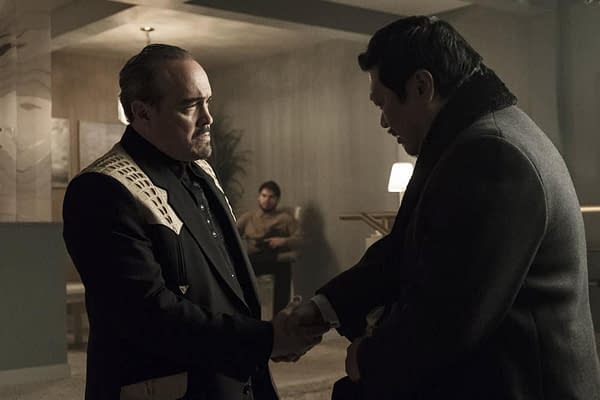 And little does Maria know that Chester, the F***face Killer (Tom Stevens), has Chico's head in a bucket of ice. And apparently Chico's head talks to Chester, and gives him amazing pep-talks. It's a very touching friendship.
The last we saw of Marcus (Benjamin Warsworth), Saya (Lana Condor), and Billy (Liam James), they had just finished up a momentous introduction between Chester and the Scorpio Slasher (French Stewart). This may have been one of the greatest encounters on the show to date, and I'm really kind of nervous about what the Scorpio Slasher will get up to next.
Why? Because I didn't see anyone round him up. Just three dumb kids running after Chester, leaving a bonafied serial killer unattended in San Francisco. Sure, maybe he went back for another burrito.
Or he's having a murder party.
No matter how you look at it, Master Lin is correct in dropping "The Clampdown" on Kings Dominion. Those kids need a little time out, and we'll see how that goes when SYFY rolls the evidence on Wednesday, March 6th. Here's a taste of the trouble to come:

From Sony Pictures Television and Universal Cable Productions, Deadly Class was adapted for television by original comic book series writer Rick Remender and Miles Orion Feldsott, who will serve as executive producers alongside Joe Russo and Anthony Russo (Avengers: Infinity War, Captain America: Civil War), Mike Larocca (Spy) and Mick Betancourt (USA's The Purge, Shots Fired). Remender, Feldsott, and Betancourt will also share showrunner duties on the series.
Enjoyed this article? Share it!