Debris: NBC Orders Jonathan Tucker/Riann Steele-Starring Sci-Fi Series
After running through some pilots that didn't make the cut (we're still a little bitter over ABC's The Brides not getting a series greenlight), it's nice to report a project that actually is making the move to series status. J.H. Wyman (Almost Human, Fringe) and Legendary Television's sci-fi drama pilot Debris is expected to get the official word before the cast's options expire on Tuesday. Written by Wyman, the series stars Jonathan Tucker (City on a Hill), Riann Steele (Holby City), and Norbert Leo Butz (Bloodline, Fosse/Verdon) and focuses on two agents from two different continents with two different mindsets who must work together to investigate the wreckage from a destroyed alien spacecraft that has started having mysterious effects on humankind.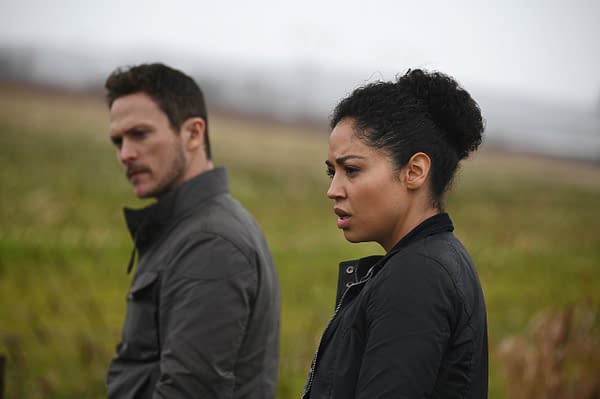 Tucker's Bryan Beneventi is a headstrong, smart CIA operative who is working on the investigation of strange occurrences. Steele's Finola Jones is a classic rule follower, an agent with MI6 who is partnered with Beneventi to investigate strange occurrences. Butz's Craig Maddox is a CIA operative and Bryan's handler who knows where all the bodies are buried.
Proving what a difference timing makes in a year when television productions found themselves shuttered over COVID-19 pandemic concerns, the Debris pilot is said to have been the 2020 broadcast pilot with the most footage in the can before work ground to a halt in mid-March. With that much material to work with, the pilot's producers were able to edit together the footage by also using additional visuals similar to how NBC's The Blacklist completed its unfinished episode (we weren't too impressed with how rushed it looked). Looks like the executives liked what they saw, with reported positive reactions about to translate into a series pick-up. Debris was one of two pilots that the network put on a series pick-up path in early June, with drama La Brea receiving a six-script order and placed in consideration for a straight-to-series order later this year.