Dexter, Billions Universes Set to Expand: Spinoffs, Prequels & More
Showtime (soon to be Paramount+ on Showtime) confirmed some major plans are underway to expand the Dexter and Billions universes.
---
Well, it looks like the success of Taylor Sheridan's "Yellowstone" universe over on Paramount+ & the Paramount Network is about to be used to expand two big Showtime franchises in two very big ways. Not long after the news that Showtime would merge with Paramount Global's streaming service for the newly-named "Paramount+ with Showtime," we're getting word today via The Wall Street Journal that Billions and Dexter will see their respective universes expand in some very big ways. For Billions, series co-creators Brian Koppelman & David Levien are developing a Miami-set spinoff. In addition, the duo will oversee the development of a potential London spinoff, plus "Millions" (focusing on a young cast learning the harsh realities of finance) and "Trillions" (a soap opera-like look at the seriously rich). As for expanding the universe of the Michael C. Hall-starring original series, the network has ordered a prequel series from executive producer Clyde Phillips focusing on the early years of Dexter Morgan, set in his hometown of Miami "and will touch on stories of real-life serial killers of the time period." In addition, the network is also considering spinoffs focusing on the backstories of specific characters (with John Lithgow's Trinity Killer listed in the article as an example). Though a sequel or a second season of Dexter: New Blood wasn't included in the announcement, Showtime head Chris McCarthy added that the network is still committed to continuing that narrative in the future.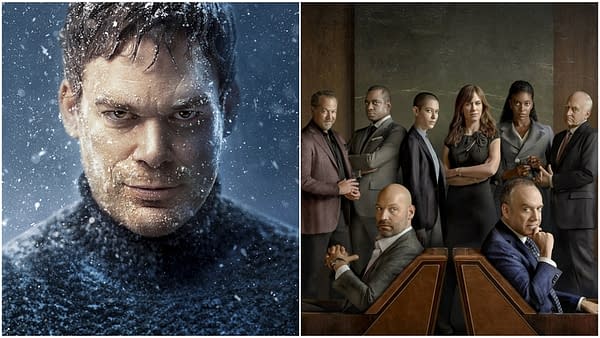 Before talking up Paramount+'s Joshua Jackson & Lizzy Caplan-starring Fatal Attraction series as an example of a franchise/brand that can be developed as a series, Chairman & CEO, Paramount Premium Group; and CCO, Paramount+ Scripted Series David Nevins had this to say about the projects being working on during an interview with The Hollywood Reporter from August 2022. "I am not going to say. There are a lot of things that I am working on. I don't want to mention things until they are ready. There are a lot of things. What is the future of the 'Dexter' franchise? I am actively working on that."
Set 10 years after Dexter went missing in the eye of Hurricane Laura, Showtime's Dexter: New Blood finds him living under an assumed name in the fictional small town of Iron Lake, New York. Dexter may be embracing his new life, but in the wake of unexpected events in this close-knit community, his Dark Passenger inevitably beckons.
Clancy Brown (The Shawshank Redemption, Carnivàle), Julia Jones (The Mandalorian), Alano Miller (Sylvie's Love), Johnny Sequoyah (Believe), Jack Alcott (The Good Lord Bird), Michael Cyril Creighton (Game Night, Dash & Lily), David Magidoff (The Morning Show), Jamie Chung (Lovecraft Country), and Oscar Wahlberg (Manchester By the Sea) joined Hall for the series' return. Original series star Jennifer Carpenter returned to the role of Debra Morgan, while John Lithgow returned to his Emmy Award-winning role as Season 4's "Trinity Killer" Arthur Mitchell. Showrunner & writer Clyde Phillips, Hall, John Goldwyn, Sara Colleton, Bill Carraro, and Scott Reynolds executive produced. Marcos Siega executive produced as well as directed six episodes of the season.