Dexter Star John Lithgow on Fans' Ironic "Love" for Trinity Killer
If you're checking out Sunday night's second episode of HBO's Matthew Rhys (The Americans)-starring mystery drama Perry Mason, then you recognize the actor portraying Elias Birchard "E.B." Jonathan, struggling attorney and a semi-regular employer of Mason: award-winning actor John Lithgow. With an actor like Lithgow, it's not a matter of if you've heard of him and more about the number of projects you know him from. EW recently ran polling of the work people best know Lithgow from by the actor, a list that included 3rd Rock from the Sun, The Crown, Footloose, Harry and the Hendersons, The Adventures of Buckaroo Banzai Across the 8th Dimension, and more (we're going 98% spoiler-free, but you can check out the complete list here).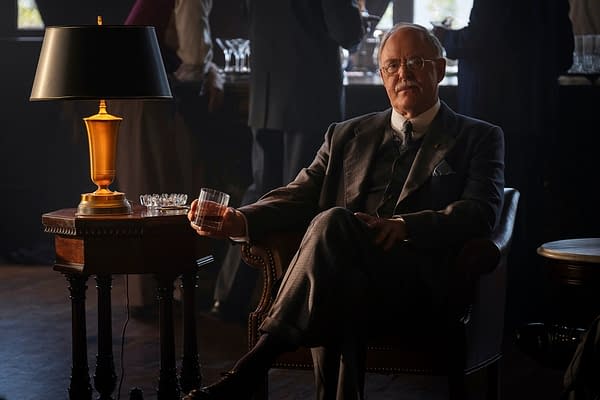 The one spoiler we will give away because it's some fascinating insight and also because we love Dexter (we don't acknowledge the series finale as anything other than a fever dream of Jennifer Carpenter's Deb). Sitting in second place at 13% was the twisted Showtime series, with Lithgow walking away with an Emmy for his run as "typical everyman" Arthur Mitchell- and for three decades, he was also known as the Trinity Killer. While Mitchell wouldn't make it out of the season alive, he would have an impact on Dexter's (Michael C. Hall) life like no other- and the role still has an impact on fans. "[Fans] tilt toward the Comic-Con gang, and they have a taste for lurid, gruesome television," Lithgow explains. "They absolutely love the Trinity Killer, and they always use the word 'love,' which I thought was ironic. People ask me to sign their hammers, including at the stage door of a Broadway show. There are a lot of hammers out there with my signature on them, like a Joe DiMaggio baseball bat!"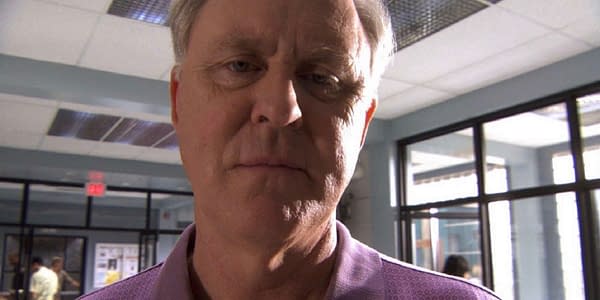 Mitchell aka Trinity's compulsion to act and his revulsion at acting attracted Lithgow to the role: "I always thought that was a very particular and thrilling challenge: a man in the grips of a compulsion which he wishes he didn't have, and in fact, on some level wished someone would stop him from doing it." One requirement that came with the role that amused the actor? All of the necessary secrecy on and off the Dexter set: "I had a pitch meeting with the showrunner and the executive producer, and they had to tell me this big secret, the story of the Trinity Killer, and I had to swear that I wouldn't tell anyone. And it was just captivating. It was like listening to the ultimate campfire story. They ended up telling me much more than they had intended to, because I kept on saying, 'Well, wait a minute. What about the baby?' And when I did the role, I knew [that] I knew the story and nobody else did. There was a woman playing my daughter [Vanessa Marano], and she didn't even know she was my daughter, and I couldn't tell her! There was a culture of secrecy surrounding it — and it was really fun."
Perry Mason season 1, episode 2 "Chapter 2": Following one of her trademark barn-burning sermons, Evangelical preacher Sister Alice (Tatiana Maslany) offers the Dodsons the church's full moral and financial support – much to her mother Birdy's (Lili Taylor) dismay. During a routine domestic intervention, beat cop Paul Drake (Chris Chalk) is rerouted to a gruesome crime scene, where he follows a confounding trail of evidence. Mason (Matthew Rhys) is left incensed by a jaw-dropping admission from Baggerly (Robert Patrick) and, after pressing Emily (Gayle Rankin) on her husband's alibi, finds himself confronted by an outraged Della (Juliet Rylance). Detectives Holcomb (Eric Lange) and Ennis (Andrew Howard) use Drake's (Chris Chalk) findings to their own advantage. Written by Rolin Jones & Ron Fitzgerald; directed by Tim Van Patten.
HBO's Perry Mason also stars Juliet Rylance as Della Street, E.B. Jonathan's creative and driven legal secretary; Tatiana Maslany as Sister Alice McKeegan, the leader of the Radiant Assembly of God, preaching to a hungry congregation and a radio audience across the country; Chris Chalk as Paul Drake, a beat cop with a knack for detective work; and Shea Whigham as Pete Strickland, who is hired by Mason as an extra set of eyes on his various investigations. Stephen Root, Gayle Rankin, Nate Corddry, Veronica Falcón, Jefferson Mays, Lili Taylor, Andrew Howard, Eric Lange, and Robert Patrick also star. Executive producers include Amanda Burrell, Robert Downey Jr., Susan Downey, Ron Fitzgerald, Joe Horacek, Rolin Jones, and director Timothy Van Patten. Aida Rodgers co-executive produces, with Matthew Rhys producing. Created by Rolin Jones and Ron Fitzgerald, the series is based on characters created by Erle Stanley Gardner.