BBC America Pulls Plug on Dirk Gently's Holistic Detective Agency
Bad news for fans of Dirk Gently's Holistic Detective Agency. BBC America has announced that the series has been cancelled after two seasons. The science-fiction detective series was based on the novels of the same name by celebrated author Douglas Adams. The series was adapted by Max Landis and starred Samuel Barnett and Elijah Wood.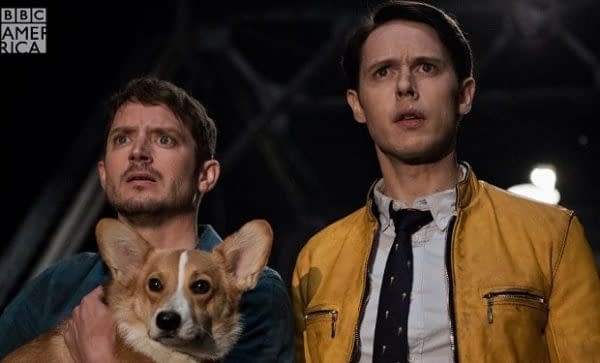 The cable network released the following announcement:
We are beyond proud of this brilliant original series and so appreciative of the outstanding team behind it including Max Landis, Samuel Barnett, Elijah Wood, and many many others. It was a privilege to work with this talented and passionate group of writers, producers and actors on these two seasons of Dirk. Thanks also to the passionate fans who embraced this fantastically novel world.
The second season of the series just wrapped up this past Saturday. The series focused on Dirk Gently (Barnett), who claimed to be a 'holistic detective' who investigating obscure cases based on the inter-connectivity of all things. He is aided by two 'friends', Todd (Wood) and Farah Black (Jade Eshete) and hunted by a secret CIA group called Project Blackwing who investigate people with strange abilities and fellow subject of Project Blackwing, Bart Curlish (Fiona Dourif), considers herself a "holistic assassin" and believes she is destined to kill Dirk.