Posted in: BBC, Comics, Doctor Who, Titan, TV | Tagged: bbc, doctor who, doom's day, missy, preview
---
Doctor Who: Missy Returns for 60th Anniversary Event "Doom's Day"
Missy returns and is hot on Doom's trail as the BBC & Titan Comics roll out their chapter in the upcoming Doctor Who 60th-anniversary event.
---
Doom (stand-up comedian, comedy sketch artist & actor Sooz Kempner) is about to have a very, very bad day. That is unless the greatest assassin in the universe can find the Doctor in time. But will the Doctor, a vortex manipulator, and 24 hours be enough to save Doom from literal Death? That's the premise behind the upcoming multimedia event "Doom's Day," which was first announced back in March as part of the overall 60th-anniversary celebration of the long-running BBC show. And now we have intel on one of Doom's earliest encounters – and it sounds like the assassin's day might just end a lot earlier than they were hoping for. Because this July, Doom learns that Missy is back and on her trail in Titan Comics' two-issue comics series Doctor Who: Doom's Day.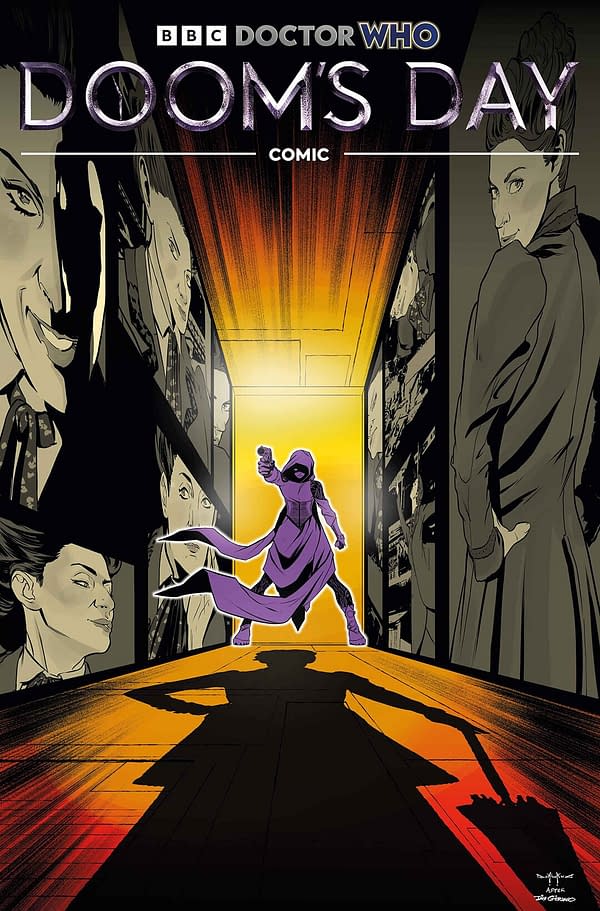 Written by Eisner-nominated Jody Houser (Stranger Things, Star Wars, Spider-Man) with art by Roberta Ingranata (Witchblade), the two-issue series finds Doom in her comic book debut. Using her vortex manipulator, she'll do anything to find the tempestuous time traveller, the Doctor, including cavorting with the maleficent Missy. Every hour a new adventure, every hour closer to death. "I'm so excited to be working with Jody and Roberta once more, and I can't think of a better team to introduce this dazzling new character to the world of Doctor Who comic books. Throw Missy into the fold, and you've got one sensational adventure!" shared Jake Devine, Editor, Titan's "Doctor Who" Comics. Doctor Who: Doom's Day #1 is now available to pre-order globally from May's Diamond Previews catalog, Forbidden Planet (with an alternative photo cover ), and on a digital device via Comixology. The first issue will be available on July 5, 2023.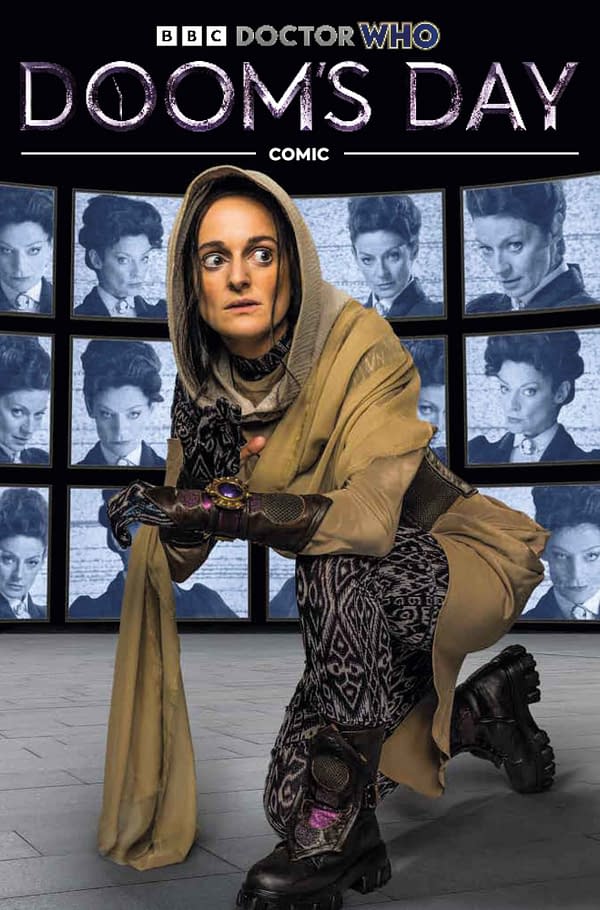 "'Doom's Day' is a huge new adventure for the whole 'Doctor Who' universe – starring the brilliant and hilarious Sooz Kempner as an intergalactic assassin. Her adventures will span comics, audio, a novel, video game stories, and more, expanding the world of 'Doctor Who' into brand new territories. Beware the Doom's Day, it's coming for us all," shared Doctor Who showrunner Russell T. Davies in a statement. Kempner added, "To be part of the 'Doctor Who' universe, a British institution up there with cups of tea and James Bond, is surreal and amazing! I love everything about Doom and can't believe I get to travel across time and space with her." Though more storyline details will be coming soon, the multimedia event will kick off on Doctor Who digital channels later this year, followed by chapters from Doctor Who Magazine, Titan Comics, Penguin Random House, East Side Games, Big Finish, and BBC Audio, each telling a section of Doom's story.
The multimedia crossover event "Doom's Day" joins a very busy end of 2023 for the long-running sci-fi series. In November, Doctor Who celebrates its 60th anniversary with a three-episode special event starring David Tennant & Catherine Tate. A month later, new Doctor Ncuti Gatwa and companion Millie Gibson are expected to lead the return of the Christmas Specials. All of this is going on as production on a new series of adventures continues.
---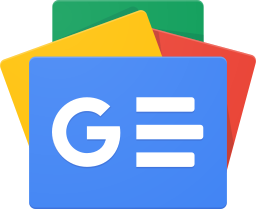 Stay up-to-date and support the site by following Bleeding Cool on Google News today!