Doctor Who Showrunner "Law" Ultimate British Fanboy Gatekeeping
As Bleeding Cool's television editor, this is when I'm supposed to come up with something cute or funny or snarky as a segue into the point I'm trying to make, but this is something that's been bugging me since it was announced that Doctor Who actor Jodie Whittaker and showrunner Chris Chibnall would be leaving the long-running series by the end of next year (more on that below). Why do British and British-wannabe fans have this hard-on about the Doctor Who showrunner "having" to be British? I'm not talking "thinks" or "strongly believes"- they come at you when you bring up the idea of anyone non-British running the shop like you just s**t on their Corn Flakes after shooting Bambi's mom. Now here are the two reasons I usually hear so let's look at them: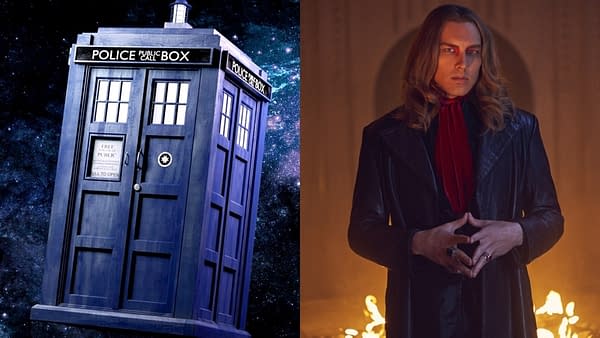 "It's A British Show!": …about a two-hearted time traveler from Gallifrey (note: origin subject to change by the time you read this) who travels through time and space. If your biggest argument is that they travel in a British police call box, then just concede now because any adventures that were UK-based because their budget sucked doesn't count. That's not because of the show's mythology, but because of a shi**y way of funding television studios and shows (imagine The Walking Dead showrunner Angela Kang being told the Trump administration cut the show's budget so she only gets two walkers that season). In fact, it seems righteously ironic (much nicer than "righteously hypocritical") that fans of a show that preaches embracing diversity and how we're all part of one big universal community would be closing off opportunities to others based simply on one's geographical birthplace. It's just another sad example of fanboy gatekeeping, except this one wraps itself up in the Union Jack and calls itself "national pride."
"It's A Tradition!": But just because something's a "tradition" doesn't mean it's something that makes sense doing forever- or even at all? And "tradition" isn't always a good thing. "Tradition" is an excuse that fraternities and sororities have used for years to defend legacies of hate perpetuated through hazing. It's the word folks use to justify keeping monuments up to some really shi**y people even when history and common sense say otherwise. Or let me put it another way. If on the last Thursday of every month, I take a s**t on the windshield of your car and I do this for six months in a row? It's a tradition! But is it a good tradition? Probably not, since I'm assuming you're not into me shi**ing on your car's windshield. So f**k tradition, right? Throw open the doors of creativity that probably would've done a better job giving Whittaker the platform her skills deserved to be able to truly define her Doctor.
So if Kang, Greg Berlanti, Michaela Coel, Greg Daniels, Ava DuVernay, Sam Esmail, Vince Gilligan, Misha Green, Katori Hall, Noah Hawley, Lisa Joy & Jonah Nolan, Courtney Kemp, Ryan Murphy, Alex Kurtzman, Daniel Levy, Damon Lindelof, Chris Munday, Jordan Peele, Issa Rae, John Wells, and more get thrown out there to be considered, no matter how longshot they might be? Appreciate the fact that the world has come to see Doctor Who as its show and keep an open mind.
It's exactly what the Doctor would've ordered…
Last month, it was confirmed that Doctor Who Series 13 would premiere before the end of the year, would be a one-story season and that Jacob Anderson (Broadchuch, Game of Thrones) has joined the cast as Vinder. Fans also learned that Whittaker and Chibnall would be a part of three feature-length specials in 2022- with the final special also marking the end of Whittaker's run (and the introduction of the new Doctor, still unknown). The first special will screen on New Year's Day, with the second airing in the spring, the third in fall 2022 as part of the BBC's centenary celebrations.
"My heart is so full of love for this show, for the team who make it, for the fans who watch it and for what it has brought to my life," Whittaker said. "I cannot thank Chris enough for entrusting me with his incredible stories. We knew that we wanted to ride this wave side by side and pass on the baton together. So here we are, weeks away from wrapping on the best job I have ever had." Chibnall added: "Jodie and I made a "three series and out" pact with each other at the start of this once-in-a-lifetime blast. So now our shift is done, and we're handing back the Tardis keys. Jodie's magnificent, iconic Doctor has exceeded all our high expectations."

Bleeding Cool TV on Instagram: For all of the stuff too random and bizarre to make the site, make sure to follow us on Instagram: Bleeding Cool TV (@bleedingcooltv).
BCTV Daily Dispatch: For a look at what's going on across the television and streaming landscape, sign up for Bleeding Cool's daily email round-up of the news you need to know here.