Doom Patrol: Is Brendan Fraser's Oscar Nom Saving Grace for Season 5?
Could Brendan Fraser's Oscar nomination for The Whale be the sort of thing that could help get HBO Max's Doom Patrol a fifth season?
---
"Well, let me start backward and delicately with what you're asking. But there can always be more of 'Doom Patrol,' there can always be more, and we are prepared for more. I think at the same time, in this season, the characters are experiencing something that they've never experienced before. That's not just impending death; it's actually growing old. When one actually has the experience of growing old, it forces them to ask questions about themselves, their lives, and where they want things to end up before they might die in a way that can feel like an ending. But it is just another frontier in terms of the emotional arcs that we're asking our Doomies to embark on." That's what HBO Max's Doom Patrol showrunner & executive producer Jeremy Carver had to share during a conversation with Screen Rant from December 2022… three days before the first part of Season 4 hit screens. At the time, we took it as a sign of cautious optimism considering the hacking & slashing that Warner Bros. Discovery's new leadership had unleashed throughout the year in an effort to recoup billions in savings. And then there are the upcoming DCU plans that DC Studios heads James Gunn & Peter Safran are planning to start rolling out by the end of the month, with Gunn on record in the past confirming that streaming would be an essential aspect of moving the new DCU. Once again, another good sign. And yet, there were rumblings…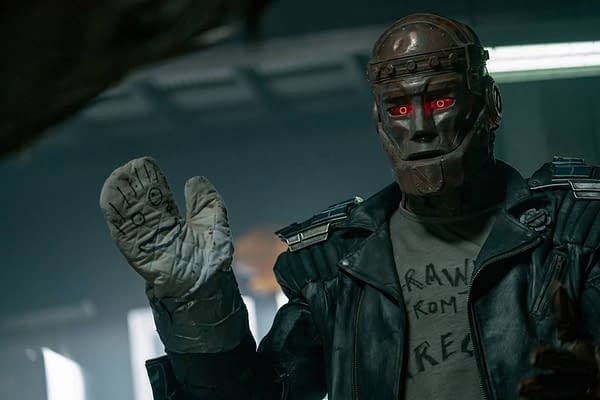 Even before what appears to have gone down this week, there were "reports" from unidentified "sources" that HBO Max would be ending Doom Patrol with the fourth season. But considering how much source reporting has been flat-out wrong over the past year on a wide variety of WBD topics, there was no reason to elevate it to serious consideration. Until the past few days, that is. Because that's when a member of the cast apparently took to Instagram Stories to post a video of their character along with the caption, "Goodbye My Beloved." Now, we've seen the screencap third-person, but since we didn't see it "live" before it was taken down, we're not going to mention the actor's name here. But with that said? There's no reason for me to believe that it wasn't true, and if that's the case, then either the show is being canceled, or their character is being written off (based on the character, I'm going with the former over the latter). So to say that things are looking grim and that there's no sign of hope… might actually not be true after this year's Academy Award nominations were announced. Because when Brendan Fraser isn't busy playing Cliff Steele (aka Robotman) on the HBO Max series, he's busy being nominated for Best Actor for his powerfully intense performance in The Whale. Could Fraser's well-deserved nomination (and predicted win) be enough to press the "PAUSE" button on disbanding the most original superhero series to ever grace our screens (no disrespect to other shows)?
Realistically, probably not. But this is 2023, and the multimedia world has gone high-tech and "old west," so the old rules don't necessarily apply. My gut response would be to say that the decision was made already (one way or another), and not much can change that. But at a time when the WBD claims it's focusing on creative rebuilding, would it want to be seen killing a series that Fraser's an essential part of when they could be selling it as a DCU series starring an Oscar nominee? And then there's the Batgirl factor. WBD shelved the Leslie Grace-starrer indefinitely as one of its many tax write-offs, meaning that it would never see the light of day. That means that no one will get to see Fraser's Ted Carson (aka Firefly) in action, and while Fraser has taken a "bigger picture" approach to the move? The fans didn't. Does WBD want to be seen as killing two projects from a potential Academy Award winner who's beloved across the pop culture landscape for being one of Hollywood's best "comeback" stories in a long time? I guess we'll find out soon enough- one way or another.