Drew McIntyre Flaunts The Word "Wrestler" on WWE Raw
In a move that surely led an enraged Vince McMahon to shout at his television, Drew McIntyre repeatedly said the word "wrestle" on WWE Raw last night. It was clearly intended as a signal that era of WWE being ashamed of wrestling is over. But it will take more than to prove it.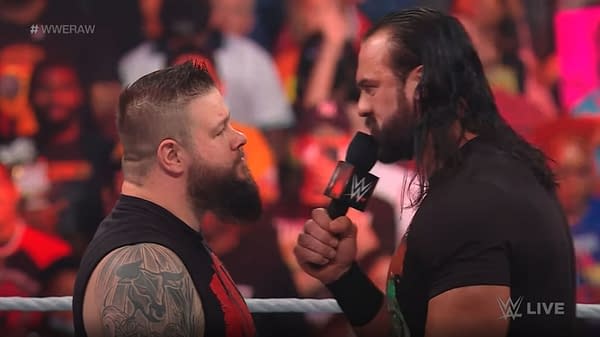 McIntyre addressed the crowd on Raw, admitting that he is dealing with a back injury as reported by dirt sheets, but attributed it to "carrying the load of twenty men for three years in WWE," which definitely earns that TV-14 rating. Kevin Owens interrupted the promo to reminisce about a wrestling match with Sami Zayn six years ago and proclaim that he misses "the old Kevin Owens," the "Prizefighter." Owens noted his lack of a title for the past five years and made an Owen Hart reference, saying, "enough is enough and it's time for a change," then announcing his intentions to challenge the winner of McIntyre vs. Roman Reigns at Clash at the Castle. (What about Theory? What if he cashes in?)
McIntyre gave his own career retrospective before dropping the money line: "I don't care if you're a prizefighter or a sports entertainer or a superstar… we're wrestlers in a wrestling ring! Let's just freaking wrestle!"
It's a welcome change of terminology, and clearly a signal of a shift in direction for WWE. For many years, Vince McMahon had banned the use of the word wrestle in all of its forms, part of his longtime shame for being a wrestling promoter that also led to comedically doomed attempts to launch a bodybuilding federation, a movie studio, and two football leagues. But with McMahon gone, banished from the company like his hush money payments to women were banished from the company balance sheets (until now), and Triple H in charge of creative, the message is clear: this is a new era of WWE.
Of course, it's a work in progress and despite the shocking use of the w-word, not everything is going to change overnight. McIntyre and Owens did have a wrestling match, but the match soon ended in disqualification when The Usos interfered.
WWE Raw has been objectively, substantially improved since Vince McMahon's retirement, as many people believed it would be. But it's still going to take some time for people to trust the company again after many years of disrespecting and insulting the intelligence of their own fans.