Emmy Rossum Wanted to Leave 'Shameless' Fiona "On a High Note"
After fighting the good pay equity fight and winning, Shameless star and director Emmy Rossum is leaving the series. She wrote at length about the decision, and the current continuing downward spiral for her character Fiona Gallagher certainly seems to need a drastic end.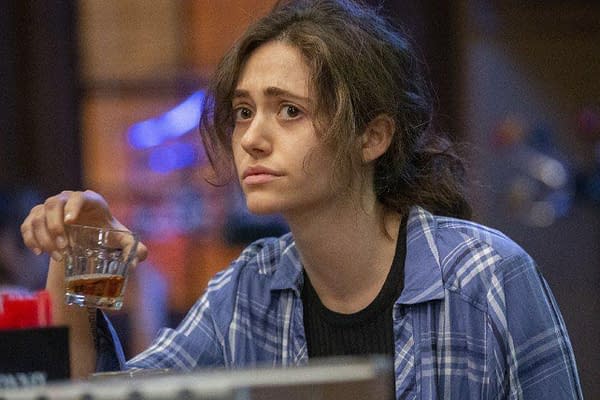 Shameless Season 9 has been chugging along, perhaps missing some of the spark that made the series great. Not that it's *bad* per-say, but, it almost feels like the writers have forgotten who these characters are.
Rossum recently spoke with Entertainment Weekly about saying goodbye to Fiona after 9 years, and previewing the emotional final scenes for the character:
EW: What can you tell me about the next two episodes and how the show says goodbye to Fiona?

Rossum: Something that was set up previously kind of pays off for Fiona. A door opens and she walks through. She goes to start to make her life elsewhere, and the way in which she says goodbye is quite moving. I think the final moment between her and Frank is actually quite telling about really how much he loves his kids but just really can't be a parent and there's an understanding there. It reminds me of a scene in the pilot. There's a scene with Frank and Fiona in the finale right at the very end where he's trying to acknowledge what she did for the family and it's in some way reminiscent of what Fiona wanted to hear in the pilot when he was passed out drunk in the living room and she was patting herself on the back and saying "Good job, Fiona." Now, of course, she doesn't hear those exact words because Frank is a terrible narcissist and not very generous with words, but there's an understanding that happens and I think the way John blocked the scene was so smart. There's a separation between the characters but there's a lot unsaid and understood between them. I'm quite happy with the life that Fiona is going to make for herself and the things she's put in place to take care of them before she leaves.
Co-star Cameron Monaghan left the series, but is coming back for season 10. Would Rossum ever come back after exiting?
I would never close my door on the family. Like I said in what I wrote and what I said to them repeatedly, they should just think of me being down the block. I'm just in New York. It's not like I'll never be in L.A. or Chicago ever again, so I'm not that far away. But for me, quite honestly, I'm not sure what more story can be told for her. I really liked the way we ended it. But never say never; I really love all the people I work with. There's so many other things that I want to do but I love my family.
And don't worry about what's next for Rossum, she's staying very busy with Modern Love at Amazon, and that Angelyne project.
Shameless airs on SHOWTIME on Sundays.