"Fear Agent": Amazon Secures Series Rights to Rick Remender, Tony Moore Comic Book Series
Rick Remender (Deadly Class) and Tony Moore's (The Walking Dead) Image/Dark Horse comic book series Fear Agent will be time-travelling its way to Amazon, who won the rights to the series from Seth Rogen, Matt Tolmach, and David F. Sandberg. The Batman co-writer Mattson Tomlin is set to pen the pilot, with Sandberg (Shazam!, Annabelle: Creation) directing. The Hollywood Reporter also reports exclusively that NBCUniversal streamer Peacock, WarnerMedia streamer HBO Max, and cable network TNT were also in the running.

In the official description for the steaming service series, it appears there's a little something for everybody. Interstellar invaders. Time travel. Clones of clones of clones, and lots of whiskey. Whether he's battling the scourge of of space, going back in time to stop the alien invasion that changed earth forever, or winning his ex-wife back, there's nothing that Heath Huston won't do to try to right the wrongs and gets his family back. He is, after all, the last Fear Agent.
Sandberg, Remender, Moore, Tolmach, Lotta Losten, and David Manpearl are set to executive produce along with Point Grey Productions partners Rogen, Evan Goldberg, and James Weaver. Josh Fagen is set to oversee development for Point Grey, with Sony Pictures Television as the studio.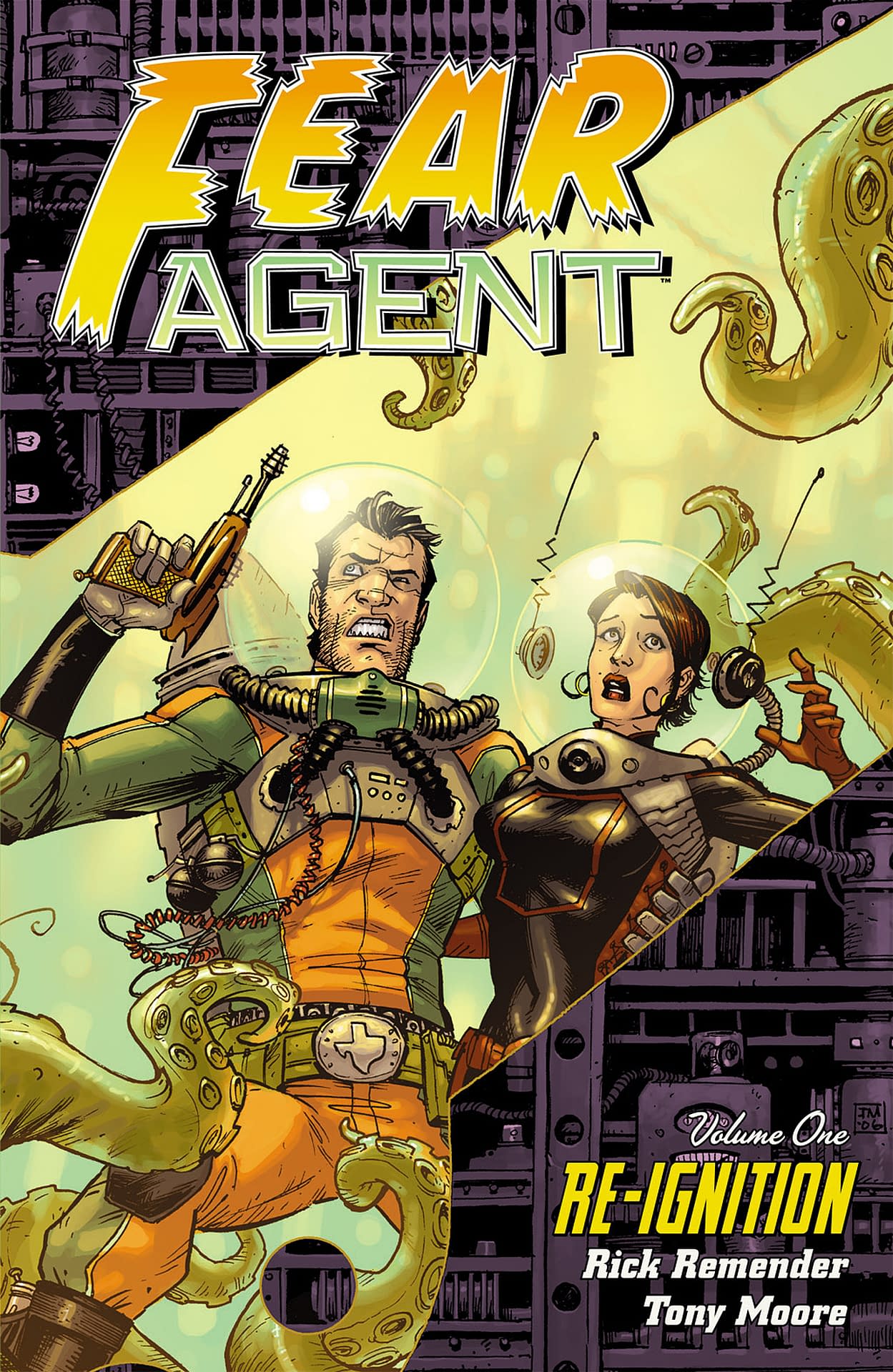 Published between October 2005 and November 2011 by Image Comics and then Dark Horse Comics, here's a look at the overview for Remender and Moore's Fear Agent Volume 1: Re-Ignition trade paperback:
When down-and-out alien exterminator, Heath Huston stumbles upon an extraterrestrial legion of amoebas preparing to annihilate the Earth, he's forced to choose between the bottle and resuming his role as a peacekeeper, as The Last Fear Agent.

Heath's former band of soldiers, the Fear Agents was comprised of a group of the last remaining humans on Earth, whose sworn duty was the protection of their homeworld against alien invaders. A number of years after preventing a large-scale invasion of Earth, the Fear Agents were all slaughtered in a mysterious incident.

Written by critically acclaimed scribe Rick Remender (Sea of Red; Strange Girl) and drawn by Eisner nominated artist Tony Moore (The Walking Dead; Exterminators).