Fear the Walking Dead Season 8: Danay Garcia Shares Look at OG Cast
With AMC's Fear the Walking Dead beginning its final run this May, Danay Garcia posted a look at a reunion of four early-season cast members.
---
Well, if there's one good thing about having to wait another three months until AMC's Fear the Walking Dead returns to our screens, it's that it's given us some time to commit the release schedule to memory. In case you forgot or missed it, the final, 12-episode season will be broken into two 6-episode halves, with Part I set to kick off on Sunday, May 14, on AMC & AMC+ (and Part II set for later this year). What that also means is that there's a lot of time for some fun, touching & heartfelt posts from the cast as the show's final run nears. So who better to check in with than Danay Garcia, who took to Instagram to share a look at an on-set reunion between herself and other early-season veterans, Colman Domingo, Kim Dickens, and Rubén Blades. And we're just going to put it out there that we're already big fans of Strand's (Domingo) final season look.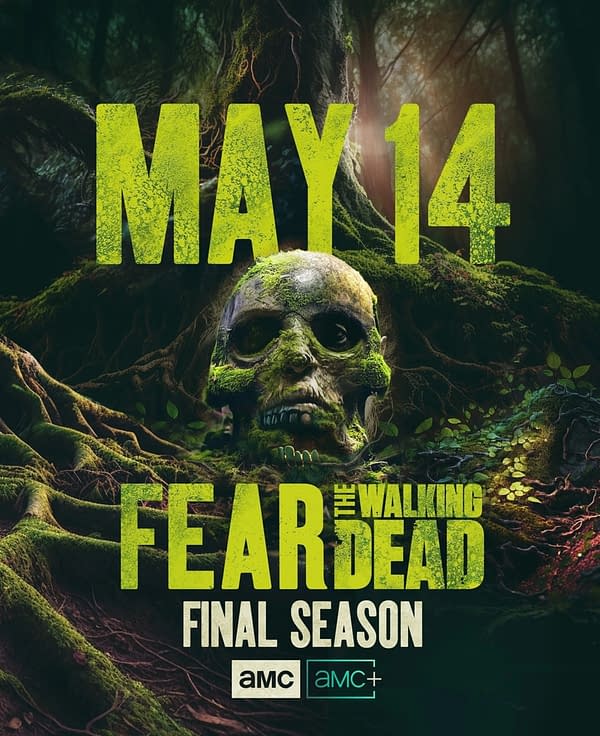 Here's a look at Garcia, Domingo, Dickens, and Blades getting the OG Fear TWD fam back together again (and stick around for more cool stuff following):
And here's a look at Amelio, kicking us directly in "The Feels" with just four words and an amazing photograph taken by Photographer Lauren "Lo" Smith– take a look:
Fear the Walking Dead Season 8: What You Need To Know…
The eighth season of Fear the Walking Dead begins after the conclusion of Season 7 when Morgan's (Lennie James) and Madison's (Kim Dickens) hopes to rescue Mo from PADRE did not go as planned. Now, Morgan, Madison, and the others they brought to the island are living under PADRE's cynical rule. With our characters demoralized and dejected, the task of reigniting belief in a better world rests with the person Morgan and Madison set out to rescue in the first place — Morgan's daughter, Mo.  The season stars James, Dickens, Colman Domingo, Danay Garcia, Austin Amelio, Christine Evangelista, Karen David, Jenna Elfman, and Rubén Blades. It is executive produced by TWD CCO Scott M. Gimple, Showrunners Andrew Chambliss & Ian Goldberg, Robert Kirkman, Gale Anne Hurd, Greg Nicotero, Michael Satrazemis, and David Alpert and is produced by AMC Studios.