"Fleabag": Phoebe Waller-Bridge's Path to World Conquest Now Includes 4 Emmy Wins
Phoebe Waller-Bridge won Best Comedy Writing and Best Actress in a Comedy for Fleabag tonight at the Emmy Awards. The series also won for Best Comedy Series and director Harry Bradbeer won Best Directing for a Comedy Series.
That's four-for-four with Fleabag – "The Little British Feminist Comedy That Could."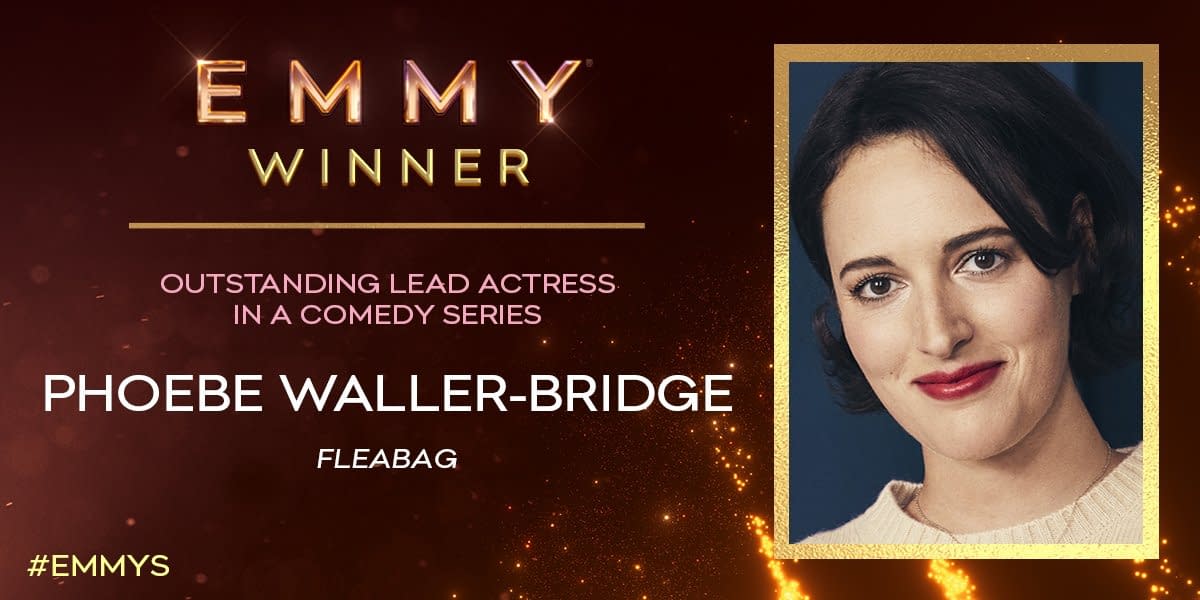 Not bad for what started out as a 10-minute sketch from a drama workshop, eh? Then it that became a 90-minute one-woman play before it became a BBC TV series. At this point it's one of the most acclaimed comedy series in the world.
We're big fans of Fleabag around here at Bleeding Cool – pretty obvious from our coverage. We never thought it would reach the heights of popularity and tap the zeitgeist the way it has. It seems to be the flashpoint in the new stage in feminist storytelling and representation. It heralds a new era of messy, uncompromising women in stories, told from the inside, without shame, without guilt or apology as they embrace all their flaws.
Fleabag herself is everyone's spirit animal in our confused and anxious times. Waller-Bridge has a unique talent for turning British embarrassment about sex into a comedic explosion of full-blown shag-mad lunacy. And then turn around and deliver an emotionally devastating gut-punch.
"It's just really wonderful to know, and reassuring, that a dirty, pervy, angry, messed up woman can make it to the Emmys," Waller-Bridge said on the Emmy stage.
Personally, I still think the best version of Fleabag is the original stage play. It's the Rosetta Stone from which the wellspring of the Fleabag juggernaut has sprung forth.
Oh, and Jodie Comer won Best Actress in a Drama for Killing Eve, the darkly comic hitwoman series Waller-Bridge created from Luke Jenning's books. Killing Eve is clearly a show that could be a mirror universe to Fleabag. Villanelle is Fleabag's opposite: a gleeful, manipulative psychopath who gets away with murder all the time while Fleabag can't get away with any of her bad decisions.
At this rate, we're going to end up with Waller-Bridge as "Empress of the World and All She Surveys"…
…or a third series of Fleabag?
The first two series of Fleabag can be streamed on Amazon Prime.