Gillian Anderson Talks Character Catharsis in Netflix's 'Sex Education'
If you haven't watched it yet, take some time on this three-day-weekend (in the US) to watch Netflix series Sex Education starring Gillian Anderson and Asa Butterfield. It's charming, delightful, painful, and wonderful.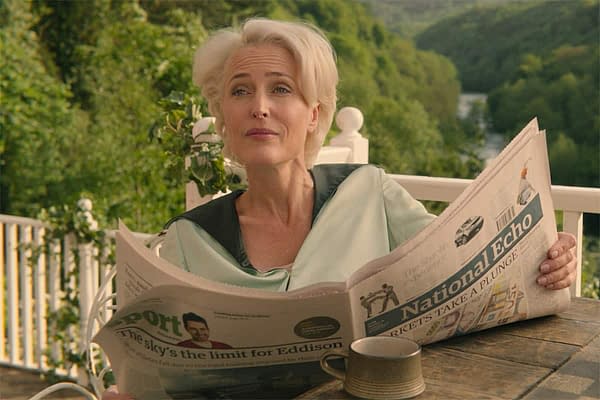 Anderson's character Jean is a sex therapist, and also a mother of a teenage son (Butterfield) with all kinds of 'fun' mental blocks and issues that stem from his (also sex therapist) father, played by James Purefoy. The parental relationship of Jean and Otis is an interesting one to watch unfold- moments of understandable awkwardness partnered with beautiful understanding and coming to terms with boundaries.
In a recent chat with Vanity Fair, Anderson addressed the differences between character Jean and previous roles, agreeing that a catharsis of sorts comes with the series:
Vanity Fair: Jean is blunt with the men she sleeps with, and she's very unembarrassed about sex. Was that cathartic, after playing so many uptight characters over the years?

Gillian Anderson: It was cathartic! I wanted her to feel grounded and neurotic at the same time. I wanted her to feel like she had things under control, and yet she might be losing her grip at any time. I wanted her to feel that she really was feeling like she was trying her best, and yet kept making mistakes and saying the wrong thing. And to have a healthy sense of herself and her sexuality, and yet, at the same time, not be so . . . I didn't want her to feel so sexually confident amongst [Otis's] friends, for instance, that it was creepy and inappropriate. It made more sense that she was embarrassing. I know that I think that I'm a pretty cool mom, and yet my kids roll their eyes all of the time. No matter how cool the parents, if it's your parents, you're gonna have issues. . . .

My boys are not at that stage yet, and so I kept on having to tell myself to pay attention, because you're gonna be here sooner than later. You think that you're just acting, you think that this is somebody else's life, but this is the life that you're about to enter into in no time at all. Maybe you can learn some things about how to communicate.
The entire interview is a delightful read, so we highly suggest checking it out. And then also the show, because it's pretty damn great. There are two episodes that feature Hedwig and the Angry Inch, so of course it goes up a few more notches in our book.
We're really hoping Netflix picks up Sex Education for a season season, because WE REALLY NEED TO KNOW WHAT HAPPENS NEXT, OK?!