Goldbergs Spin-off Schooled Debuts January 9, Airs After Parent Show
Schooled, the 90's spin-off from ABC's excellent 80's set series The Goldbergs, is set to debut on Wednesday, January 9th at 8:30 PM right after its parent show. Sitcom American Housewife, currently occupying that time slot, will move to Tuesdays at 8 PM after The Conners ends its run. This is not without precedent of course, even right now CBS airs The Big Bang Theory and its spin-off Young Sheldon back to back.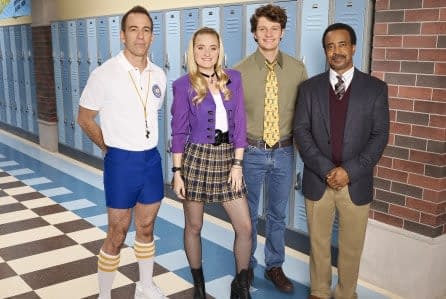 Schooled takes place in the 90's, and stars AJ Michalka as Laniey Lewis, currently Barry Goldberg's fiancee on The Goldbergs. She is now the music teacher at William Penn Acedemy, and also returning to the faculty are Bryan Callen and Tim Meadows as Coach Mellor and Principal Glascott respectively. Those two steal almost every scene they are in on The Goldbergs, so this show does have a good comedic foundation to build from. Also joining the cast is Brett Dier as a teacher named Charlie Brown. Goldbergs creator Adam Goldberg is spearheading the series along with Marc Firek and Doug Robinson.
Personally, I have high hopes for this show. As a child of the 80's/90's, i have such fond memories of not only the subject matter, but gathering around as a family to watch sitcoms like these that give you the warm and fuzzies.
Schooled premieres on January 9th at 8:30 PM, following The Goldbergs on ABC.