'Gotham' Season 5, Episode 8 Proves "Nothing's Shocking" (SPOILER REVIEW)
Gotham, how we love you. And obviously, you must love us as well, or you wouldn't have worked so hard to bring so much Bat-goodness to the latest episode, "Nothing's Sacred". What's so great about it? Read on, friend. This was a doozy of an episode!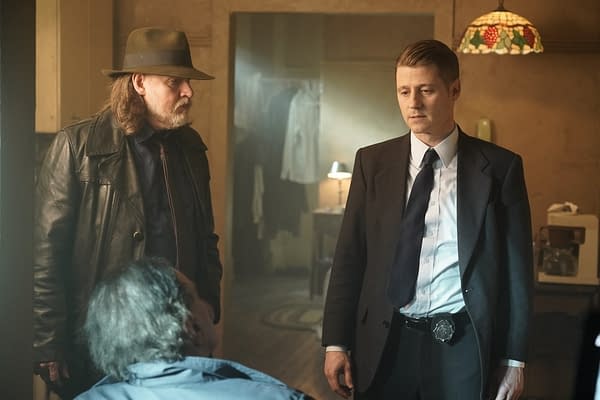 First, we get three, count them, three Batman villains that haven't been on Gotham yet. The FOX series has done an admirable job of populating Gotham City with some of the best villains in Batman's Rogues Gallery, but the writers have ignited the rocket boosters, and seem hell-bent on getting everyone they can onto the show.
We'll cover these three newcomers in the spoiler section below!
Donal Logue earns MVP for "Nothing's Shocking", as his Harvey Bullock was not only front and center for this week's mystery, he also had to come to terms with decisions he made early in his career that have affected his entire outlook on life.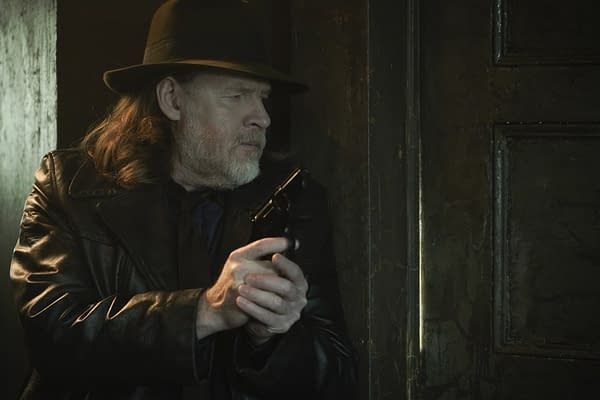 Logue has always played Harvey as a damaged wrapping around a good cop, and seeing him work through those layers was fantastic. Logue puts in some subtle quirks to Harvey's revelations in this episode, and we see a man not seeking absolution, just acceptance for his flaws.
Sean Pewtree does some great work, too: Alfred is guilt stricken over the destruction of Wayne Manor, and he's looking for a way to prove himself to Bruce (David Mazouz) by saving a missing man's life in the sewers beneath Gotham.
Bruce is growing up, and it's great to see him looking out for Alfred: "Part of being a family is that we can be strong for each other," Bruce says, showing that he's come to finally accept Alfred as family. It's a great scene, and Mazouz and Pewtree are fantastic in it.
Cory Micheal Smith and Robin Lord Taylor are always a delight, especially so when they get to work together. Watching Riddler and Penguin deal with an unexpected guest was solid gold… and I can't wait to see what kind of goofy submarine Ed is building.
Let's fire up the Spoiler Signal and talk about those villains!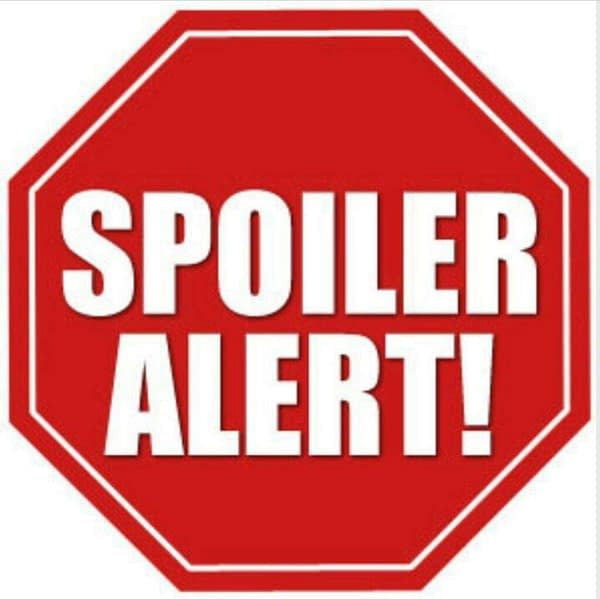 Gotham's writers are bringing us a treasure-trove of villains this year! We've already seen the origins of Bane, Magpie has stopped by to irritate Oswald, and Jeremiah may have finally become the Joker. "Nothing's Shocking" upped the ante with the additions of The Ventriloquist, Jane Doe, and (probably) Killer Croc.
That's hard for me to take in. I'm feeling a little faint.
Jane Doe plays heavily into Harvey's past, as he is somewhat responsible for the series of events that caused young Jane Cartwright's admission to Arkham Asylum. Jane ended up getting an "upgrade" courtesy of Hugo Strange, and now she can assume the identity of anyone she touches. Think Clayface, but grosser.
Jane sheds the identities she's assumed by removing the flesh mask she's grown, and it's disgustingly fun. Her house is filled with fleshy, bloody masks. Gotham made the wise choice to play up the horror, and it's really effective.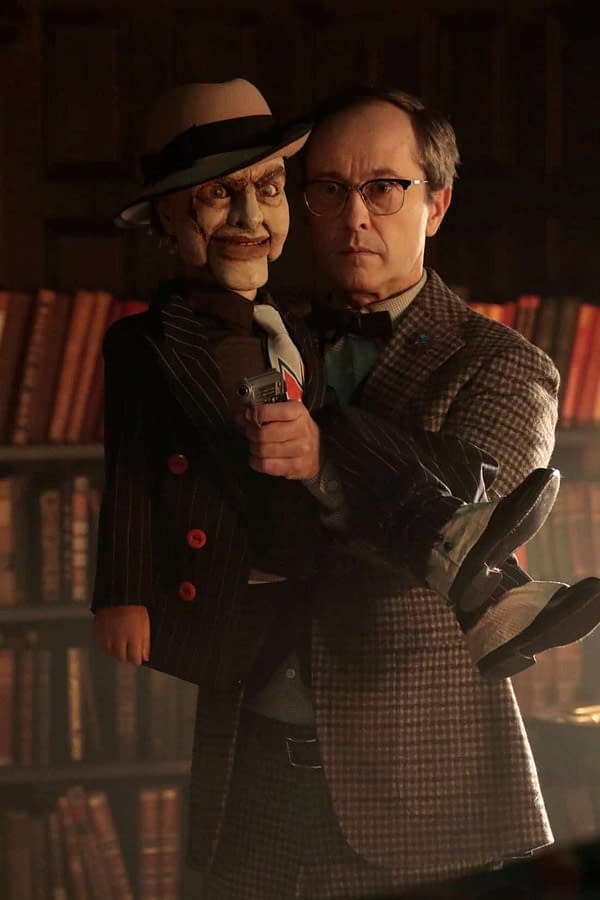 The Ventriloquist marks the triumphant return of Mr. Penn (Andrew Sellon). Penn feels abused by Oswald, and his new "boss" wants to settle the score. It would have been easy to play the entire exchange between Scarface (Penn's wooden dummy) and Penguin for laughs, but there's just enough pain and confusion showing from Sellon's performance to sell the scene for the semi-comedic tragedy that it is.
The resolution to the conflict between Scarface, Penguin, and Riddler may be one of the best "villain building" moments on the show to date. Ed and Oswald are truly great friends!
And while I can't completely prove it yet, that gigantic cannibal wandering the sewers of Gotham has to be Killer Croc. He hasn't become scaly yet, but he's huge, and has a hankering for human flesh. It's great to see some ramifications from Jeremiah's toxic addition to Gotham City's water supply!
We also saw the beginning of Bruce's affection for projectile weapons! I think we're about to see a batarang!
Thursday, March 7th finds Poison Ivy (Peyton List) back to mess with Bruce's brain in "The Trial of Jim Gordon". Here's a look at some of the fun that's headed our way!
https://www.youtube.com/watch?v=tAAgYNlP_U4

FOX's Gotham stars Ben McKenzie as Detective James Gordon, Donal Logue as Detective Harvey Bullock, Morena Baccarin as Dr. Leslie Thompkins, Sean Pertwee as Alfred Pennyworth, Robin Lord Taylor as Oswald Cobblepot/The Penguin, Erin Richards as Barbara Kean, David Mazouz as Bruce Wayne, Camren Bicondova as Selina Kyle/Catwoman, Cory Michael Smith as Edward Nygma/The Riddler, and Chris Chalk as Lucius Fox.
---
---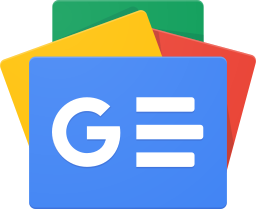 Stay up-to-date and support the site by following Bleeding Cool on Google News today!