Hang Ups: A Brand-New Kind of Sitcom on Channel 4 Tomorrow Night
Hang Ups is a new Channel 4 sitcom starting tomorrow, and it's one that's got me very excited due, primarily, to its format. I know, I know, formats don't generally have people rolling in the aisles, but sometimes they can be such a breakthrough they give the whole experience a new perspective, a new freshness, an experience you aren't had before. Whether that's The Young Ones, The Office, Outnumbered, Peep Show or… Hang Ups.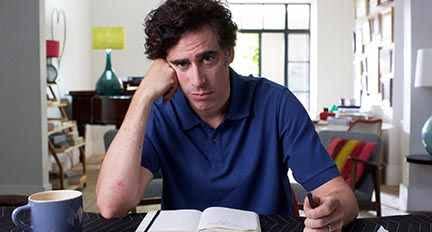 Episodes and Green Wing star Stephen Mangan plays the lead here, as a therapist setting up an online therapy service, working from his home. So we, like him, see his clients on the screen. And we, like them, see him from the point of view of the screen. And then almost everything we see is from the point of view or one screen or another, projecting out or projecting in. So, yes, in the world where the screen is key, this is a sitcom telling its stories using the devices many of us watch them on.
However, and I did ask this question, it is not completely didactic in that approach, like Peep Show's headcams or Matt Beaumont's email E novels. There are moments, tender, personal ones that can't be seen by any screen. And through the series, the screen moments will reduce and the off-screen moments increase, a tactic that reminded me of Alan Moore's planned use of encroaching colour in Big Numbers.
So our protagonist has problems. He has massive debts he is trying to hide from the family, especially his wife (played by Spaced's Jessica Haynes), an enforcer trying to call them in; sons and daughters out of control; and a web of lies he spins. His relationship with his own domineering disappointed father, played by Charles Dance, is as unhealthy as they come; Celia Imrie is his invading inappropriate mother; and his own therapist, played by Richard E. Grant is probably even unhealthier (and obsessed with anal fixation).
Here's where the second part of the genius of the format comes in. When casting clients and others that Stephen encounters on screens, the nature of that recording is that they can get someone in for a day and film an entire series of their scenes in one go and then use editing to splice it all together. With such a low demand for an actor to fit into their schedules, suddenly their available cast can go up a notch and they can get real stars who would normally be far too busy to fit in a six-week sitcom. Names include David Tennant, Katherine Parkinson, Sarah Hadland, Karl Theobald, Paul Ritter, Monica Dolan, Conleth Hill, Lolly Adefope, John Macmillan, Alice Lowe, and Harry Lloyd.
And then the third structural aspect which takes this sitcom to genius level: the client scenes are improvised. The characters talk to each other for hours, and the editors strip out the best few minutes. And the improvisational laws that one accepts what the person is telling you come into play, so while a sane rational person would reject some of Richard E. Grant's more ludicrous suggestions, Mangan accepts them and participates in them — and it's hilarious. You seem to reach scenes that you feel could never have been written if it wasn't for the actors just egging each other on.
And there we have it. Hang Ups, a tragi-comedy of fear, failure, and maybe just trying to do the right thing. And finding a very different way to get there. This is Damned meets Peep Show meets Outnumbered, and it could very well be the best sitcom of the season. I've only seen the first and third episodes but I'm dying to see the second. After all, it's got David Tennant in it.
Hang Ups airs on Channel 4 tomorrow on the 8th of August at 10 p.m. and on the All4 app afterwards. Here, have a trailer.
https://youtu.be/0nxkDVy933o