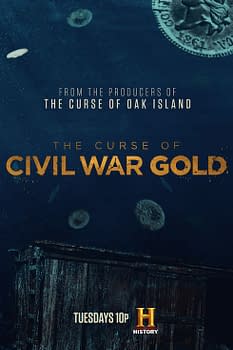 History struck gold with their newest unscripted series. The A&E Networks-owned cable network premiered their new series, The Curse of Civil War Gold Tuesday and it was the biggest launch of a cable series this season and History's biggest since 2014. From the producers of The Curse of Oak Island, the Network's biggest show, the new series also features Marty Lagina and pulled in 2.3 million viewers on Tuesday night.
The fact the series was led into by the season 5 finally of Curse of Oak Island definitely didn't hurt. The finale drew 2.9 million viewers, making it the top non-fiction series on cable this season.
The Curse of Civil War Gold follows people trying to follow the legend of a national treasure that dates back to the Civil War… hence the title. It stared in 1865 when Union soldiers form Michigan arrested Confederate President Jefferson Davis as he was trying to flee the country. The troops are said to have confiscated millions of dollars worth of gold and silver, the Confederate war chest, that Davis was transporting. They planned to smuggle it back home — almost 1,000 miles — using the growing railway system. The plot thickens when a lighthouse keeper, on his deathbed, confesses that part of the stolen treasury was put into a train car on a barge and then sunk in Lake Michigan. This, of course, leads to some folks hunting for gold.
The series is produced by Prometheus Entertainment and is executive produced by Kevin Burns, Joe Lessard and Kim Sheerin alongside History's Jennifer Wagman.
Enjoyed this article? Share it!